STARS
Surrey's Top Achievers Recognised and Supported (STARS) is a unique and differentiated development scheme designed to identify the needs of, and offer support to, high achieving second-year and final-year students at the University of Surrey.
Find out how to get involved if you are a Student, Surrey Staff, Graduate Employer. 
Information for students
If you achieve 68 per cent or more at the end of Level 4 or Level 5 then you are eligible to be a part of STARS. You will be automatically enrolled to the SurreyLearn module 'STARS Online'.
Participate in developmental activities, including:
Perfectionism
Resilience
Team work
Leadership
Advanced research skills 
Advanced communication skills
having participated, students report improvements in:
Motivation
Academic and non-academic competencies
Academic self-efficacy
What our STARS participants say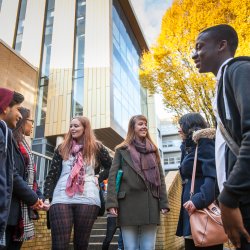 "First of all I would like to say thank you for giving me the opportunity to participate in this valuable program. I have to say that the first talk was really inspirational and indeed motivated me to keep up the hard work. As a third year law student I do not want to miss the opportunity of taking part in the scheme."
Final-year law student
"STARS has given me the opportunity to enhance my employability at an important time (PTY) and has provided reinforcement in my desire to achieve at difficult times."
BSc Business Management student
The challenge days are designed to support and challenge STARS students in effective communication, adapting to changing circumstances, influencing successfully, problem solving, and other leadership skills.
The challenge lasts approximately seven hours and is scheduled for a Wednesday afternoon or a Saturday to give as many students as possible the opportunity to attend. There are two distinct sessions during the day, both of which require students to work collaboratively and creatively to achieve team goals.
This unique challenge also provides STARS students with the opportunity to network with other high achieving students from a broad range of disciplines.
Some feedback from previous participants:
'I found the experience today to be enjoyable. It was a good platform on which I realised my strengths and weaknesses. Most notably I feel that the exercise allowed me to show my creativity, work in a group and receive the self-fulfilment that came out of it'
'The activities in today's event have given me more awareness on what I should be focused on and the skills needed to be used in the workplace'
'I am very happy about the way both my teams interacted. I believe I learned a valuable amount of information about both teamwork and leadership today. Thank you!
More and more students are commenting on the fact that employers are asking them questions about resilience. Being able to articulate the ways resilience is being developed is an important feature of the STARS student profile. Not only do STARS students obtain excellent marks, it is equally important for them to be able to demonstrate that they are being achieved in a resilient, sustainable, considered and reflective way.
What is resilience?
Resilience refers to how well we cope with challenging events or circumstances, how well we learn, adapt and change. Resilience is about having appropriate 'grit', staying power and self-awareness. When we are not resilient we can feel overwhelmed, anxious, and tempted to quit. We can struggle emotionally, or work so hard we burn out. Although there are no quick fixes, this session provides students with possible strategies and tips to help students build resilience.
The resilience event has been developed in collaboration with Centre for Wellbeing, Department of Higher Education, the Employability and Careers Centre, as well as external contributors. We aim to provide students with the opportunity to:
explore and clarify their core values and goals (what they want to achieve and why)
identify any negative and positive impacts on their resilience
discuss possible strategies with other STARS students
seek out ways which could possibly help strengthen their resilience
These strategies could include improving physical and mental health (diet, exercise, relaxation) and engaging with academic expectations, successes, failures, exams, and feedback.
Some feedback from previous participants:
I have learned that it is important to learn from failure and how important it is to engage with feedback in order to improve
I have learnt today that I need to make sure my goals will make me happy to feel that I have success
I have learnt that it is important not to postpone my happiness and I am able to get through despite facing failures
I have learnt that I can ask for help when needed and want to enjoy the moment more
The importance of learning from past failures to improve future success
I have learnt that sometimes success is defined by others or the society but it can also be defined by myself as well. It's not a must to achieve what others expect us to do when that thing is not what we actually want
It is good to work with groups of people (STARS) as they get where I am coming from
Frequently asked questions
If you achieved an average score of 68% or more during your first or second year of study, you will automatically be enrolled on the STARS SurreyLearn module. If you did not achieve an average of 68% or above, but believe you would benefit from participation in the STARS module you can ask your tutor to nominate you. You can self-refer. To do this you will need to write a 500 word statement explaining why you want to participate in the programme. Please email stars@surrey.ac.uk for a self-referral form.
Your URN will automatically be added to the SurreyLearn Module 'STARS Online'. Only students who are eligible can access the module.
No, the programme is about realising potential. If you feel your grades are suffering, or if you are not enjoying your learning as much this year, then you may wish to pop along for some coaching from the STARS team.
The STARS programme has been carefully designed to offer maximum impact with a minimum of time spent away from your studies. Training events, such as the leadership day, are typically run at weekends, and workshops are often held in the evenings. There are also many resources available in the STARS SurreyLearn module. All of the students who participated in our evaluation of the programme considered time spent engaging with STARS a worthwhile investment.
STARS students are automatically awarded a Surrey STAR Open Digital Badge for attending an event. For more skills-based badges (e.g. leadership, public speaking, research). You can apply for a badge, submitting appropriate evidence (such as a reflection, recording of a presentation etc).
Digital badges can be uploaded to a range of social media platforms including LinkedIn.
A dedicated team of Learning Developers work with colleagues from across the University and beyond to deliver the STARS programme.
For comments or queries relating to the STARS scheme, please email the STARS team.
Information for graduate employers
The scheme targets students who have achieved an average of 68 per cent or more in Level 4 or Level 5, offering them opportunities to participate in developmental activities including: 
Perfectionism
Resilience
Team work
Leadership
Advanced research skills
Advanced communication skills
In previous years, students reported improvements in motivation, development in academic and non-academic competencies and increased academic self-efficacy from participating in STARS. In addition to the short-term reported impact outlined in the inaugural report, the scheme also aims to affect longer term aspirations.
How is it monitored?
The Learning Development team,located in SPLASH, in the Library and Learning Centre, facilitates a range of student-directed events, workshops and initiatives throughout the academic year. In recognition of their participation, students are awarded an open digital event attendance badge. These digital badges can be shared online via LinkedIn, Facebook and other platforms. In addition to event attendance badges, we offer a range of skills badges which students can apply for, supporting their application with evidence.
How can employers get involved?
If you are a graduate employer, you may be interested in getting involved. There are opportunities to endorse one of our digital badges and/or deliver a workshop to our STARS cohort. Please email us at STARS@surrey.ac.uk for information.
Recent employer collaboration
How to make an impressive first impression
Business etiquette
How to make the most of LinkedIn
All delivered by Capgemini.
STARS team
Our collaborators
Student Services (including mentoring, counselling, strategic input)
Current postgraduates (PGRs) and members of staff from Researcher Development Programme (RDP)
Surrey's Employability and Careers Centre
Graduate employers
Department of Higher Education
Why the collaborative approach?
A review of the literature (summarised in Dickinson and Dickinson, 2012) demonstrated that there are specific challenges that high achievers in UK society face and  that challenges were congruent with data gathered on high achieving honours students in the US. US data suggests that average performing students are less likely to report experiencing challenges regarding; leadership, burn-out, perfectionism and multi-potentiality. Some challenges, such as time management and maintaining concentration, are common to all students, regardless of performance.