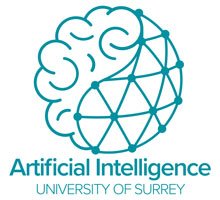 Language and learning
In an increasingly globalised world the need to enable the smooth flow of information across countries and communities is becoming ever more important, and AI has a crucial role to play.
AI for language and learning
One core objective being addressed at Surrey is building a bridge between an AI system (for example computer vision) and natural language. The Centre for Vision, Speech and Signal Processing (CVSSP) is developing deep neural networks that enable cross-modal (language to vision) searches of video crime scene footage where the description of the scene may be provided by a witness in the form of natural language. Interestingly, this research is opening the door to multimodal processing, where different modalities (vision, language, audio) are jointly brought to bear on data analysis tasks.

Translation automation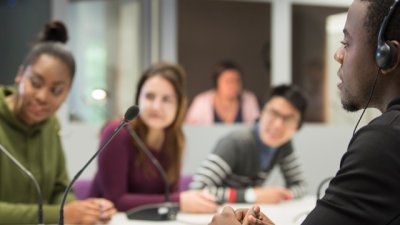 The evolution of AI is having a transformational impact on the translation industry, but while automation has the potential to make translation easier and more cost-effective, it also raises a number of issues. Surrey's Centre for Translation Studies (CTS) is undertaking wide-ranging research in this field, focusing on translation of written texts, spoken-language interpreting, localisation (of websites, apps and chatbots), and subtitling and audio descriptions (translation of images into verbal descriptions). In June 2019, the Centre began a pioneering programme which aims to identify the social, ethical and economic consequences of AI automation in translation, and promote solutions which improve the inclusion of diverse and marginalised groups in society.
Distance interpreting for video conferences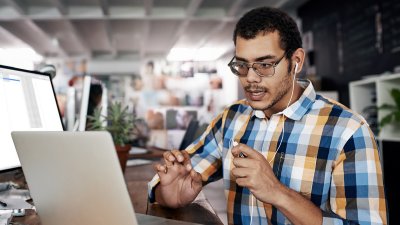 Other research focuses on distance interpreting for video conferences, where the interpreter delivers their services from a remote location. In this scenario, automatic speech recognition and augmented reality can be used to reduce the interpreter's cognitive load and avoid a reduction in interpreting quality.
Sign language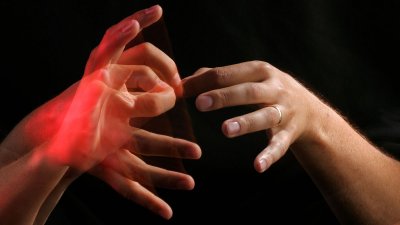 A key theme running through Surrey's research is the way AI can be exploited to help create a fairer, more inclusive society – and this is especially relevant in the field of language. Translation of sign language into written language has long been an area of research for CVSSP and in 2018 the Centre succeeded in developing the world's first end-to-end translation system – a complex task requiring an understanding of the interplay of face, body, hands and grammar. This tool has the potential to make a difference to the lives of the 250,000 people who use British Sign Language, enabling the deaf community to participate more fully in the digital revolution.