Starbucks
We operate two Starbucks, one on Stag Hill campus and one in the Surrey Sports Park on Manor Park campus. The friendly team's deliver Starbuck's mission to create a culture of warmth and belonging where everyone is welcome.
Stag Hill location
Only minutes away from your lecture room or campus accommodation, we're based on the ground floor in Oak House. Pop in for a beverage or bite to eat. We have a lounge area which provides a great space to work, meet or socialise. Take a look at Starbucks menu.
The entrance to Starbucks is on the ground floor of the Oak building in-between the Students Union and The Nest, follow the signage and please note that there will be no access to or via Hillside.
Remember we are now cashless!
Keep an eye on our Facebook page and follow us on Twitter and Instagram. Be sure to look out for upcoming promotions and news.
Opening times
Semester hours
Monday – Friday: 8:30am - 6pm
Saturday – Sunday: 10am - 5pm
Christmas hours
Friday 24 December - Tuesday 28 December Closed
Wednesday 29 December - Friday 31 December 10am - 3pm
Saturday 1 January - Monday 3 January Closed
Tuesday 4 January usual hours resume
Contact us
Address: Ground Floor, Oak House, University of Surrey, Guildford, Surrey GU2 7XH
Telephone: +44 (0)1483 682145
Email: starbucks@surrey.ac.uk.
Manor Park location
You can find the Manor Park Starbucks inside the Surrey Sports Park. You can find more information on their Facebook page, or follow them on Instagram at UniOfSurrey.Food.
Opening times
Usual hours
Monday – Friday: 8am – 8pm
Saturday – Sunday: 8am – 6pm
Christmas hours
Friday 24 December 8am - 3pm
Saturday 25 December - Sunday 26 December Closed
Monday 27 December - Tuesday 28 December 8am - 6pm
Wednesday 29 December - Thursday 30 December 8am - 8pm
Friday 31 December 8am - 3pm
Saturday 1 January 12noon - 4pm
Sunday 2 January usual hours resume 
Find us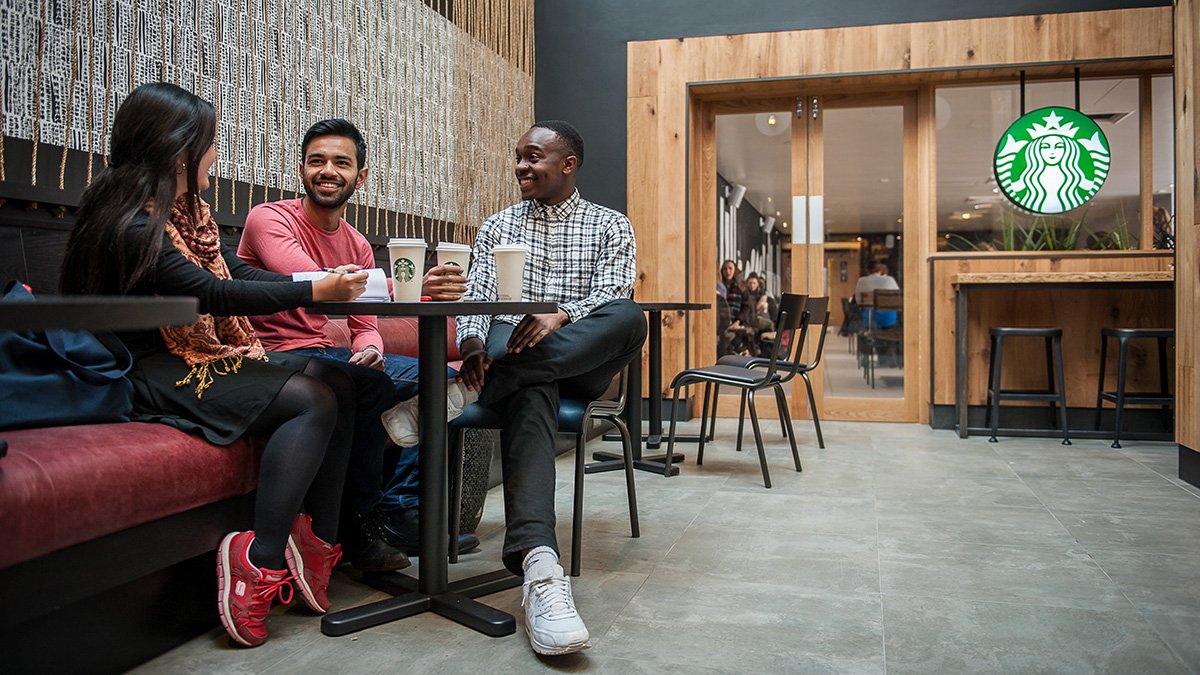 Good things are happening
Our 2016 Global Social Impact Performance report marks our progress as a company, one that's performance-driven, through the lens of humanity. In a year of tumultuous changes around the world, we've exceeded most of our goals to help our people and the communities we serve, while achieving another year of record financial performance.
We've reached this milestone by being purposeful in our decisions and our actions—and it's how we will move forward in the years to come.
The way forward
We will focus in four areas where our commitment and scale can make the biggest impact:    
Making coffee the world's first sustainable product by doing our part to improve the lives of at least One Million people in coffee communities around the world   
Building and operating the world's largest green retail business  
Creating pathways to employment for 1 million people
Strengthening communities by welcoming all and creating impact on issues that matter.
Our future in sustainable coffee
Starbucks is proud to have reached the milestone of 99% ethically sourced coffee.
However, we are not done yet. We will continue to work with that last 1% to bring producers along on this journey with us. Such as the Starbucks Reserve Eastern DR Congo Lake Kivu coffee, where we are working with producers to expand our ethical sourcing effort. Moving beyond our 100% ethically sourced commitment, we are joining with others to make coffee the world's first sustainable agricultural product.
Starbucks believes we can increase the prosperity and resiliency of one million farmers and workers who grow our coffee in coffee communities around the world. We will do this by investing in coffee communities, sharing our technical coffee knowledge, and innovating with new approaches.
Investing in farmers 
Thanks to our partners and customers, more than 25 million trees have been donated to coffee farmers. This effort began In September 2015, when Starbucks launched the One Tree for Every Bag Commitment to help ensure the long-term supply of coffee and the economic future of coffee farmers. Its goal—to raise enough funds by the end of 2016 to plant 20 million coffee seedlings to replace trees that are declining in productivity due to age and disease, such as coffee leaf rust. With the help of our customers, we exceeded this goal in just over a year.
To build on that success, Starbucks will quadruple its commitment by providing 100 million healthy coffee trees to farmers by 2025 by leveraging our green coffee purchases in coffee growing communities most impacted by climate change. We will work in collaboration with Conservation International (CI) and our partners on the ground and will share what we learn across the industry, to ensure that other farming communities looking to replace their trees can benefit from this program.
The Starbucks Global Farmer Fund is a $50M commitment to provide financing to coffee farmers. Through these loans, farmers have the ability to support agronomy, restoration and infrastructure improvements. This work directly influences coffee quality, sustainability and overall profitability for the entire specialty coffee industry.
To support critical issues coffee communities are facing, the Starbucks Foundation partners with organizations with local expertise to build sustainable solutions. Since 2014, the Starbucks Foundation has awarded origin grants to support smallholder farming families in coffee and tea-growing communities, reaching approximately 47,000 direct and indirect beneficiaries. By 2020 we plan to reach 250,000 people.
In 2016, Starbucks began funding a new project in Oaxaca, Mexico with Conservation International focused on delivering a net positive model to reestablish coffee as a livelihood. Oaxaca was once a globally important origin for high-quality specialty coffee, but productivity has declined significantly due to climate change, lack of market access, poverty, migration, and other challenges. CI will work with local partners to improve farmers' shade management systems and increase alternative income streams – ultimately stabilizing farming communities in Oaxaca and enabling farmers to continue growing coffee. CI will also train producers in water conservation to protect freshwater resources, and will follow a human rights-based approach, recognizing the importance of gender and ethnic traditions to ensure the active participation of women, indigenous farmers and their families.
Sharing coffee knowledge
Starbucks currently operates eight Farmer Support Centers in key coffee producing countries around the world, from Indonesia to Rwanda. There, with our open-source agronomy approach, farmers get free access to the latest findings of our top agronomists, including new varietals of disease-resistant trees, and advanced soil management techniques. Building on traditional growing methods will help farmers continue to improve both the quality and yield of their crops, and their profitability, ensuring the future of high quality coffees for everyone. In 2016 we expanded this network to include a Farmer Support Center in Mexico. With this global network, we aim to train 200,000 coffee farmers by 2020.
How we are working with others to make all coffee 100% sustainable
We know that greatest challenges in coffee can be solved faster if we collaborate and share solutions. Therefore, Starbucks is one of the founding members of The Sustainable Coffee Challenge, a diverse industry coalition led by Conservation International with the call to action of making coffee the world's first sustainable agricultural product. The Challenge began in 2015 at the United Nations climate talks in Paris and has grown to more than 60 members across the industry, including other roasters, NGOs, and the governments of Mexico and Rwanda. The Challenge is now pulling together the industry pre-competitively to develop innovative solutions to ensure the prosperity and well-being of farmers, workers and communities, sustained supply of coffee, and conservation of nature. Specifically for Starbucks, we have an opportunity to partner with others and go beyond our own commitment of 100M trees. Through the Sustainable Coffee Challenge, the industry is coming together to commit to one billion trees, while developing shared principles for responsible renovation. Going forward, we invite our partners and customers to share the journey with us and to follow the Challenge at www.sustaincoffee.org
Issuing our first Sustainability Bond
In May 2016, we issued our first U.S. Corporate Sustainability Bond. The company will use the net proceeds from the offering of $500 million to enhance its sustainability programs around coffee supply chain management through Eligible Sustainability Projects.
Beyond coffee
We are committed to 100% ethically sourced tea and cocoa visit Starbucks.com/responsiblity to learn more about our commitment and progress.
To find out more about the Starbucks Brand and its goals by 2020, please visit https://www.starbucks.com/responsibility/global-report 
© 2017 Starbucks Corporation. All rights reserved.