General advice for students, staff and visitors
Advice and information about coronavirus Covid-19 that is relevant to everyone. If you have immediate concerns for your own health please call NHS 111 or use the NHS online coronavirus service.
Report now
If you have symptoms (a high temperature/new continuous cough or a loss of taste/smell), however mild: STAY HOME, SELF-ISOLATE, NOTIFY US.
Covid-19 (coronavirus)
Typical symptoms of coronavirus include:
A high temperature
A new, continuous cough that may progress to a severe pneumonia causing shortness of breath and breathing difficulties
A loss or change to your sense of smell or taste (anosmia)
Generally, coronavirus can cause more severe symptoms in people with weakened immune systems, older people, and those with long-term conditions like diabetes, cancer and chronic lung disease. For the latest information see the UK Government guidance on Covid-19.
There are general principles everyone can follow to help prevent the spread of respiratory viruses, including:
All staff and students should self-isolate immediately and report any of the following to the Rapid Response Team if you:

develop symptoms (high temp/new continuous cough/loss of taste or smell), no matter how mild
receive a positive Covid-19 test result
have been contact traced and told to self-isolate
are required to isolate due to arriving from a non-exempt country or a high-risk area

Wash your hands often with soap and water for at least 20 seconds. Use an alcohol-based hand sanitiser that contains at least 60% alcohol if soap and water are not available. This is particularly important after taking public transport
Avoid touching your eyes, nose, and mouth with unwashed hands
Avoid close contact with people and maintain social distancing
Wear a face covering
If you feel unwell, stay at home: do not attend work or school
Cover your cough or sneeze with a tissue, then throw the tissue in a bin
Clean and disinfect frequently touched objects and surfaces in the home and work environment
If you are worried about your symptoms, please call NHS 111. Do not go directly to your GP or another healthcare environment
You can visit the Public Health England blog for more information.
Our Rapid Response team is in place to advise those with Covid-19 symptoms on how to get a test, and to support people who receive a positive test and need to self-isolate. Full details are on our report self-isolation page.
We know that symptomatic testing and contact tracing is an important tool to help keep our colleagues and students safe, and the Rapid Response team is a key part of our commitment to reducing the chances of transmission amongst those immediately around us. 
The University's rapid results tests
The Rapid Response team offers free onsite Covid-19 tests to symptomatic students and staff. To request a test, please simply complete the reporting form. You can read our full FAQs on our report self-isolation page.
Walk-through Local Testing Site 
The Department of Health & Social Care and Surrey County Council have enabled the University to host a Local Testing Sites. This walk-through testing facility is situated in the GSA car park, and is open for staff, students and the local Guildford community.
We are proud to play our part in supporting the local community and our own staff and students. This walk-through testing facility is in addition to the regional drive-through testing facility at the Onslow Park and Ride.
Free lateral flow testing at home
You can order or collect free lateral flow test packs to conduct your own asymptomatic Covid-19 tests at home. Tests can be collected from a test site or pharmacy, or posted to you for free. If you are displaying symptoms you should not use these tests - please see the report self-isolation page for more information.
Full details about NHS Covid-19 testing are available on our report self-isolation page.
We have developed comprehensive plans in response to the Covid-19 outbreak. All of our planning and decision-making has been informed by risk assessment, following the guidance from the UK Government and the Health and Safety Executive, together with our own University policies.
The University has implemented a Rapid Response Team to provide guidance and support to our staff and students about self-isolation and scheduling free onsite Covid-19 tests for those who are experiencing symptoms.
In line with government guidance, the University launched an asymptomatic testing programme to help ensure students could travel home safely for the winter break and then resume their studies in person in Semester 2.
Bespoke Covid-secure signage – including wall and floor markers outlining social distancing requirements, one-way flows to reduce congestion and occupancy protocols in lifts, laboratories and teaching rooms – has been installed across campus, as well as signage indicating the need to keep hands clean and the requirement to wear a face covering.
Enhanced cleaning/hygiene protocols
In addition to more frequent and enhanced cleaning and disinfecting of touch points, toilets and kitchen facilities, we have also installed over 200 disinfectant wipe dispensers in teaching areas, social spaces and large offices, and more than 450 perspex screens at many teaching lecterns, computer labs, catering facilities and reception points. Where necessary, and following our risk assessed protocols, colleagues in EFCS will use disinfectant fogging machines to clean larger areas.
In accordance with UK government guidance, the University has taken action to reconfigure spaces to create appropriate social distancing at 2m (where this is viable) or at 1m with added risk mitigation measures in place. All measures have been implemented following formal risk assessment.
Everyone is required to wear a face covering in all University shared indoor spaces, including while moving through buildings and within teaching, learning and study environments. There are a number of exceptions which can be found in the face covering section of the University Covid-19 policy.
Although we expect that most people already have their own face coverings, the University has provided all staff and students with a high-quality face covering.
As part of the building re-opening procedures, following UK government guidance the EFCS maintenance team have already taken steps to improve ventilation, including increasing fan speeds and stopping the recirculation of air in mechanical ventilation systems. Please familiarise yourself with the actions you can take every day to support good ventilation in your areas of work.
Risk assessment of measures
The University Health and Safety Directorate has undertaken a number of reviews of potential precautionary/risk mitigation measures, such as the use of face visors/shields and temperature screening for the detection of Covid-19.
Based on the current research and evidence available, the use of temperature screening does not provide any significant benefit and may reduce personal responsibility. It is therefore not recommended for use at the University. If you are unwell, we need you to stay at home.
Face visors/shields are classified as PPE (personal protective equipment) and may be required when working in very close contact with others and whilst also wearing a PPE face mask. These may be recommended/provided following a specific risk assessment.
You can read the full details of the Covid-secure measures that we have implemented in the University Covid-19 health and safety policy.
The University recognises the UK Government regulations on the wearing and advice/guidance on the safe use of face coverings and we have arranged for all staff and students to receive one reusable face covering.
It is a requirement to wear a face covering in all shared indoor University spaces, including whilst moving through buildings and within teaching, learning and study environments. Although not an exhaustive list, here are some common examples:
In a University vehicle when necessary to travel with a passenger
In any essential face to face meeting, together with maintaining a distance of at least 2 metres between attendees, either outdoors or in a room with the windows kept open to increase ventilation.
When walking through buildings and corridors
When in one of the catering outlets (can be removed if you are seated to eat/drink)
Walking round an open plan office
During a fire evacuation and at the assembly point
Collecting or delivering post from/to Central Distribution
In a kitchen or pantry*
In a toilet/washroom facility*
*If these areas are located in your home (i.e. University residence) then wearing a face covering is required if you are self-isolating and only within the common areas of your shared flat.
In some exceptional circumstances a face covering will not be required: these circumstances are outlined in the face covering section of our Covid-19 University policy. Please be mindful and respectful towards members of our community who may not be able to wear a face covering and that their reasons for this may not be visible to others. If you are exempt from wearing a face covering, you can choose to adopt the Surrey Sunflower as a visual cue if you wish.
At Surrey we're committed to cultivating an inclusive community and supporting the needs of people with hidden disabilities and/or invisible illnesses, and we are pleased to launch the Surrey Sunflower initiative.
Wearing the Hidden Disabilities Sunflower discreetly indicates to people around the wearer (including staff, students and colleagues) that they may need additional support, understanding or a little more time. It aims to increase awareness of the, often invisible, adjustments that people with hidden disabilities may require. Without a visual cue, it can be difficult for people with invisible illnesses to communicate certain adjustments, or to not be questioned or challenged when they do.
Members of our community with hidden disabilities and/or invisible illnesses who wish to adopt a visual cue will be able to collect a Surrey Sunflower lanyard, pin badge or wallet card from a number of points across campus:
Stag Hill Reception (at Senate House)
Manor Park Reception
Wellbeing Centre Reception
Library helpdesk
The Hive
From 17 May students and staff may meet socially in spaces other than University accommodation, but the total number must not exceed six from no more than two households. A distance of two metres must be maintained from any other group, or one metre if face coverings are worn by all people present. Please remember unless you are exempt due to exceptional circumstances, you must wear a face covering when moving around indoors in university buildings. In meetings, face coverings are still required unless you are able to social distance, while seated, to a distance of at least 2 metres. We are no longer advising you to wear masks when moving on or between our campuses.  
Gathering in groups of up to six  
Students and staff may meet socially in spaces other than University accommodation, but the total number must not exceed six from no more than two households. A distance of two metres must be maintained from any other group, or one metre if face coverings are worn by all people present.  
Guests not permitted in on-campus accommodation 
Students should continue to minimise the risk of Covid-19 transmission by not mixing households indoors. Students are encouraged to meet students from other households outside. You are reminded that overnight stays are not permitted within university accommodation on campus.  
Gathering in larger groups 
Gatherings of over 30 people remain illegal. If gatherings of up to 30 people are part of an organised event, staff are required to work with the Events Team and conduct a risk assessment.  
Those who do not follow these Covid-secure rules will be issued with a 'Suspended Fine' as a disciplinary warning that this behaviour is not acceptable. Anyone who breaches the rules for a second time will be issued with a fine of a minimum of £100. 
We thank the students who are playing their part to look after each other and use our spaces respectfully. We hope to see all students following the rules so that we can keep spaces like the Nest open for everyone to enjoy safely and can all continue to benefit from the latest steps on the Government's Roadmap out of Lockdown. 
For details of any of the above rules and advice, please read the University's updated Covid-19 Secure Policy.
Wardens
Students experiencing any issues in of a breach of the Covid-19 rules within accommodation should report this to their Warden providing details (date, time, location). In addition, students should also use any of the following reporting processes.
University Security
Monitored 24/7, you can report all security issues including:
Emergency support across all campuses
Crime or incident reporting
Anything that is causing you concern for your safety
Emergency phone: +44 (0)1483 683333 / ext 3333
Phone: +44 (0)1483 682002 / ext 2002
Email: security@surrey.ac.uk
Anonymous reporting
Monitored 24/7. You can use the anonymous reporting form to report all security issues including:
Noise
Theft
Drug use
Any other antisocial behaviour.
Report + Support
Abuse, bullying, harassment, hate crime and sexual misconduct are never ok.
You can use Report + Support (anonymously or with your contact details) for the following incidents:
Bullying and harassment
Hate crime
Sexual harassment and sexual assault
Physical assaults
Relationship abuse and stalking
Concerns about mental health and wellbeing
Drug/alcohol abuse and/or addiction
We appreciate that for many reasons people may not feel comfortable reporting with their contact details. Therefore this online form also allows you to report anonymously, however please bear in mind that we will not be able to offer you direct advice, as we will not ask you for any personally identifiable details.
Campus cleaning and maintenance
Monitored 7am - 6pm, Monday to Friday. You can report all cleaning and maintenance issues including:
Cleaning problems within accommodation.
Maintenance problems or requests.
Issues across campus in academic, study or social areas.
Online: Estates and Facilities student helpdesk
Phone: +44(0)1483 689230
Email: efmenquiries@surrey.ac.uk  
Please contact University Security for out of hours emergencies.
Consumable Replenishment
Alcohol gel, antiviral wipes, blue roll and antiviral spray supplies are checked and replenished daily Monday to Friday. If you run out of supplies between checks, please get in touch.
Monitored between 6am - 11pm, Monday to Friday. You can request for items to be replenished, please let us know what you need and the location.
Email: housekeeping@surrey.ac.uk
Please contact University Security for out of hours emergencies.
The University is supporting a number of different ways for tracking movement around campus to assist us, the NHS and Public Health England (PHE) should we need to carry out contact tracing. This forms a central part of the government's coronavirus recovery strategy, which seeks to help the nation return to normal as soon as possible for as many people as possible, in a way that is safe and protects the NHS and social care sector.
We would ask you to use as many of these as possible to help keep you and the wider community safe:
NHS – If you haven't already, please download the NHS Covid-19 app. This will act as a digital diary for you to register and record places you've visited on campus. This is the fastest way to see if you're at risk from coronavirus - and the faster you know, the quicker you can alert and protect your loved ones and community.
Campus density heatmap – To help you make informed decisions about which places to visit on campus at particular times, our density heatmap allows you and others to see which areas on campus are quiet, moderately busy or busy. The heatmap is also available through the MySurrey app.
Tap&Go – Tap your University card as you enter a venue, to help the University support the NHS and PHE in the event of needing to trace contacts.
We all need to play our part to protect ourselves and to protect others. As soon as you develop Covid-19 symptoms, you must self-isolate immediately and notify our Rapid Response team using the reporting form. 
You can read more about the NHS test and trace system.
What to do if you think that you might have Covid-19
Lockdown restrictions and asymptomatic testing
Following confirmation of the UK's move to Step 3 of the "Roadmap out of lockdown" all students can return to campus to engage in hybrid learning from Monday 17 May.
Our Covid-security measures remain in place on campus to allow for a safe return.
We hope that students will feel confident in returning to campus to make the most of our study facilities throughout the revision and exam period, as well as enjoying a number of social activities taking place throughout the remainder of the academic year. 
Only those students on specific programmes undertaking face-to-face teaching should return to campus. 
In exceptional circumstances where you may need to return to campus you should do so in a safe and Covid-secure way and we will ensure that you have the support that you require. A number of catering options, together with all student support services including the Library, MySurrey Hive and Nest, study spaces and Academic Hives, will continue to be open (face-to-face and online) as usual for all students, and dedicated silent study rooms will be available for students to book to undertake exams in the Library and MySurrey Hive.
There will continue to be support for students in University accommodation via the Residential Wardens and the Peer Supporters. We know that many of you have questions related to your on-campus accommodation and we are working through these and will update you shortly.
We understand that the situation in the UK and abroad is changing. If you have travelled to your home (outside the UK) and find that you cannot return due to restrictions preventing travel, then we will be flexible with your studies where we can.
Please visit our Student page for full details.
Some individuals may have a high risk of developing severe Covid-19 infection due to specific medical circumstances. Please note that UK government advice and guidance is subject to frequent change.
Those students who are classified as being CEV can contact the University's Disability and Neurodiversity team to discuss their options.
Staff categorised as CEV should discuss options with their line manager or HR Business Manager, and can seek additional advice from HR via the HR Operations Centre.
In line with the latest government directive, all students and staff on/attending campus are now expected to book a regular asymptomatic Covid-19 test (at Surrey Sports Park) at least once every week. You should take a test when first returning to campus, and then this needs to be followed up with regular weekly tests.
Participation in asymptomatic Covid-19 tests for those who do not have symptoms is important because:
You might be infected but not know – help break the chain of transmission
You can protect those you live with 
You should not participate in asymptomatic testing if
You have Covid-19 symptoms (please self-isolate, notify the University's Rapid Response team and book an NHS test) or are feeling unwell. 
You are already self-isolating (either due to testing positive or being identified as a close contact) - you must not break your self-isolation to get a test.
If you have recently (within 90 days) tested positive for Covid-19, you are likely to have developed some immunity, and therefore a repeat LFD test is unlikely to be necessary within this period. If having recently tested positive for Covid-19, you choose to have an LFD test as part of this programme, please ensure the LFD test is not taken whilst still within your period of isolation following the last confirmed test, which if symptoms persist could be longer than the typical 10-day period for confirmed cases.
All staff and students, including returning international students, commuter students and those who remained at their term-time accommodation over the winter break should be tested regularly when they return to campus. The more people that get tested, the better we can mitigate the transmission of Covid-19 and the faster we can get back to doing the things we love.
You are expected to get tested at least once a week, ideally three days apart (and no more than 7 days apart), even if your test result is negative. If your test result is positive, you should self-isolate immediately and notify the University's Rapid Response team.
Yes, you can get more than one test per week. The advice is that you should take tests no earlier than 3 days and no more than seven days apart, so please do continue to book tests within that time frame.
Yes, the Covid-19 vaccine can substantially reduce the risk of becoming ill with the virus, but some people may still get infected and even be able to spread the disease. Therefore all members of our community, including those who have received the vaccine, are required to participate in the asymptomatic testing programme.
Commuting students are encouraged to book an asymptomatic test on the first day that they return to campus. We understand that this might be the first day that their face-to-face teaching starts. If they are not able to book a test on that date, they should book one for the next available test date. 
Local authorities will also be offering asymptomatic community testing, so commuting students could alternatively try to arrange a test through their local authority before travelling to campus.
The Government is gradually expanding community testing to all local authorities across England, to offer Covid-19 tests to people who do not have symptoms. This list, which is updated regularly, shows the local authorities who are currently rolling out community testing. If it is more convenient for you to access regular asymptomatic testing in your local area rather than using the University's testing site, you can do so. 
If you are already taking a regular asymptomatic Covid-19 test at least once a week (for example, as part of a healthcare placement), you do not need to also take asymptomatic tests at the University's testing site. However, if you are currently being tested less frequently (e.g. every 2 weeks), please book additional tests to ensure that you are taking at least one test every week, between 3-7 days apart.
Mandatory Covid-19 testing
Passengers arriving from all international destinations will be required to present a negative Covid-19 test result before departing for England. The new rules took effect at 4am on Monday 18 January and apply to returning UK nationals as well as foreign citizens.
Passengers will need to produce a test result taken less than 72 hours before boarding planes, boats or trains to the UK, and could be fined £500 in border spot checks without a negative result. 
Please note: Travel corridors were suspended 4am, 18 January 2021, which means that if you arrive in England from anywhere outside the UK, Ireland, the Channel Islands or the Isle of Man, you will need to self-isolate for 10 days, even with a negative Covid-19 test.
Passengers will still be required to fill in a passenger locator form and be subject to national lockdown restrictions.
Test to Release scheme
The Government has issued advice for international arrivals explaining that passengers arriving into England can now choose to pay for a private test and potentially shorten their self-isolation, as part of their 'Test to Release' scheme.
Anyone wishing take a private test 5 full days after leaving the non-exempt location in order to release themselves from self-isolation on receipt of a negative result, is advised to book a test with a private test provider. 
The guidance states that you cannot use tests provided by the NHS under this scheme and you can be fined if you use a negative NHS test result to end your self-isolation period early. This means that you cannot use one of the University's asymptomatic tests to try to end your self-isolation early.
If you choose to book a private test, please note that you must still self-isolate immediately if you develop Covid-19 symptoms or are told to isolate by NHS Test and Trace or the NHS Covid-19 app. This applies even if you have had a negative test result under the Test to Release scheme and had stopped self-isolating. If you are told to self-isolate by NHS Test and Trace or the NHS Covid-19 app before you take a test under the Test to Release scheme, you should:
Cancel your test
Continue self-isolating for 10 days from when you were last in contact with the person who tested positive for coronavirus
Asymptomatic testing for international students
Even if you received a negative pre-flight Covid-19 test, you are still required participate in the University's asymptomatic Covid-19 testing programme, as you will have been in close contact with other travellers during your journey. Please complete your 10-day self-isolation period first, and then take one of the University's asymptomatic tests before you start your face-to-face teaching on campus, and continue to do so at least once at week.
You will receive a confirmation email with more information. This will remind you to:
Take your student ID with you
Take a device with you i.e. your phone, tablet or laptop
Wear a face covering
You may have to queue outside, so please make sure you are dressed appropriately for the weather.
Testing will take place at Surrey Sports Park.
If you develop symptoms before your test, please do not go for the asymptomatic test. Instead you should self-isolate, notify the University's Rapid Response team and book an NHS test on site near to the GSA building or using other NHS options.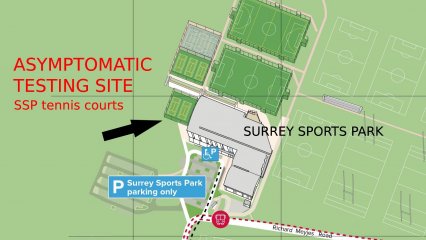 Follow the signs to the asymptotic testing site, which is located towards the left side of the main entrance of the Surrey Sports Park building by the tennis courts. (Please note: this is a different location to the drive-through Regional Testing Site in the Onslow Park and Ride car park near the Surrey Sports Park).
Upon arrival you will be asked to self-register your personal details on a registration portal.
Trained staff will be on-site to give you guidance about how to self-administer a nose and throat swab. This video from the Department of Health and Social Care explains what to expect.
Your test sample will then be processed by a trained operative, which usually takes 20-30 minutes.. 
If you require transport to the Asymptomatic Testing Site, the local Stagecoach bus service runs from Stag Hill to Surrey Sports Park. You can also use one of the eight NextBike UK docking stations across Stag Hill and Manor Park. 
If you are not able to get to Surrey Sports Park due to having a disability or medical condition, please email covid19testing@surrey.ac.uk and we will explore alternative options with you to enable you to get to the asymptomatic testing site.
The University will not receive your test results. The NHS will notify you about your result via SMS and/or the email that you provide during the registration process on the day. You can expect to receive results very quickly – sometimes within minutes of the results upload, but typically in a couple of hours.
If you test positive, please notify the University's Rapid Response team so that we can support you.
You must follow the rules on self-isolation and notify the University: 
If you test positive you are legally required to self-isolate at your current address for 10 days. Please notify the University's Rapid Response team so we can support you. You should not participate in asymptomatic testing for 90 days.

Positive asymptomatic test results – As part of the new regulations, the government has reinstated the requirement for a confirmatory PCR test if you get a positive lateral flow test (such as those at the Asymptomatic Test Site). The legal duty to self-isolate and the tracing period will be triggered by the positive lateral flow test, for you and anyone in your household for 10 days.

You should go to www.gov.uk/get-coronavirus-test to book a follow-up PCR test on the same day or as soon as possible or you can access the 'walk in' test site next to the GSA building every morning, where you will not need to make an appointment.
If you test negative, but have been identified as a close contact you must self-isolate at your current address for a period of 10 days. Please notify the University's Rapid Response team. Providing you have no symptoms, after 10 days you can resume regular weekly asymptomatic testing. 
You are required to get tested at least once a week, ideally 3 days apart and no more than 7 days apart:
If you test negative and you are not a close contact of someone who has tested positive, please book another test in the next 3-7 days, and continue to take one or two tests every week.
If you receive an invalid test result you should make another booking to be retested.
Do not take an asymptomatic test if:
You have Covid-19 symptoms
You are already self-isolating due to testing positive or being identified as a close contact
You have tested positive for Covid-19 within the last 90 days.
Asymptomatic testing in universities are using Lateral Flow Devices (LFDs) – a clinically validated throat and nasal swab antigen test that does not require a laboratory for processing and can turnaround results at the location of the test very quickly.
The LFD detects a Covid-19 antigen that is produced when a person is infected with Covid-19 – it is not an antibody test. The test is simple to use and you will usually be notified of your result within a couple of hours.
Wellbeing and welfare support
It's so important that we all look after our health and wellbeing. We offer a diverse range of services for our students and staff to ensure you feel well and supported throughout your time at the University. Our support is free and confidential, and we offer advice for mental, emotional and psychological issues.
Covid Support
Our University coronavirus enquiries helpline is available to offer practical advice and guidance on how to keep yourself and others safe and well throughout the pandemic. 

coronavirusenquiries@surrey.ac.uk

01483 685510

Monday – Friday 9am-5pm

Peer Support 
Our peer supporters can provide listening and support to all students. They can offer you support and guidance from a student perspective.

7pm – 9pm 7 days a week

Visit the MySurrey page to book a video call or email peersupport@surrey.ac.uk

Disability and Neurodiversity
Our team provides support to all students with a disability or neurodiversity needs.

disability@surrey.ac.uk or 07970 647721

Wardens
Wardens are here to support students' welfare within the residences and provide advice and guidance on how to look after yourself and your flatmates.

Visit MySurrey to find out how to contact your warden via email.

Virtual Warden Receptions: For support and advice in residences, you can speak confidentially to a Warden each night between 8 – 8.30 pm Click here to go to the Virtual Warden Reception.

Nightline
A listening service run by trained University of Surrey students. You can ask questions and talk to them about any problem, big or small, in confidence. 

7pm – 7am Monday – Friday

For contact details please log in to the Union website.

Student Space
Wellbeing resources and advice to help students through the challenges of coronavirus including confidential telephone, text and email support.

Hours of availability for telephone, text or email support vary. Visit the Student Space website for more details.
Please remember that Report + Support is your online tool for reporting an incident of harassment or abuse, and the website is also home to many support resources. You can find information on a range of topics, including mental health, wellbeing, bullying, relationship abuse and addiction.
Mental health and emotional wellbeing
Mental wellbeing is about your thoughts and feelings and how you cope with the ups and downs of everyday life. Right now might feel nothing like 'everyday life' and more like a very difficult or stressful time, but there are still many things you can try that could help your wellbeing.
In recognition of the substantial impact Covid-19 and related restrictions continue to have on our wellbeing, the government has laid out some key principles to help with managing mental health as well as physical health. These are updated periodically but include:
Maintaining contact with friends and family via telephone and video calls, or social media
Keeping a regular daily routine 
Focusing on a hobby or learning something new
Looking after your sleep
Managing your media and information intake.
To learn more about these topics and lots more, please take the time to read the full guidance at your leisure.  
For some, working from home may be part of the normal routine, but for others it is something totally new to get to grips with. Either way, it's unlikely that most of us have experienced working from home for such a long duration before. 
Here are some top tips that have been put together by the University's Disability and Neurodiversity Team:
Get up at your usual time 
Stick to your normal pre-work routine (i.e. have breakfast and get dressed) 
Try to stick to set work hours 
Take regular breaks and stretch your back, legs and arms 
Go for a walk 
Have lunch in a different room to where you work 
Keep hydrated
Listen to music 
Meditate if that's something that works for you
We also recommend packing away your computer/laptop and anything else relating to work at the end of the day, if you have the space.  
Centre for Wellbeing is a counselling and mental health advice service, providing students with emotional and mental health support. Available Monday to Friday, 8am – 5pm.
All services are available remotely (via telephone or video call).
If you are concerned about having enough privacy during your appointment, a certain number of rooms are available at the Centre for Wellbeing for you to use while accessing remote or phone sessions. Please contact the Centre for further details.
Mental Health Crisis Line        
NHS helpline staffed by professionals experienced in working with people with mental health issues. They can offer support and advice in times of distress.       
 

Available 24/7

0800 915 4644            

Shout
A free text service for anyone in crisis. It's a place to contact if you're struggling to cope with issues such as suicidal thoughts, abuse, self-harm or relationship difficulties.

Available 24/7

Text 'Shout' to 85258

Togetherall
Free, anonymous online community where members can support one another. Access peer support forums, self-guided courses and creative tools to help you express yourself.

Available 24/7

 

 

Create account with your @surrey.ac.uk email

Samaritans
Samaritans offer a free, confidential listening service. Whatever you are going through, you can call them any time.

Available 24/7

116 123

Papyrus HOPELINEUK
Papyrus is a specialist telephone, email and text service giving support, practical advice and information to young people who are feeling unable to cope with life.

Weekdays 9am – 10pm

Weekends and Bank Holidays 2pm – 10pm

Text 07860039967

Email pat@papyrus-uk.org

Call 0800 068 4141

Virtual Safe Haven
Safe Haven is a Guildford-based mental health drop-in centre for people in crisis, however if you are self-isolating they are also able to provide a virtual service.

6pm – 11pm daily

 
Anxiety around the current situation is completely natural, and to be expected in such unknown circumstances.
You can contact the Centre for Wellbeing team to book an online appointment if you want to talk through anything with a professional, but you might also want to explore these alternatives:
This video, strongly recommended by the Centre for Wellbeing team, uses ACT (Acceptance and Commitment Therapy) to deal with the fear, anxiety and worry around the Covid-19 outbreak.
Headspace and Calm are both offering free meditation to help those struggling with anxiety or stress. 
There's also a vast range of self-help material on the Centre for Wellbeing web pages.
The Centre for Wellbeing can offer help and advice around bereavement, with an online session with one of our trained counsellors. There is also a selection of self-help information online.
You can also arrange time with one of the Chaplains in our Religious Life and Belief pastoral care team. In addition to private sessions, in collaboration with the Students' Union, Chaplain Duncan Myers is running a weekly support group to give space to students who are bereaved. Further details about the sessions, and links to sign up, are available on Tixtu.
Cruse Bereavement are inviting anyone bereaved by the virus to contact their helpline on 0808 808 1677. The helpline is open Monday to Friday, 9:30am to 5pm (excluding bank holidays) with extended hours on Tuesday, Wednesday and Thursday evenings when they are now open until 8pm.
We are all capable of developing dependencies on more or less anything that makes us feel good. In the short term, using alcohol and drugs often make people feel good and this is why they are used, because people feel a benefit from them. In small amounts this often does not cause issues for individuals but how do you know if it's getting out of hand?
A good place to start is to ask yourself - why am I using this? Is it because I'm bored? Is it something I use to reward myself? Is it because it's a habit I've just got in to? Did I witness this as a coping strategy from others? Am I trying to escape negative feelings such as stress? Do I feel I miss out socially if I don't use this?
The current Coronavirus lockdown is especially difficult for people already battling addictions or who are in recovery from addiction because support meetings have been cancelled and normal service provision have been impacted. We recommend Surrey Drug and Alcohol Care who have a 24 hour helpline where you can speak to someone if you are concerned about your alcohol or drug use and want to explore this further. Please call them on 0808 802 5000.
Whether you've had sleeping problems before Covid-19 or if they've only started recently, there are some steps that you can take to try to improve your sleep at this time.
Structuring your days
Having a routine can help to provide a sense of normality even in unpredictable times. Routine is the guardian of good sleep, as it helps to keep our body-clock in synch with the 24-hour day.
Don't work from your bed
Sleep experts emphasise the importance of creating an association between your bed and sleep. If it is at all possible don't work from your bed.
Daylight
Exposure to light plays a crucial role in helping our bodies regulate sleep.
If you can, spend some time outside in natural light. Even if the sun isn't shining brightly, natural light still has positive effects on circadian rhythm. Also, where possible, open windows and blinds to let light into your home during the day. 
Please also be mindful of screen time. The blue light produced by electronic devices, such as mobile phones, tablets, and computers, has been found to interfere with the body's natural sleep-promoting processes. Where possible, avoid using these devices for an hour before bed.
Find time to relax
Finding ways to relax can be an invaluable way to help improve sleep.  Breathing exercises, stretching, yoga, taking a bath, and quiet reading are just a few examples of relaxation techniques that you can build into your routines.
Another strategy to manage stress during this pandemic is to avoid becoming overwhelmed by Covid-19 related news. For example, you can try: 
Bookmarking one or two trusted news sites and visiting them only during a limited, pre-set amount of time each day. 
Cutting down the total time that you spend scrolling on social media.
Scheduling phone or video calls with friends and family and agreeing in advance to focus on topics other than the pandemic. 
Food and drink
Keeping a healthy diet can promote good sleep. In particular, be cautious with the intake of alcohol and caffeine, especially later in the day, as both can disrupt the quantity and quality of your sleep. 
Support
The Centre for Wellbeing has a number of sleep related elf help resources that can be found here:
https://wellbeing.surrey.ac.uk/help/sleep/i-have-recently-been-struggling-sleep
Please also remember that although the Centre for Wellbeing building is closed, the team are maintaining usual business hours. If you are having difficulties managing sleep or feel that you would benefit from support about other issues affecting your mental health you can contact them via 01483 689498 or centreforwellbeing@surrey.ac.uk.
At this time of social distancing and isolation, social media can be an invaluable tool for keeping in touch with friends, family, and the wider world. But be mindful of how it makes you feel. If spending time on social media exacerbates your stress, anxiety, and uncertainty, take steps to limit your engagement.
Top tips for staying healthy on social media
• Limit time spent on social media
• Think before you post
• Tailor your accounts to create a more positive experience and don't be afraid to report, block or unfollow.
• Avoid comparing yourselves to others and remember social media doesn't always reflect the reality of what is going on in a person's life!
• Have the self-awareness to take a break when/if it starts to negatively influence your mood and perspective
• Show compassion for others to create a more positive environment for yourself and others
Many people will come through the pandemic unscathed without lasting negative effects on their mental health, but it's really important to be mindful that some people will be seriously affected by the traumatic experiences of both the virus itself and/or the lockdown and/or loss of livelihood. For some, this may lead to post-traumatic stress disorder.
People respond differently based on many contributing factors, but it is really useful to have an awareness of some of the most common responses:
Nightmares
Memories or pictures of the event unexpectedly popping into your mind
Avoiding anything that will remind you of it
Getting angry or upset more easily
Not being able to concentrate or sleep
Difficulty being on your own when you were previously independent
Helpful things to remember:
Be patient and give yourself time - it can take weeks or months to process these life altering events.
Don't bottle up your feelings. Find ways to express your feelings appropriately whether with friends, family or journaling. Expressing your emotions is an important part of recovery.
Try to treat yourself like you would a good friend who has gone through a similar experience. Imagine how you would treat them and what you would say to them to help and support them. Then turn the same level of understanding and compassion towards yourself.
Really focus on doing the things that bring you pleasure and aim to improve your overall health and wellbeing.
Don't be afraid to ask for professional help if your symptoms continue.
Emotional wellbeing
We appreciate that the current situation may be negatively impacting on your emotional wellbeing so please read on for some helpful tips and hints.
We have all been forced to dramatically restrict our daily contact with friends, family, course mates and work colleagues. Here are some fun ideas to help you keep in contact with them:
Say hello and good morning to everyone – using Teams, Whatsapp, or whatever suits your team. It's also nice to say goodbye when you log off for the day.
Important at all times of the year: take your lunch break! If you usually have lunch with friends or colleagues, set up a Teams or Zoom chat and have your lunch together.  
Chat about things that aren't just about Uni or work – share recommendations for TV series to binge watch, books to read and games to play! 
Most importantly – check in with each other and be there (virtually) for those close to you.
Download 'Houseparty' from the app store – it lets you have group video calls and play different games and quizzes with each other in real time. 
Plan 'nights in' with your friends – use video calls and watch films all at the same time, or do activities with each other over the internet. 
Give your friends a virtual tour of where you live and introduce them to any housemates or pets that you have! 
With everyone indoors, relational patterns are having to be navigated like never before; if we add the uncertainty, we are all experiencing, this is a recipe for anxiety, tension and stress. We've outlined a few strategies to help this time of lockdown run a little smoother.
Invite all members of the household to a 'living together' meeting. This doesn't need to be formal, perhaps share a pizza or a have a meal together to keep the mood light.
Ask each member of the household to write a list of their needs for the next week. It is important to keep the timescale short; this means people focus and it also avoids feelings of being overwhelmed.
Once everyone has completed their list of needs, listen to each other without interrupting, however unrealistic, at this stage just listen. Everyone deserves the time and respect to be heard. 
Now ask everyone to rank their top three most important needs. (For example, 1: I need to feel safe in the home, 2: I need one hour of alone time per day, 3: I need to have no shouting)
The next process is discussion and negotiation. Explore how everyone in the household can support each other. The art of negotiation is compromise; if you are wanting an hour of alone time, can you reduce that to 30 minutes for the sake of household harmony? If an individual releases tension by shouting at others, can they do this into pillow, so they don't distress the whole household?
The discussion and negotiation phase takes time, don't rush it or you'll find you may have to repeat the entire process. It's important everyone feels heard, their views are respected, and they have had the opportunity to share all they would like too.
Hold in mind that the aim of the above is to live together with ease at a difficult time, remind each other of this if the negotiation and compromise breaks down.
Now review and confirm. Outline the discussion points and the needs that everyone has discussed, negotiated and compromised on. At this point minor 'tweaks' can be made, but no new needs are to be added. Remain focused on everyone's top 3 needs. 
Agreement – this is the important part. Everyone agrees to what has been discussed in the review and confirmation stage.
Now you have a plan, be patient with one another, this is a new experience which can take time to settle into. In the early stages of implementation, simply remind each other of the plan and reconfirm the aim – living together with ease.
I don't necessarily agree that sanctions or punishments are helpful; if the plan is not working or is difficult to stick too repeat the process. This time ask individuals to reflect on how they can soften their needs to help others in the household.
This is designed to address specific behaviour of one or more members of the household:
Outline the behaviour that requires adjustment (shouting at family members)
Be very specific as to why this behaviour needs to change (Your shouting is making your young brother cry and become unsettled)
Share the impact of this behaviour (Your younger brother becoming upset means that I then spend time soothing him, which means dinner is delayed for everyone)
Discuss how this behaviour needs to be addressed and how the solution to this (Shouting in the house is not acceptable, a raised voice is not accepted- rather, tell others you have something to say and we will make time to listen. This will happen within 10 minutes) Be as creative as possible here; children often surprise us with their open minds and inspiring ideas.
Sanctions or punishments are rarely helpful – praise, focused attention and quality time with a parent or family member can be better.
Physical health
It is important to remember that the mind and the body are linked, so it is vital that we all take care of our bodies to ensure good mental and emotional health.
Even light exercise can be a huge boost for mental and physical health, and it's really important we keep it in our day – even if we have to adapt what it looks like.
Most of us have had to change our patterns of physical activity due to Covid-19 restrictions, and for those already in the habit of exercise it has been hard to find replacements for activities that can't take place at the moment. But there are still plenty of ways to stay active – from walking or running around your neighbourhood (bearing in mind the social distancing guidance), to online workouts (these 10-minute work outs from Public Health England are a free and easy place to start), to hulahooping in the kitchen, there is something for everyone.
If you are still short of inspiration, try Surrey Sports Park's SSP On Demand or our free SurreyMoves+ app, which encourages you to take on various challenges and offers rewards (like £5 Amazon vouchers) in return.
We were built to move – so find what works for you and enjoy it!
We know our students have had to make major changes to how they engage with their studies since the start of the pandemic – and we know how hard it can be to adapt to online lectures and seminars and a very different learning experience.
It may not be easy, but you can still keep some structure your learning and find ways to study collaboratively without needing to meet in person. Find out more about how to make online study work for you on SurreyLearn.
If you begin to feel unwell, please ensure that you maintain a safe distance from others (ideally two metres) and that you practise good hand hygiene measures by washing your hands and using hand sanitiser.
Please use the NHS 111 online coronavirus service if:
You feel you cannot cope with your symptoms at home
Your condition gets worse
Your symptoms do not get better after seven days
And remember that our security team is available 24/7 on +44 (0)1483 68333 if you require emergency assistance.
More of us are working from home right now so we have produced some new guidance to ensure that you achieve the best possible workstation set-up to protect your musculoskeletal health.
When using a computer or laptop, a suitable workstation should ideally consist of a stable chair, desk, and separate mouse and keyboard. Your desk should be as clear as possible, with adequate lighting and no trailing cables. It is recommended that your home workstation is set up in the same way as your office workstation as far as reasonably practical. If this isn't possible, then this guidance will help you to achieve the best possible workstation set-up. 
You may find it helpful to repeat the DSE Training on SurreyLearn to remind yourself about workstation set-up and good work practices.
Constructing meals
One simple approach could be to look at meals as consisting of three elements:
Protein (red),
Carbohydrate/fibre (yellow)
Fruit and/or vegetables (green).
You could call this the 'power of three'. These rules mean you can be totally flexible as to what foods will serve as these three elements, and allow you to adapt to what is available at home and/or in the shops. •
The protein element does not need to be chicken or eggs, but can be other lean meats, fish, beans/pulses, nuts/seeds or plant-based protein products (e.g. soy-based tofu). Try to limit the processed meats and vegetarian equivalents where possible.
For the carb/fibre element, this can be pasta, rice, bread, corn/maize, potatoes or other root vegetables and other cereals. Try to choose some wholegrain varieties as well, especially as these tend to be more likely to be left on the shelves!
For the fruit and veg element, this could be anything available, either fresh, frozen or tinned. The more variety the better! Fruit and veg also serve as excellent healthy snacks for adults and children alike.
Meal patterns
With most of us staying at home, including working and looking after children, it can be easy to lose structure in the day and structure around eating. Where possible, try to stick to regular meal times with a fixed pattern. For most people this is traditionally breakfast, lunch and dinner, but where your meal pattern may deviate slightly, try to maintain the pattern you had before lockdown.
It is important not to let meals, snacks and drinks stretch out late into the evening even if you are going to bed later than usual. Also be mindful of how much you are eating overall, not just at mealtimes but also snacking in between meals.
You probably to have more opportunity to eat than usual as you are most likely working in close proximately to your kitchen and eating out of boredom.
To conclude, it is important to be aware of how lockdown is affecting our eating habits but it is even more important to be kind to ourselves right now. Listen to your body's hunger signals and remember that's it totally okay to allow yourself treats in moderation.
If you or someone close to you has contracted Covid-19, you may continue to need specific support with your mental and physical health, and emotional wellbeing.
If you became ill, you may still be coming to terms with the impact the virus has had on both your body and mind. Supporting your family member, relative or friend following their COVID illness can also pose significant challenges.
The NHS offers a wealth of resources and support for both groups through Your Covid Recovery.