Sleep and daylight saving time
A switch to permanent daylight-saving time will undo any positive effects on sleep of delaying school start times, according to researchers from the University of Surrey. 
Writing in the journal Current Biology, Professor Anne Skeldon and Professor Derk-Jan Dijk discuss proposals by the California state legislature to introduce permanent daylight saving time (DST) and how this switch could undermine a 2018 vote in the state to delay school start time for teenagers. The vote in the California legislature, currently vetoed by the State Governor, prohibited the start of schools before 8:30am in a bid to improve student health and boost graduation rates. 
Delaying school times has been a contentious issue in North America and Europe with proponents arguing that such a postponement would enable teenagers, who typically go to bed later, to get the recommended amount of sleep, whilst opponents point to the logistical problems that would arise from such a change. Skeldon and Dijk point out that a switch to permanent DST, the practice of setting the clocks forward one hour from standard time during the summer months in order to make better use of natural daylight, is incompatible with the aims of delaying school times. 
Derk-Jan Dijk, Professor of Sleep and Physiology and Director of the Surrey Sleep Research Centre, commented: "Many of us are confused about clock and circadian time, but for the sake of our health and wellbeing, it is about time we get our heads around it." 
Prof Dijk and scientists at the Sleep Research Centre have recently made several breakthroughs in their work. The team developed a blood test to tell whether someone has skipped a night's sleep, bringing us a step closer to developing a test for driver sleepiness.
 This major discovery paves the way for a future test which will be able to assess if a driver was sleep deprived. Previous research in this area from the AAA Foundation for Traffic Safety has shown that drivers who get just one to two hours less than the recommended daily allowance in a 24-hour period nearly double their risk for a car crash. 
Prof Dijk is also leading research into enabling people with dementia to live in their own homes for longer. The ground-breaking £20m Care Research & Technology Centre, which opened in June 2019, will develop new technologies to create dementia-friendly 'healthy homes' and provide insights into how dementia develops. 
Find out more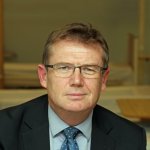 Professor Derk-Jan Dijk
Professor of Sleep and Physiology, Director Surrey Sleep Research Centre
Biography
Derk-Jan Dijk PhD, FRSB, FMedSci, is Professor of Sleep and Physiology, Distinguished Professor at the University of Surrey, Director of the Surrey Sleep Research Centre. He has been a Royal Society-Wolfson Research Merit Award holder, a Senior Research Associate in the Institute of Pharmacology at the University of Zurich, an Assistant Professor of Medicine at Harvard Medical School, and an Associate Neuroscientist in the Brigham and Women's Hospital in Boston.
Dr Dijk has more than 35 years of experience in clinical sleep research. His current research interests include the circadian and homeostatic regulation of sleep; the contribution of sleep to brain function in healthy ageing and dementia; the role of circadian rhythmicity in sleep regulation; identification of novel-biomarkers for sleep debt status and circadian rhythmicity, susceptibility to the negative effects of sleep loss; understanding age and sex related differences in sleep physiology and sleep disorders. His research has been or is is funded by the Dementia Research Institute, the Biotechnology and Biological Science Research Council, the Wellcome Trust, The Air Force Office of Scientific Research, Philips Lighting and several major pharmaceutical companies.
Dr Dijk has published more than 250 research and review papers in the area of sleep and circadian rhythms. Dr Dijk is invited frequently to speak at international sleep meetings and he has given opening and plenary lectures for the joint meeting of the Canadian Sleep Society, American Academy of Sleep Medicine and Sleep Research Society, The European Sleep Research Society and the Hong Kong Sleep Medicine Society.
Dr Dijk has served as an Associate and Deputy Editor to SLEEP and Editor of the Journal of Sleep Research. He also serves as consultant to the pharmaceutical industry.