---
feature
Published:
01 December 2017
Alumni reception highlights future of luxury hospitality
The future of the luxury hospitality sector was the focus for the 2017 School of Hospitality and Tourism Management (SHTM) winter reception at the Four Seasons Hotel London at Ten Trinity Square this week.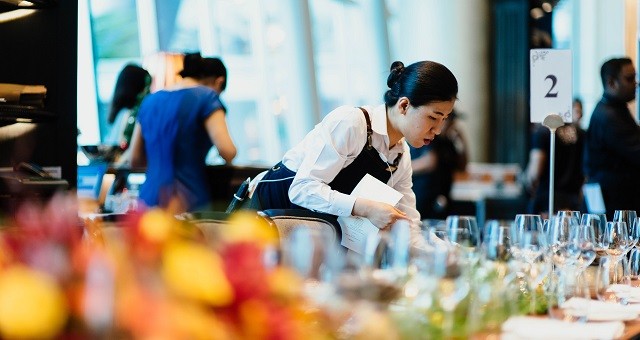 In front of an audience of alumni and industry guests, our keynote speaker, alumnus Charlie Parker, shared his thoughts on how to meet the requirements of the 'millennial mind-set' - simplicity, experiences, connectivity and pure craftsmanship – and the challenges this involved.
Charlie is General Manager of the Four Seasons Hotel London at Ten Trinity Square and a member of the SHTM Advisory Board, graduating from Surrey in Hotel and Catering Management in 1998.
He said: "The future of global luxury hospitality remains bright and exciting! There has been so much change in our sector within the last 10 years, from mega-mergers and the emergence of lifestyle brands to the establishment of the online travel agency community and the explosion of mobile technology.
"This growth has continued against a back-drop of macro issues outside of our control which have affected people's overall willingness to travel. Luxury Hospitality is still centred around warmth, quality and sincerity of service and ensuring that our industry is able to recruit, train and retain the very best is perhaps our greatest challenge ahead."
Surrey is meeting these challenges head-on, confirming at the event our on-going plans to develop a unique Learning Hotel which will be a world-leading collaboration between industry and academia to drive excellence, innovation and creativity in both teaching and research.
Charlie was interviewed on stage by fellow graduate and SHTM Advisory Board member Suzie Boyd, co-founder and Director of Troika Recruitment. With Troika specialising in recruitment for the hospitality and leisure industry, Suzie led a thought-provoking discussions which focused on issues such as talent development and retention within hospitality given the challenges of Brexit, before opening the floor for questions.
Following the interview, guests networked at a drinks reception where conversations continued to discuss the insights offered during the presentation, and identified exciting new partnership opportunities, including a roundtable series for industry leaders through our executive education provision, to support our work in preparing the next generation of industry leaders.
Professor Caroline Scarles, Head of the School of Hospitality and Tourism Management, said: "With over 150 alumni working for, and currents students completing their placements at, Four Seasons globally, it was a privilege to welcome our guests to the Four Seasons at Ten Trinity Square and hear from such an inspirational leader.
"Charlie's vision of the future of hospitality and the importance of excellence in quality and standards by personalising customer services and creating experiences for guests reflects not only the luxury end of hospitality, but the values at the heart of excellence in all hospitality. As a leading School in hospitality, tourism and events, we achieve success by working together with our alumni, industry leaders and our students, to ensure we remain at the cutting edge of our sector and continue to nurture the world leaders of the industry for tomorrow as we progress with plans for our own Learning Hotel at the University."