---
press release
Department of Marketing and Retail Management to host CERR Retail Conference
The CERR represents a European network of retail researchers who focus on creating collegiate environments that spark ideas, initiate discussions and establish networks within the retail community in Europe and beyond.
As the digital revolution has changed the face of retail, this colloquium focuses on physical and digital market places across B2B, B2C and C2C platforms. Physical market places such as retail stores and agglomerations are now complemented by digital ones. Hence the role of retailers has increasingly become the one of agents bringing together supply and demand by facilitating the market infrastructure physically and digitally. The resulting change of shopper behaviour has led to the adaption of traditional marketing and operations processes in retail organisations and a redefinition of supply chain partnerships including the household/consumer stage.
The event promises to be an exciting few days with Andrew Jennings presenting the keynote address. Andrew is a high profile senior retail executive with over 45 years of leadership experience across some of the world's most respected, specialist department stores including Harrods and Saks Fifth Avenue. He has also published a book entitled Almost is Not Good Enough – How to Win or Lose in Retail. There will also be interactive workshops and paper sessions and further information can be found in the CERR programme overview.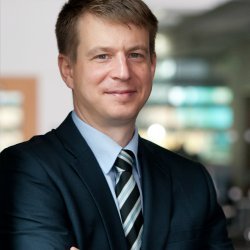 Professor Christoph Teller
Professor Christoph Teller, Chair in Retailing and Marketing and Head of the Department of Marketing and Retail Management at SBS, is managing the event and sits on the CERR Senior Advisory Board. He said: "CERR is unique in the sense that it inspires and enables a better, more effective and collegiate retail research community in Europe and beyond. CERR furthers advances in rigorous research of contemporary retail phenomena that have managerial relevance."
University of Surrey staff and PhD students wishing to attend the conference can register at a discounted rate of £90, which includes participation in all refreshment breaks over the three days. There will also be two social events in Guildford as part of the colloquium which attendees are welcome to attend at an additional cost.
If you have any questions or wish to register for the conference, please email Jodie Weller at SBS.
Read more about CERR.
Read more about the events taking place at Surrey Business School.
Featured Academics
---
Media Contacts
---
External Communications and PR team
Phone: +44 (0)1483 684380 / 688914 / 684378
Email: mediarelations@surrey.ac.uk
Out of hours: +44 (0)7773 479911