---
news
Published:
06 November 2018
Department welcomes industrial companies to Professional Training Day
A host of high profile civil engineering companies gathered at Surrey for the Department's Professional Training Day in October.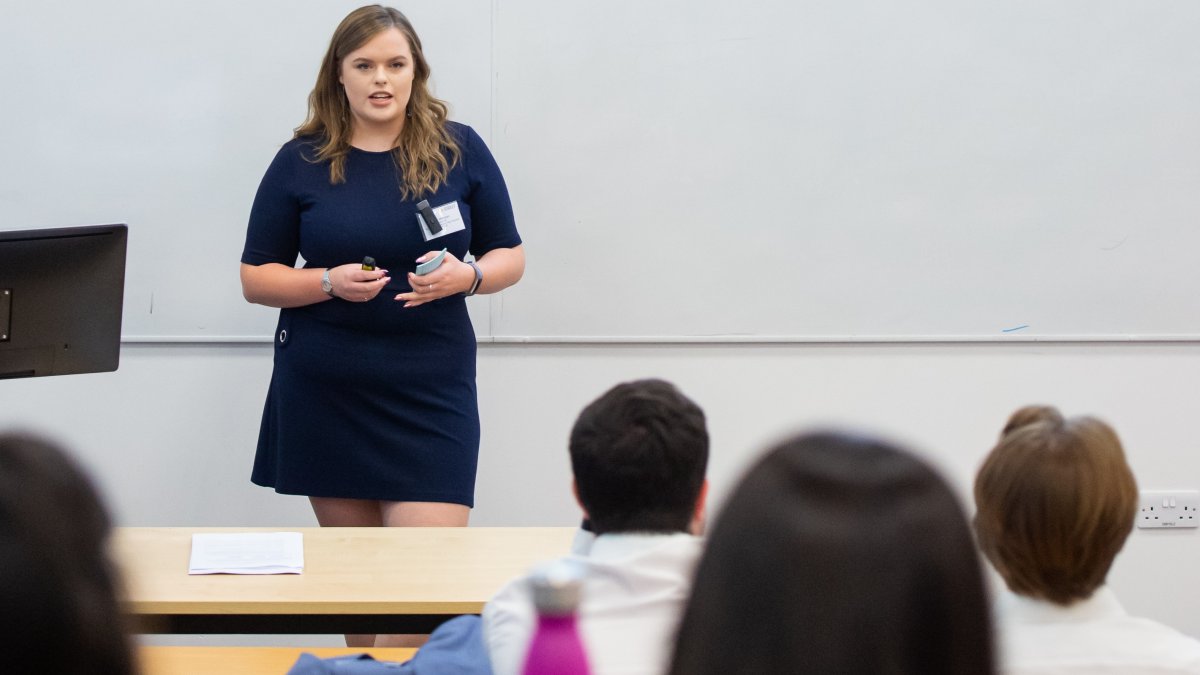 The event, on 24 October, celebrated another successful year of Professional Training placements in the Department of Civil and Environmental Engineering, and included the final assessment for returning students with their placement companies. It was also a great opportunity for Year 1 and Year 2 students to find out more about the benefits of taking a placement.
During the day, returning students gave 10-minute presentations and posters on their experience and activities, and were assessed by industrial supervisors from their placement companies and academic staff.
Around half of students in the Department opt to undertake a Professional Training year, usually between their second and third years. Many of these students are on the Surrey/ICE scholarship scheme in which they are matched with a company and undertake their Professional Training year and summer placements with this partner.
Third year student Ruth Marsden, who has undertook her Professional Training year with Atkins, said: "For me, the year has confirmed that I've made the right choice and re-ignited my motivation and inspiration. I worked in the airports team and was definitely thrown in at the deep end: within my first two weeks I was on a night shift at Gatwick Airport! As a result of my placement year I've become a lot more confident and my time management has improved dramatically."
Also attending the Professional Training day was Lily Webb, who graduated from Surrey two years ago, and is now Graduate Engineer at Atkins and Assistant Project Manager at London City Airport. She said: "From the company's side, one of the best things about Professional Training is that students are very exposed to what's new in technology and keen to look at where we can innovate to improve our processes. They bring fresh ideas and are very knowledgeable about things like social media outreach."
Senior Tutor for Professional Training within the Department for Civil and Environmental Engineering, Colin Howard commented: "For a lot of students, Professional Training is their first time in real employment, let alone their first engineering experience. It not only enables them to develop important professional skills, but also helps them to form their technical ideas about what sector they want to work in and, of course, it is fantastic on their CV when they apply for a graduate job."
The Professional Training Day was followed by the Department of Civil and Environmental Engineering's Annual Lecture which was delivered by alumnus Jonathan Gammon. Speaking on 'Ground Engineering – Fact and Fiction', Jonathan described his experiences during 40 years working in the global geotechnical engineering and tunnelling sector, and as Head of Ground Investigations for Phase One of HS2 – the UK's largest ever ground investigation for a single project.
Find out more about Professional Training opportunities in the Department of Civil and Environmental Engineering.
Why not explore our Civil and Environmental Engineering programmes, including our BEng/MEng Civil Engineering degree courses?