---
news
Five minutes with Lauren Haffenden
We caught up with alumna Lauren Haffenden, who graduated in 2016 in International Hospitality Management, and is now Assistant Manager and Development Lead at our Lakeside restaurant. She has also caught the running bug and is proud to be a finisher in this year's London Marathon.
When you were studying here, did you imagine that you would stay on to work here?
No, it was a complete surprise. Originally, I stayed on a temporary basis, but my role has developed and I'm really happy I stayed!
Describe Lakeside in 3 words.
Tasty, busy and unique
What do you find most challenging at Lakeside?
It is a very multi-functional business so it can be a challenge to balance each area and keep up with the growing business.
What has been your favourite moment at Lakeside?
Serving magnums of prosecco at a recent large event—that was so fun!
What is the best thing about working at Lakeside?
The team—we're like a family.  We argue sometimes but we always help each other out and there's a lot of laughing.
What is your proudest moment at Lakeside?
It hasn't happened yet. It will be when we have moved further on with recycling and composting our single-use cups. I'm always looking for ways to improve our sustainability and this will be a big one and a very proud moment for me.
What have you learned from training and running the marathon?
Perseverance. And I didn't know that I could eat so much!
What next for personal challenges?
I've already signed up for my next two marathons, and I have a dream of doing an ultramarathon, and a tough mudder. The ultimate challenge would be to do the World Majors—six of the major marathons.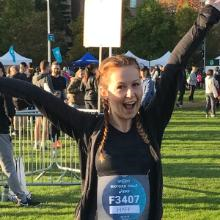 What next at Lakeside?
I want to continue to work on sustainability and grow the team. There are exciting opportunities coming up to develop the business, and involvement in the new Learning Hotel project.