---
news
Published:
31 October 2017
Industry Day celebrates Professional Training successes
The Department of Chemical and Process Engineering welcomed industry partners and students to its annual Industry Day in October.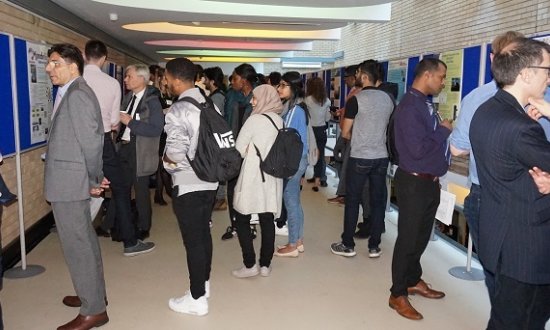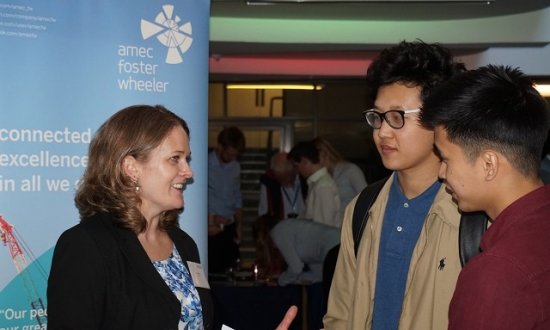 The day was an opportunity for selected companies to promote their placement and graduate employment opportunities to Surrey's chemical engineering students, and for the 34 returning Professional Training placement students to showcase their experience from a year in industry.
A number of key industry partners took part in the event, which included a mini-fair of company stands and an opportunity for partners to make short presentations to attending students. Participants came from a wide cross section of industry and included Thames Water, Fluor, Pfizer, KBC Advanced Technologies, Amec Foster Wheeler (now called Wood), Jacobs Douwe Egberts, Modern Water, UOP, Vectura and ENI. During the day, a representative from Thames Water was presented with the Department's 'Employer of the Year' award in recognition of their participation with the Professional Training programme.
The Industry Day was also the culmination of the Professional Training placement year for returning students, with each presenting a poster which demonstrated their experience and achievements during their year in industry. With 90 undergraduate students from the Department of Chemical and Process Engineering attending the event, the poster sessions provided an excellent opportunity for students considering a placement to find out more about what Professional Training can offer.
Other highlights of the day included a keynote speech by Peter Sadd, Head of R&D, Technology & Thermal, at Premier Foods, and a tour of Surrey's brand new £1.7m chemical engineering pilot process plant.
Charlotte de Witte, Research Scientist at Thames Water, commented: "Placement students bring fresh ideas to our company and help us a lot in our day-to-day activities. The students benefit by learning a lot of new skills and knowledge, including essential professional skills like writing emails and communicating with colleagues. We were delighted to be named 'Employer of the Year'."
The Industry Day was organised by Rose Leek from the University's Employability and Careers Centre, and Dr Ralph Chadeesingh and Dr Marco Ramaioli from the Department of Chemical and Process Engineering.
Dr Chadeesingh commented: "It was a very worthwhile day: students came armed with the burning questions they needed guidance and answers to, in their quest for employment. The prospective employers did not disappoint. The event can be summarised as a 'Win-Win' for both Industry employers and our UoS CPE students."
Why not explore our programmes in Chemical and Process Engineering, including our BEng/MEng degrees in Chemical Engineering and Chemical and Petroleum Engineering?