---
press release
Making Guildford Smarter
On Wednesday 23 May Surrey Business School at the University of Surrey will be hosting Smart City Guildford where Surrey students are part of a project to solve one of Guildford's biggest issues – congestion.
Smart City Guildford will take place at Surrey Business School's Rik Medlik building on the university's Stag Hill campus in Guildford from 6pm-8:30pm. The event was initiated by the student project Making Guildford Smarter, which is part of the final year module entitled Marketing in the Digital Environment. The project is led by Dr Christine Rivers, module leader and Co-Director of the Centre of Management Learning (CML), Michaela MacIntyre, Managing Director of Gravity Thinking and alumni Keith Povey, Head of Field Marketing at Verizon Enterprise Solutions.
But why does Guildford need to be smarter? Guildford is already a very popular town with over 140,000 residents and enjoys 4 million day trippers and 1.5 million overnight stays in Guildford each year, contributing around £350 million to the local economy. But there is a downside to this popularity; according to the INRIX 2016 Traffic Scorecard of congestion analysis, Guildford is now the UK's sixth most congested town, at an estimated cost to the local economy of £44 million. Using smart technologies to address transport, lighting, network or waste disposal issues will help make Guildford a safer and healthier place in the future.
And that is where Surrey Business School students come in. In April students on the module presented twelve different ideas for various smart technologies to Chris Stanton at Guildford Borough Council and Helen Davis, Managing Director at Lumenys Ltd. Smart City Guildford will focus on three specific ideas that tackle the biggest issue in Guildford: parking and traffic management. The presentations will focus on how to increase engagement, raise awareness, drive adoption and advocacy through smart technologies and innovative marketing initiatives to reduce congestion in the town for commuters, residents and visitors.
Chris Stanton, Rural Economy Officer at Guildford Borough Council, said: "It's been thoroughly inspiring to work with the students, to hear their views about Smart City technologies and to understand how those could shape Guildford's future. Collaborating with the University of Surrey through these students building on their vision, Making Guildford Smarter will help us to open a wider public dialogue on innovative technologies".
The event panel discussion will involve a range of professional speakers including Professor Paul Krause, Professor in Complex Systems and Director of Research at the University of Surrey, Amanda Masters, Experience Guildford Business Improvement District, and Mr Keith Robson, Chief Operating Officer at 5GIC at the University of Surrey.
Centre for Management Education (CME) at Surrey Business School are responsible for the Smart City Surrey event. CME is a research and competency centre at Surrey Business School for academic staff, students and industry and was founded by Co-Directors Professor Andy Adcroft and Dr Christine Rivers.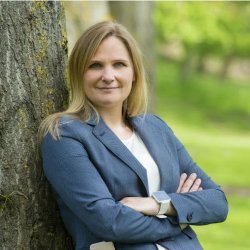 Dr Christine Rivers
Dr Rivers said: "This event is a fantastic example of innovative teaching practice in management education and a key part of CML's mission. The module takes an industry-led curriculum design approach, with the aim of developing students' marketing skills. This means practitioners are fully immersed in the design and delivery of the module and acting as mentors, which gives students exposure to real marketing scenarios and an opportunity to develop a portfolio that can be utilised in job interviews."
Take a look at our students' vision of what a "Smarter Guildford" might look like by booking your free Smart City Guildford tickets here.
For more information on this event, please visit the CML website or email cml@surrey.ac.uk.
Find out more about Surrey Business School's wide range of research projects.
Media Contacts
---
External Communications and PR team
Phone: +44 (0)1483 684380 / 688914 / 684378
Email: mediarelations@surrey.ac.uk
Out of hours: +44 (0)7773 479911