---
news
Meet the academic: Dr François Dupressoir
Lecturer in Secure Systems and Postgraduate Co-ordinator Dr François Dupressoir tells us why there is such a vital need for people educated to Masters level in IT and cyber security.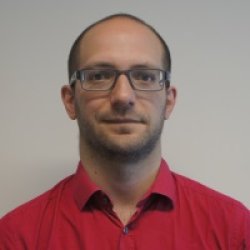 Please could you introduce yourself – perhaps you could tell us something that isn't on your staff profile page?
In addition to my teaching duties, I get involved in helping students to take part in 'ethical hacking' competitions, where they are given a system and asked to break into it and extract information. This not only helps students to develop valuable skills for combatting cybercrime and testing infrastructure, but also teaches them about the ethics around hacking.
What's your favourite memory of being a student?
The freedom to explore what I wanted. I was encouraged to look into things my lecturers didn't even have an interest in themselves!
How and why did you become an academic?
I chose to go into academia because, for me, it is the most stable place to do research – I know that if I start something now I will be able to see it to fruition, even if it's a slow burn, whereas in industry you need to have results within a short timeframe. As I also enjoy teaching, it's a win-win.
What excites you most about your current role?
The main thing is being able to contribute to the growth of the Department of Computer Science, and helping to build a thriving community of research and teaching. What excites me most is having the freedom to go outside of my day-to-day role and do things which contribute to this growth in less traditional ways.
What is your particular area of academic expertise, and why are you passionate about it?
My specialism is the design, implementation and evaluation of secure systems. Having the right tools and techniques to prove that systems are secure is vital to reinforcing people's trust in the digital world. Cyber security is often seen as a negative thing: we're not producing anything new, just preventing new things from being misused. However the point people are now understanding is that security needs to be built in from the very start, as an enabler for sustainable innovation.
Why should people study at postgraduate level in your academic area?
The government has identified cyber security as one of the UK's main skills gaps. We need a pipeline of highly trained professionals to fill a wide range of roles, from the highly technical to board-level executives. On our Information Security MSc you'll gain an in-depth grounding in security which you will need to become a developer or manager of online services, while our Information Systems MSc is slightly more general, giving Computer Science students the opportunity to explore selected topics more in-depth. It can also serve as a conversion Masters for finance and marketing students, for example.
What are you looking for in a postgraduate student?
The desire to learn, with a specific goal in mind – even if that shifts during your studies. The students who do best tend to have a solid reason for taking the course.
Is there a particular memory of your time at Surrey (so far) which stands out for you?
I have not been here long, so many of the memories I have are still things that are actively going on now. Seeing one of my personal tutees graduate out of his MSc and into parenthood within 3 months, and choose to carry on with a PhD in our group, is a memory that will stand out for some time.