---
news
Meet the academic: Dr Mark Whiting
Senior Lecturer in Metallic Materials and Director of our MSc in Advanced Materials, Dr Mark Whiting explains why a broad knowledge of materials is the key to developing the technology of tomorrow.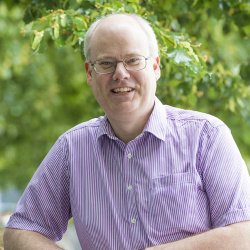 Please could you introduce yourself – perhaps you could tell us something that isn't on your staff profile page?
I have a series of eccentric hobbies, including growing Mexican cacti! You might also be interested to know that I studied at Surrey as an undergraduate 31 years ago and have never left – which should tell you something about what a special place this is.
What's your favourite memory of being a student?
My best memories of my time as a student at Surrey were actually of being on placement in northern Switzerland, where I worked for an aluminium company called Alusuisse. When I opened my window every morning I could hear the Rheinfall, which is the biggest waterfall in Europe and was used to generate the electricity needed to manufacture aluminium in the world's first commercial aluminium plant.
How and why did you become an academic?
Right from when I was a child I had an innate curiosity about how things worked from a scientific point of view. This developed into a curiosity about how materials work in terms of their structure and how that delivers things we can make use of in engineering.
I also wanted to share my passion with other people and, having done some teaching as a PhD student, realised that I really enjoyed it. To me, the teaching part of my role is just as rewarding as the research.
What excites you most about your current role?
I love to see students getting enthused about materials, and supporting final year students as they get ready to leave university to forge their careers. Another highlight is collaborating with major industrial partners who are conducting massive projects that will have a legacy for the future – for example I work with Rolls-Royce on their development of nuclear reactors which are enabling less dependence on fossil fuels.
What is your particular area of academic expertise, and why are you passionate about it?
While my background is in metals and alloys, this has evolved to looking at interfaces between metals and other materials – and also additive manufacture. We're all familiar with 3D printing with plastics; the next challenge is 3D printing with metals. Producing things that are not only the right shape, but also have the right properties, is a huge challenge. However doing this successfully would enable components to be produced locally, and cut down production lead-times from months or even years to mere hours. 
Why should people study at postgraduate level in your academic area?
Every aspect of new technology is dependent on materials, whether that's electric vehicles, satellites which are sent into orbit, or clothes with built-in functionality. This means there's a lot of need out there for people who are materials scientists, and our MSc gives you that ability. Students leave us to go on to a diverse range of careers in technology companies, or to study for a PhD or EngD (Engineering Doctorate).
What are you looking for in a postgraduate student?
Someone who is curious and genuinely interested in the world around them. You won't necessarily be excited by all aspects of materials but it's important to have an area that really motivates you.
Is there a particular memory of your time at Surrey (so far) which stands out for you?
I look after Surrey's electron microscopy unit, and every five years or so we need to purchase the next generation of electron microscope. This has taken me on trips to countries around the world in order to visit manufacturers, which is something I always find fascinating.