---
news
Published:
20 October 2020
Meet the academic: Kathryn Lawton
Kathryn Lawton, Teaching Fellow in Integrated Care (Midwifery), explains why midwifery is important today, reveals what Surrey is looking for in a midwifery student and what you can expect when you qualify.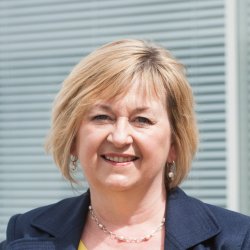 What's your background in midwifery?
Hello, I'm Kath Lawton, one of the lecturers on the midwifery course here at Surrey. I have more than 30 years' experience in practice, working in delivery suites and other clinical areas, as a risk manager, a Birthrate Plus® data co-ordinator, and a parent education and infant feeding co-ordinator.
Fast-forward to the present and I'm now a Teaching Fellow in Integrated Care (Midwifery) at Surrey, educating future generations of midwives through innovative hands-on teaching.
Why's midwifery important?
Women often don't get the support they need to make informed choices on how they feed their babies, and they face all sorts of challenges, no matter what they decide. How a baby is fed influences their future health and their mother's, which has a much wider impact on public health. I believe we need to do more as a society to support women with their choices, overcoming the political issues surrounding these.
What are you looking for in a midwifery student?
You need to be keen and motivated to learn, open to new ideas and be prepared to have your personal beliefs or philosophy challenged. You also need to be somebody who's a great communicator and who isn't afraid of getting stuck in.  
I'm passionate about helping mothers make informed feeding choices for their babies and this is something I want my students to share. Lastly, if you want to support women undergoing a normal physiological process, in a career that is constantly changing, then midwifery is for you.
What can I expect as a midwife?
When you're in practice, you'll be exposed to lots of different areas of maternal health. These are great opportunities to find the area you'd like to specialise in further – you never know, you might end up in education like me!