---
news
Published:
05 October 2016
My Surrey civil selfie – Ioanna Papanikolaou
As part of our 'Surrey civil selfie' campaign, we asked our civil engineering alumni to take a selfie in front of their current project. Ioanna Papanikolaou – a graduate of Surrey's MEng Civil Engineering programme – is working on the Thames Tideway, a 25km tunnel running through the heart of London.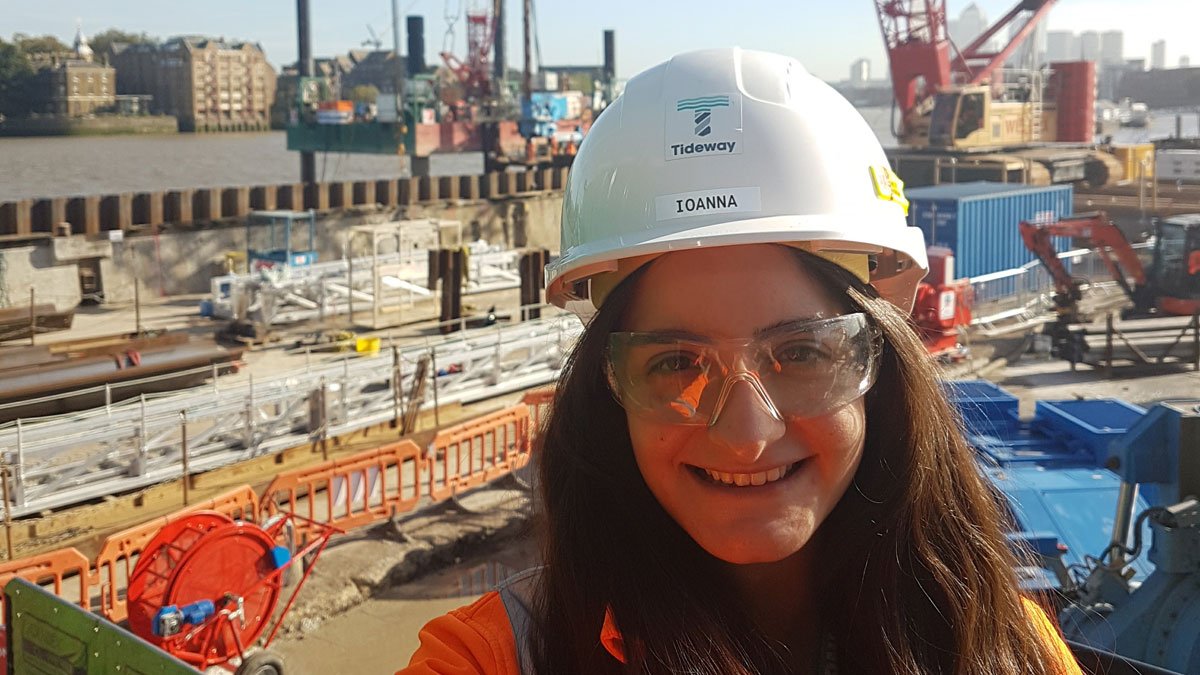 I'm currently employed by Costain in the dual role of Site Engineer and innovations champion on the Thames Tideway project. The biggest 'super-sewer' in the world, the Thames Tideway Tunnel will capture millions of tonnes of sewage which would otherwise overflow into the river, and deal with it in a sustainable way.
I am involved in delivering the East section of the project which runs from Chambers Wharf in Bermondsey and connects Tideway to the Lee Tunnel at Abbey Mills.  I've been on the project for 10 months now, during which time I've seen the site set-up works kicking off – including the delivery of 96 office units by river. We've also begun to build a new cofferdam in the river which will enable us to reclaim some land for the construction works.
I graduated from the University of Surrey in 2015 having studied the MEng Civil Engineering programme.
This course was the perfect start for my career as I learned the core engineering principles and was involved in a real-life design project in my final year.
As a Surrey/ICE Scholarship winner I was matched with Costain, where I undertook paid summer placements and an industrial placement year – which were excellent opportunities to gain hands-on experience.
I'd recommend to anyone applying for a civil engineering degree at Surrey that they take up the various work experience opportunities offered by the University and also consider apply for the Surrey/ICE Scholarship.
If I could work on any civil engineering project in the world, I'd choose the Jeddah Tower in Saudi Arabia which, once completed, will be the tallest building in the world at 1km high. The engineering challenges of reaching such heights would be a once in a lifetime experience and the tower will be a landmark for future generations, so this would be my dream project.