---
news
Published:
21 October 2021
PhD student publishing success
This month, former Surrey University Creative Writing PhD student Demetris Bogiatzis published his first novel.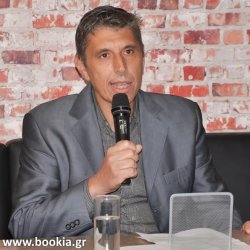 Demetris Bogiatzis
The novel, Ελεύθερος (literal translation 'Free'), was written in Greek and published in Greece in October 2021. It is a compelling fictionalisation of the life of the writer Nikos Kazantzakis, his married life and his friendship with Albert Camus.
An earlier version of the novel, written in English and entitled 'Free Spirit: A Historical Novel on the Life of Nikos Kazantzakis', was submitted as a doctoral dissertation to the University of Surrey in 2018. Demetris, who has taught in a number of private Universities in Greece, is also the founder of the Harmony & Creativity School of Creative Writing in Athens. 
Find out more about studying for a PhD in the School of Literature and Languages.