---
news
Presentation on mass spectrometry recognised with Leon Peters ECR Award
Tim Sidnell, who is studying for a PhD in Chemical and Process Engineering, has been announced winner of the Leon Peters Early Career Researcher (ECR) award at a prestigious meeting of the mass spectrometry community.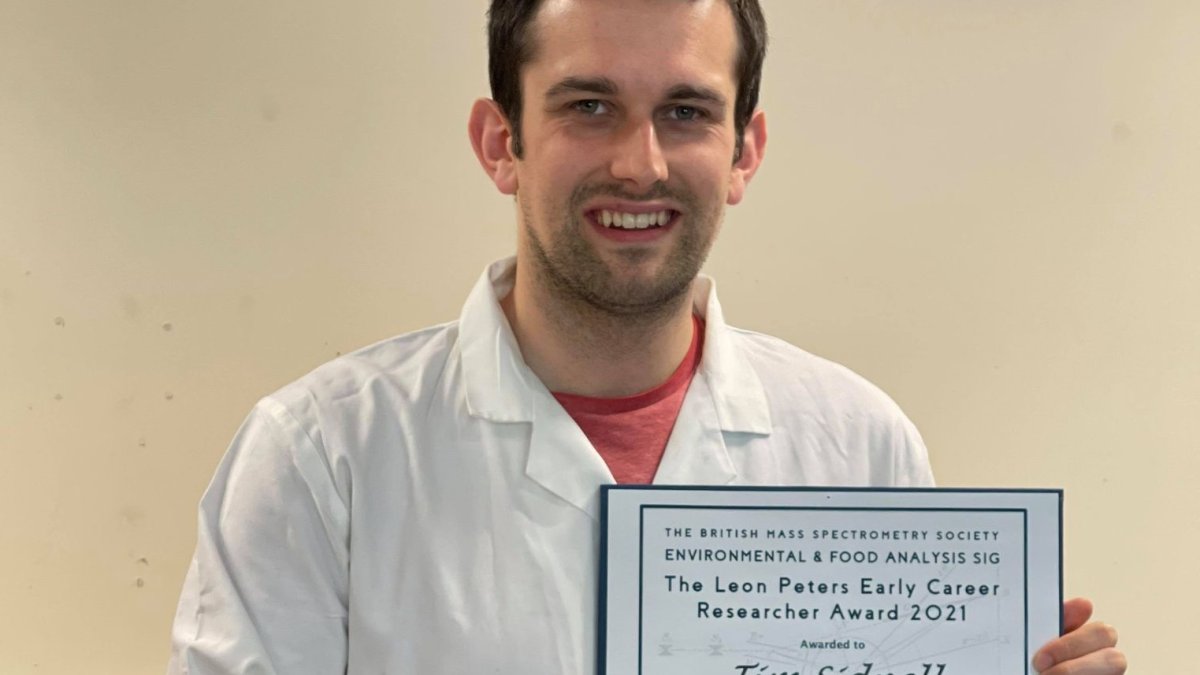 The Leon Peters ECR Award supports young researchers using mass spectrometry for environmental and food analysis. In 2020 it was given in recognition of the best abstract and presenter within a series of meetings held by the British Mass Spectrometry Society (BMSS)'s Environment and Food Analysis Special Interest Group (EFASIG).
The series of monthly meetings, held throughout 2020 to replace a physical conference, brought together scientists from around the world in the field of mass spectrometry – a type of chemical analysis that uses differences in charge and mass to separate different chemicals in a sample.
Tim's winning presentation focused on polyfluoroalkyl substances (PFAS) – a group of man-made toxic chemicals found in clothing, cookware and firefighting foams, as well as in the air, soil, water, blood and food – which contribute to ill health. He described how direct probe ionisation (DPiMS), a novel technique in which an electric current is applied, can be used to analyse these samples quickly and effectively, which could eventually help to reduce the impact of PFAS on human health and the environment. The DPiMS equipment was on loan at the time to Surrey's Department of Chemistry from scientific instrumentation company Shimadzu.
"I really wasn't expecting to win at all. Mass spectrometry isn't a focus of my PhD and I knew that I was up against people who'd been conducting research in this field for years. However the EFASIG meetings were the best place to get feedback on my work and find out how it could be improved, so I presented regardless of the prize." - Tim Sidnell
In his PhD Tim is developing ways to destroy the harmful PFAS chemicals using sound waves and designing a cost-effective treatment to eliminate them.
Dr Madeleine Bussemaker, who is supervising Tim's PhD, said: "Tim showed himself to be very adept in an environment that was completely new to him. He not only managed to develop a robust method, but also to produce enough work for a high quality paper that we have submitted to the Environmental Science and Technology Journal, and to win this prestigious award in a chemistry field! As his supervisor I am very proud and pleased for Tim and all that he has achieved."
Discover our courses in chemical and process engineering, including our Chemical and Process Engineering PhD.