---
news
Professor Jim Al-Khalili announced as RISE leader for 2014
The RISE awards celebrate pioneering academics who are innovators in engineering and science research.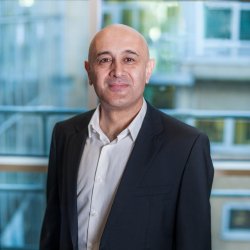 Surrey's Professor Jim Al-Khalili has been named one of the ten RISE (Recognising Inspirational Scientists and Engineers) leaders for 2014 by the Engineering and Physical Sciences Research Council (EPSRC). The RISE awards honour some of the best scientists and engineers, both as established leaders in their field and as future leaders in emerging fields. EPSRC has only named ten academics from the whole of the UK, so this award is a huge achievement for Professor Al-Khalili.
An independent panel comprising of Philip Greenish (Chief Executive of the Royal Academy of Engineering), Imran Khan (Chief Executive of the British Science Association), Dr Sarah Main (Director of CaSE), Professor Sir Richard Brook (Director of the ERA Foundation), Professor Harold Poor and chaired by Professor David Delpy (Chief Executive of EPSRC), selected the leaders from nominations put forward by over 30 universities, industries and learned societies. They assessed leadership, engagement, influence and impact.
To be named as one of ten leading UK scientists and engineers is a tremendous honour.
Professor Jim Al-Khalili
As a research physicist, Professor Al-Khalili established himself in the mid-1990s as a leading nuclear reaction theorist and world expert on the properties of exotic nuclei; his papers on halo nuclei have over a thousand citations. He is also currently gaining a reputation for his work in the emerging field of quantum biology. As an active science communicator, Jim has written many popular science books, between them translated into over 20 languages. He is a regular presenter of TV science documentaries, including the Bafta nominated Chemistry: A Volatile History for the BBC, and for the past three years has presented the highly successful weekly Radio 4 programme The Life Scientific, charting the lives of scientists and engineers who have contributed to society through scientific discovery and application. Jim is a recipient of the Royal Society Michael Faraday Prize, the Institute of Physics Kelvin Medal, and an OBE in 2007 for 'services to science'.
Professor Al-Khalili says, "To be named as one of ten leading UK scientists and engineers is a tremendous honour because I feel it recognises the fact that I have successfully combined my public profile with a still active research career."
The RISE leaders will help to inspire and encourage others.
MP David Willetts
Universities and Science Minister David Willetts adds, "It's important to celebrate and champion our leading scientists and engineers who are vital to both society and our economy. Their research has a real impact across a range of sectors from manufacturing to financial services. The RISE leaders will help to inspire and encourage others, keeping us ahead in the global science race."
The RISE leaders will now be paired with individuals from government, business or media to communicate the importance and impact of their research, helping their partners to become champions for science.   
Philip Greenish, CBE, Chief Executive of the Royal Academy of Engineering comments, "The RISE awards are a unique opportunity to recognise established and future research leaders in engineering and the physical sciences. RISE is part of the Engineering for Growth campaign which aims to bring engineering to the heart of society; celebrating the contribution of inspiring researchers to growth and innovation is a great way to help create a connection between engineering and daily life."
To find out more, please visit the RISE pages of the EPSRC website.