---
press release
Published:
20 December 2018
Royal College of Surgeons in Ireland honours Surrey Professors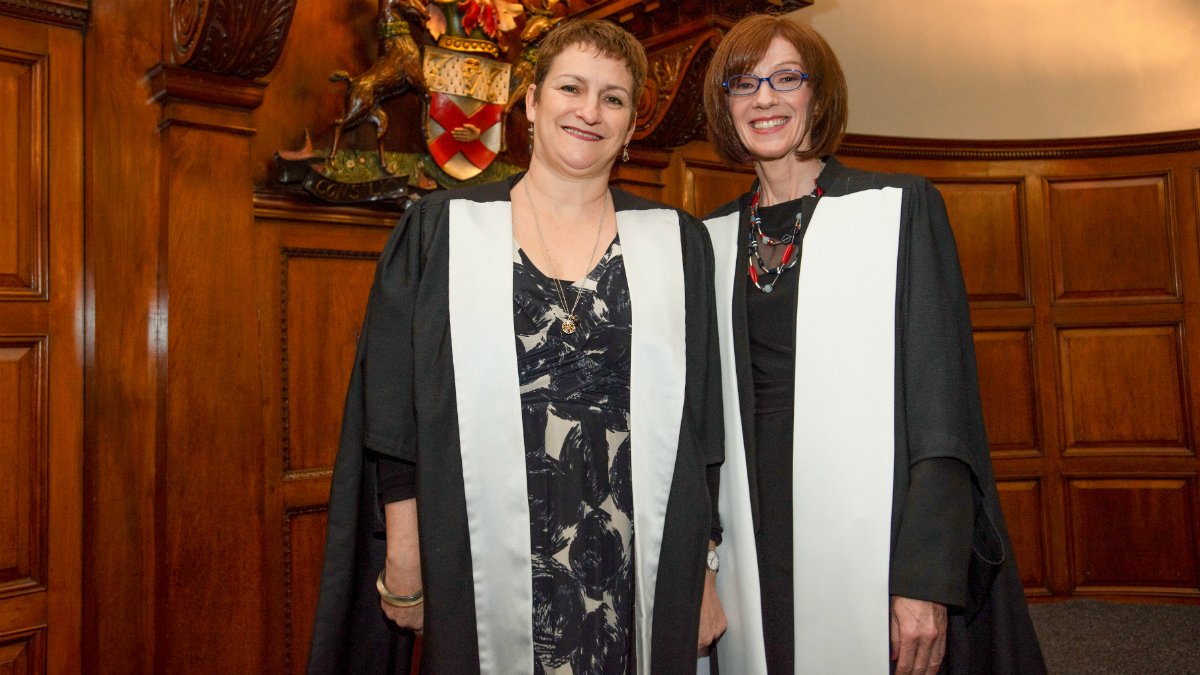 The RCSI awarded the two Surrey professors a Fellowship of the Faculty of Nursing and Midwifery in recognition of their achievements and contributions in nursing and midwifery, education, research and the health and wellbeing of society. The professors received the prestigious award at a conferring ceremony on 10 December 2018.
Professor Ann Gallagher was awarded a Fellowship Ad Eundem in recognition of her extensive career and leadership in the area of applied ethics, particularly care ethics. Professor Gallagher's empirical work on subjects such as dignity in care, professionalism, compassion, end of life decision-making and ethical care practices was recognised for its importance to the nursing and midwifery professions. The establishment of the International Care Ethics (ICE) Observatory under Professor Gallagher's leadership has contributed to the development of international research, the enhancement of ethics teaching and increased interdisciplinary discussion and understanding.
Professor Jill Maben OBE was also awarded a Fellowship Ad Eundem in recognition of her research on how the ideals and values of new nursing students can become compromised and crushed in poor work environments. This has enhanced understanding of how to support nurses in the early stages of their careers, contributing to a more positive experience for junior staff. The identification of links between staff experiences of work and patient experiences of care has contributed to better nursing and midwifery education and training programmes, staff support models and delivery of patient centred care.
Jill Maben, Professor of Health Services Research and Nursing at the University of Surrey, said: "At the University of Surrey we work with partners and fellow academics across international borders, so I am honoured to receive the Fellowship Ad Eundum from the Faculty of Nursing and Midwifery in the Royal College of Surgeons. I look forward to working with colleagues in Ireland and around the world to improve working environments for health professionals."
Ann Gallagher, Professor of Ethics and Care at the University of Surrey, said: "I thank the Royal College of Surgeons in Ireland for this Fellowship and I look forward to continuing to work together with colleagues in Ireland and beyond to help produce future generations of world-class nurses and midwives."
Professor Melaine Coward, Head of School of Health Sciences at the University of Surrey, said: "We are incredibly proud of Jill and Ann. Their achievements, along with their expertise and experience, are proof of the world class staff we have here at the School of Health Sciences." 
Media Contacts
---
External Communications and PR team
Phone: +44 (0)1483 684380 / 688914 / 684378
Email: mediarelations@surrey.ac.uk
Out of hours: +44 (0)7773 479911