---
feature
The School of Hospitality and Tourism Management's Digital Lab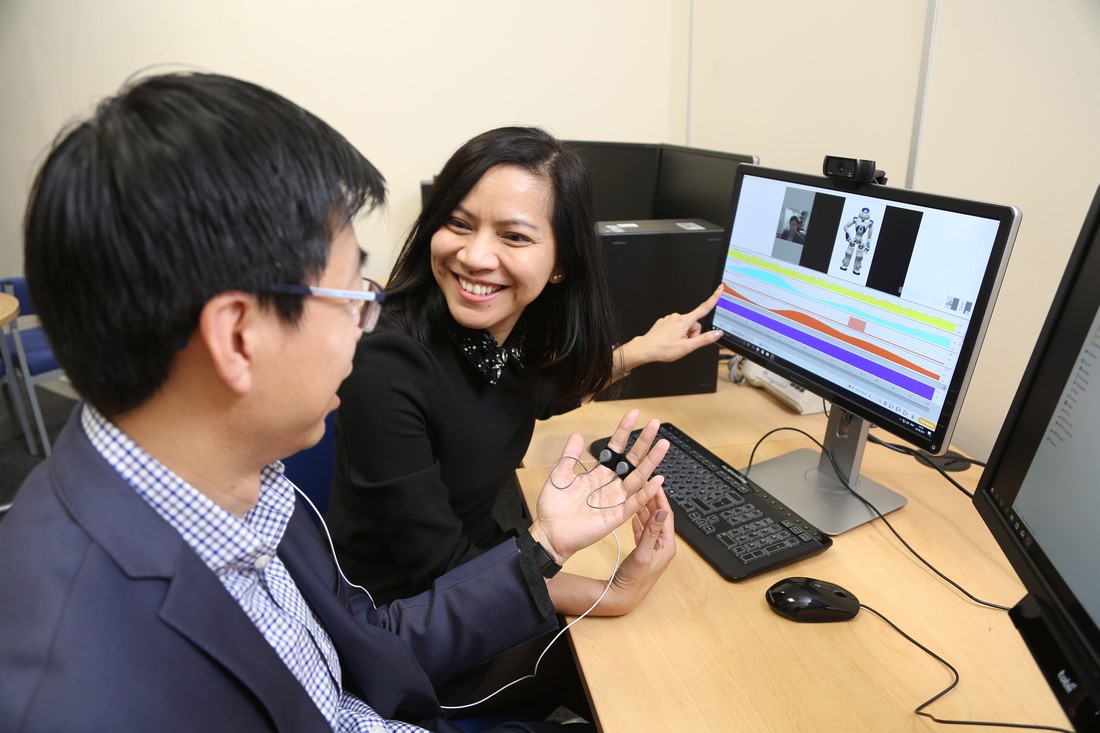 What is the Digital Lab?
The Digital Lab is the research laboratory affiliated with the Centre for Digital Transformation in the Visitor Economy within the School of Hospitality and Tourism Management at the University of Surrey. Formed in 2016, the lab focuses on digital experiences and behaviour research using biosensors and software for psychophysiological analyses (linking the body with the mind, roles of the body in explaining the processes of the mind).
Using digital technology to understand people's responses to marketing materials
The main area of our research is understanding people's experiences with various digital platforms in the context of tourism and hospitality, specifically understanding how people make decisions and what the factors are that influence their decisions. Our Digital Lab is equipped with biometric sensors and software, including eye-tracking, galvanic skin response, and facial expression analyses, which enable us to understand people's emotional reactions to digital stimuli, such as marketing materials, websites, videos, virtual reality, and to explain how emotions relate to perception, attitude, and behaviour. The results of our research will assist in the design of persuasive marketing material, digital content and technology.
For example, we are looking at what contributes to consumers' trust or perceived risk of using certain technologies in tourism and hospitality (e.g. booking hotels instantly with smartphones). This would be helpful for providers to eliminate roadblocks to technology adoption (for example, people's fear of technology or concerns about privacy). The facilities can also be used for A/B testing to analyse marketing material to understand the perceived user experiences allowing to optimise the impact on outcomes for an organisation. Being able to dig deeper into the cognitive and emotional responses during decision-making processes involving digital technology will allow us to recommend more effective ways shape positive attitude and behaviour toward tourism and hospitality providers. 
What are the aims of the Digital Lab?
The main aim is to produce impactful research to generate insights and enhance knowledge about consumer behaviour along the entire decision-making process starting from being inspired, to searching for information, evaluation alternatives, and all the way to post-purchase decisions in the contexts of tourism, hospitality, events and transport. The impacts of our research should be in three areas:
academia (contributing to theory development in relevant areas, which will be used for further research and teaching in tourism and hospitality management)
the travel, tourism, hospitality and events industry (including tourism managers, travel agencies, hotels)
the broader community (e.g., influencing how digital platforms are designed to improve people's lives and experiences). 
What is unique about our work?
Our approach is unique because we combine multiple research approaches to explain tourists' behaviour using biosensors in the field of tourism and hospitality. As far as we know, we are among the few labs in the world, probably the first in the UK, to have an integrated system with multiple sensors/measurements.
What are we currently working on?
We are currently working on various projects ranging from the use of big data to better analyse tourist behaviour to tourists' reactions, to the use of automated technology (including robots) in tourism and hospitality, to the use of augmented reality/virtual reality in tourism. These projects are still on-going or under peer review, so we cannot share much of the findings yet; however, we can share one of our papers that was accepted for publication recently in Journal of Travel Research. The research was carried out in collaboration with the AR/VR Hub at Manchester Metropolitan University. They developed an augmented reality (AR) application to use with Google Glass at an art gallery in Manchester and we carried out an experiment with the visitors. AR works by overlaying digital information, visible on the Google Glass screen, onto the exhibits in the art gallery (adding digital content to the natural environment). We specifically looked at how visitors embodied the wearable AR (Google Glass) as they experienced the exhibition. We define embodiment as the state where visitors feel as if what they see through Google Glass is their vision of the natural environment. We found that a higher level of embodiment enhances enjoyment and overall gallery experience among visitors who interacted with the exhibits using AR. The results provide technology developers with aspects to consider when designing AR application for museums/gallery.  
Once your findings have appeared in a journal, what do you then do with it?
We hope people will read it and cite it. We think we have to do a better job in disseminating our findings to non-academic audience. We organise workshops/think tanks annually, which are open to academics and practitioners, to disseminate our research and discuss relevant problems that our research could answer. On a monthly basis, we publish research in 60-second videos striving to inspire and trigger conversations.