---
news
Published:
18 February 2020
Students meet SME placement providers at mini-fair
Nine engineering companies showcased the benefits of doing a Professional Training placement with local and SME (small and medium sized enterprise) firms at a lunchtime mini-fair at Surrey on 4 February.
Organised by the Employability and Careers Centre and Department of Mechanical Engineering Sciences, the event welcomed around 80 students from across the engineering disciplines and computer science. It was a great chance for students to informally network with employers and learn about the variety of locally-based SMEs in the sector, and for companies to promote themselves as placement providers and graduate employers.
The companies exhibiting at the mini-fair were Alexander Dennis, Gordon Murray Design, Subsea7, Mecmesin, Stanhope-Seta, Gedore Torque, GTR Composites, Ardingly College and Petrofac.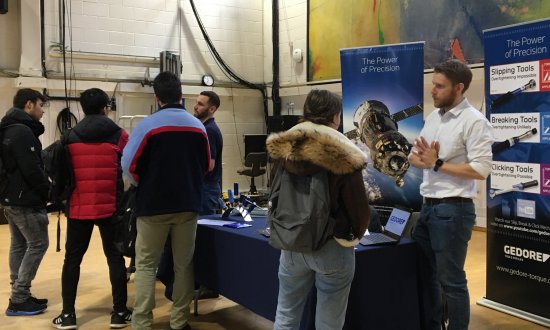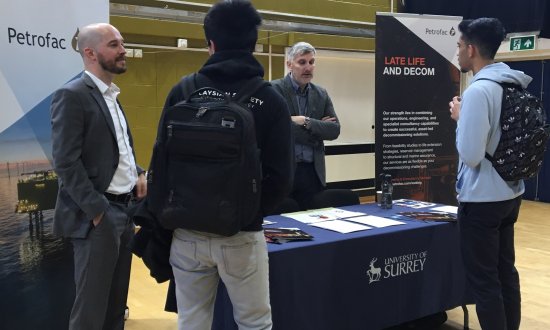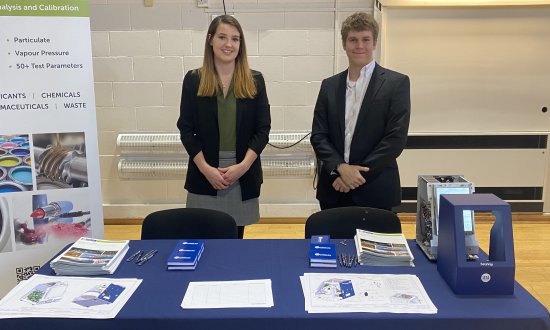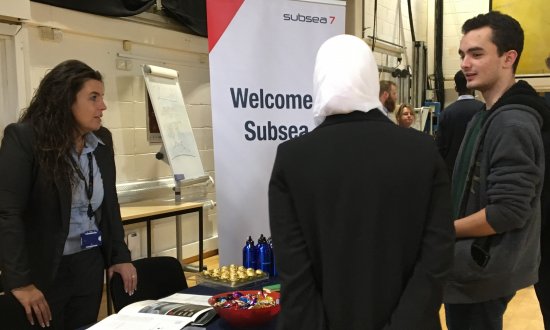 Elliot Francis, now a Software Development Engineer at Stanhope-Seta, did a Professional Training placement with the company himself as a Surrey student. He said: "I studied computer science and was one of the first placement students here who was purely working on software. It was a great opportunity to understand about the outside world. For the company, students always bring something new and help us to keep innovating."
Ardingly Solar – an offshoot of Ardingly College which designs, builds and races solar cars – provides a unique placement opportunity for students. Last year, two Surrey mechanical engineering students on placement with the College travelled to Australia where the solar car they helped to build successfully completed the 2019 Bridgestone World Solar Challenge from Darwin to Adelaide.
Dr Andrew Spiers, Project Director at Ardingly Solar, explained: "We work with around 33 companies and a number of universities, and we've been delighted with the Surrey students who have come to us. Because there are tight deadlines involved, there's quite a lot of pressure and we work long hours to ensure the car is finished on time. These students have really come up with the goods and also acted as great mentors to our school students."
Read about Lucy Rushbrook's placement experience at Ardingly Solar.
Dr Mark Baker, Senior Tutor for Professional Training in the Department of Mechanical Engineering Sciences, commented "Students tend to think in terms of big companies when they're applying for a placement, but SMEs can provide excellent opportunities. There's often more opportunity to be creative and get involved in developing new products, and also to work across different departments, getting a flavour of the different sides of engineering which can help inform your career choices."
Discover our courses in mechanical engineering sciences.