---
news
Published:
26 October 2017
Surrey leads UK-Indian workshop on sustainable development
The University's Centre for Environment and Sustainability (CES) partnered with the CSIR-Indian Institute of Petroleum (IIP) to stage the Newton Bhabha Fund Researcher Link workshop in Dehradun, India.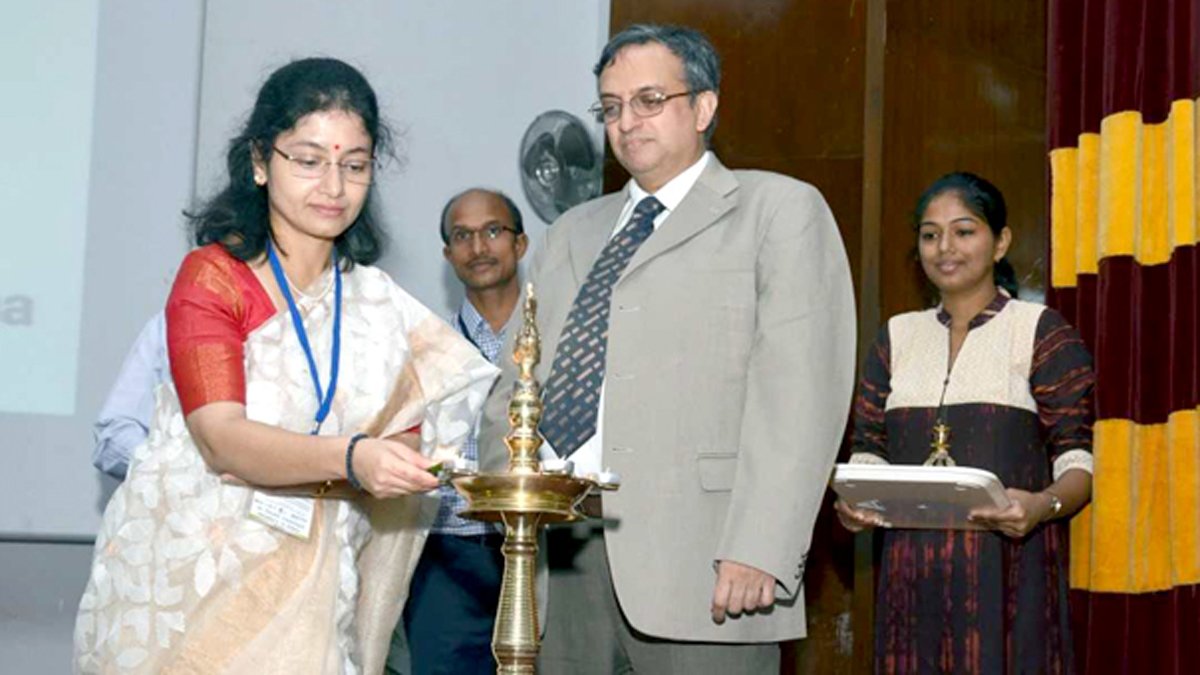 The workshop, which is taking place from 23 to 27 October, has brought together around 40 academics, scientists and engineers from leading institutions in the UK and India to address the energy-related challenges of economic development. The event has been highly positive in promoting the benefits of collaboration with UK universities, having attracted widespread media coverage in India.
Held at the CSIR-IIP headquarters, the workshop – entitled 'Energy for Economic Development and Welfare' – is coordinated by Dr Jhuma Sadhukhan, a Reader within Surrey's Centre for Environment and Sustainability (CES) and Dr Thallada Bhaskar of the Indian Institute of Petroleum. The event is funded by the British Council and the Royal Society of Chemistry under the Newton Bhabha Programme.
Throughout the week, presentations are being made from practitioners who are leading global research in their field, including Surrey speakers Dr Sadhukhan, Professor Richard Murphy (Director of CES), Dr Mobolaji Shemfe (Research Fellow within the CES) and Dr Siddharth Gadkari (Research Fellow within the Department of Chemical and Process Engineering).
In addition to lectures and technical presentations, the workshop also includes laboratory visits at CSIR-IIP and round table discussions which are enabling delegates to share concerns and ideas on sustainable development, waste utilisation and economic growth.
Dr Jhuma Sadhukhan stated that sustainable and renewable energy supply and security is at the heart of the multi-dimensional problems affecting economic development and welfare of poor and vulnerable populations in India. It is job of the engineers, scientists and technologists to make sure that the research done at laboratory has a societal and economic benefit and convince policy makers to design policies to integrate systems. This workshop will be used to share our visions and learn from each other to make a progress through the scale.
The workshop is an excellent opportunity to share our research, learn from Indian colleagues and practitioners with different perspectives, and build collaborations for the future.

 

I am especially delighted to be part of this event as my maternal grandfather Dr J W Whitaker was the founder and first Director of the Institute from 1960 to 1963, so it is wonderful to come full circle and visit the current Director and IIP for my first time.

- Professor Richard Murphy
The workshop welcomed delegates from Aston University, The University of Manchester, Cardiff University, Cranfield University, University of Aberdeen, University of Birmingham, Imperial College, Coventry University and Liverpool John Moores University, Green Biologics Ltd., Anaero Technology Ltd., and Phycofeeds Limited in the UK, and CSIR-Indian Institute of Toxicology Research, CSIR-Indian Institute of Chemical Technology, CSIR-National Institute for Interdisciplinary Science and Technology, Institute of Bio-resources and Sustainable Development, Institutes of Technology, and The Energy and Resources Institute in India.
Discover our MSc and Postgraduate Research programmes in Environment and Sustainability.