---
feature
Surrey offers a launch pad for tech
In a changing world, the winners are the ones who are agile enough to take advantage. Today, few environments change as rapidly as the technology sector, which means those able to get off the launching pad can often get a head start on slower competitors. If you can turn an idea into a business straight away, you put yourself in the best possible position.
Many entrepreneurs do that by spinning their tech concepts out of the university where their research is based, and the University of Surrey is keen to showcase its credentials for budding tech entrepreneurs.
"Working with businesses has turned out to be one of Surrey's major strengths. We have successfully developed a number of strategic partnerships in research and innovation, including most recently the 5G Innovation Centre (5GIC), which has brought together more than 25 leading industry partners and 30 small and medium-sized enterprises (SMEs)."
Collaboration with the University of Surrey is something we aim to make as straightforward and rewarding as possible.
Professor Max Lu, President and Vice-Chancellor
The University of Surrey is one of only two UK universities described as a top 55 Tech Challenger by Times Higher Education, with ambitious plans to collaborate with 1,000 businesses in the next five years. The bottom line is to achieve an annual research income of £60m by 2021-2022 and reach more than £5m a year of income from consultancy and intellectual property commercialisation, against a benchmark of comparable academic organisations.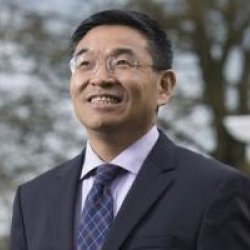 Professor Max Lu, President and Vice-Chancellor
"We are facing a great deal of uncertainty, especially around questions over funding by government," says Professor Lu. "But our job is to help businesses understand change and grow in difficult circumstances."
"We are as honest and transparent with ourselves as we are with our partners. Technology and the brainpower that drives innovations are only going to become more important as AI and digital transformation reaches maturity, and we are confident that the relationships we have built will help us thrive in the coming years."