---
feature
Published:
12 February 2018
University of Surrey company helps create 'darkest building on Earth' at Winter Olympics
A material developed by a Surrey Nanosystems is so dark it appears to create an astonishing black void in broad daylight.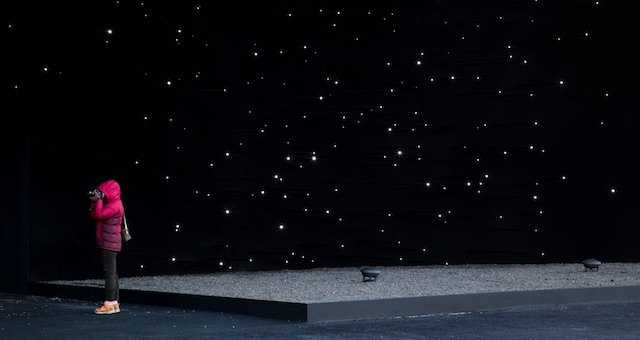 Image credit: © Luke Hayes.
A University of Surrey spin-off company has developed a pioneering 'superblack' material, Vantablack VBx2, which the architect and artist Asif Khan has used to coat a building at the Winter Olympics in Pyeongchang, South Korea.
Vantablack VBx2 is a nanomaterial developed by Surrey spin-off company Surrey Nanosystems. Vantablack is the world's darkest human-made substance and absorbs over 99 per cent of all light. In fact, it's so black that when it's applied to a three-dimensional object it becomes impossible to discern any surface features and three-dimensional objects appear to become two-dimensional. On a building, the material creates the illusion of an astonishing black void in broad daylight.
The Pyeongchang Olympic Park in South Korea is home to the 'superblack' building, which Hyundai Motor Company commissioned to advertise its future hydrogen fuel cell vehicles. The building's dark exterior represents the empty universe, dotted with stars – bodies that begin as hydrogen – while an interactive water droplet display inside represents individual hydrogen molecules. 
Surrey Nanosystems was spun-off from the University of Surrey's Advanced Technology Institute in 2006 and the University remains an investor in the company. The University of Surrey has a long history of its research and discoveries leading to commercial ventures, new companies, industries and opportunities. Companies spun off from Surrey include Surrey Satellite Technology Limited, OmniPerception, Modern Water plc and many others.
The University of Surrey is also home to the Surrey Research Park, a 70-acre site that hosts around 140 companies, many of which are connected to the University and specialise in new technologies. Companies on the park employ more than 3,200 highly-qualified staff, helping to create local jobs and generate between £580m and £625m of economic activity for the regional economy ever year.
Discover more about our commercial partnerships and how we work with business.