---
press release
University of Surrey Vice-Chancellor receives (Officer in the General Division) of the Order of Australia in London
University of Surrey's President and Vice-Chancellor, Professor GQ Max Lu, has received his medal of the Order of Australia (Officer in the General Division) in London.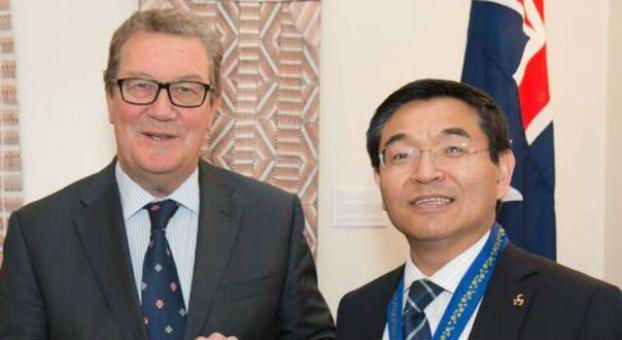 Professor GQ Max Lu AO, who has been an Australian national since 1991, received the honour in recognition of his distinguished service to education and international research in the field of materials chemistry and nanotechnology, to engineering, and to Australia-China relations. He was personally given the award by The Honourable Alex Downer at the Australian Embassy in London.
The award was announced earlier this year as part of the Australia Day Honours list, and Professor Lu received the award at a special ceremony held at Australia House in London today.
Professor Lu said: "I am very grateful to receive this wonderful honour, and it is very special to have it bestowed upon me by a country that I adopted as my home for 29 years.
"I attribute this award to many people, from my former students, postdocs, to colleagues who have supported and helped me. I would particularly like to thank the University of Queensland, its successive Vice-Chancellors and other senior colleagues for the tremendous opportunities and support I received during my time there. And I would also like to thank my family – this would not have been possible or meaningful without their love and support.
"I am also very honoured to be the Vice-Chancellor of the University of Surrey. I hope my past experience will help fulfil our ambitious educational and research goals for this great University, and it will become a leading global university renowned for its world-changing graduates and impactful research that will transform industries and society."  
Professor Max Lu has been President and Vice-Chancellor of the University of Surrey since April 2016.
Professor Lu spent three years in Singapore as a lecturer at Nanyang Technological University after completing his PhD. He joined the University of Queensland in 1994, and held positions of senior lecturer, associate professor, professor and Chair of Nanotechnology in Chemical Engineering. He won the prestigious Australian Research Council (ARC) Federation Fellowship twice, in 2003 and 2008.
Prior to taking up the role of Provost and Senior Vice-President in March 2014, Professor Lu served as Deputy Vice-Chancellor (Research) from 2009, and acting Senior Deputy Vice-Chancellor from December 2011 to October 2012. He held the position of Pro Vice-Chancellor (Research Linkages) from October 2008 to April 2009, following his seven-year service as the Foundation Director of the ARC Centre of Excellence for Functional Nanomaterials.
Professor Lu's research expertise is in the fields of materials chemistry and nanotechnology. He has made seminal contributions to science and innovation in nanomaterials and their applications in clean energy and environmental technologies. With over 500 publications in high impact journals, he is also co-inventor of more than 20 international patents.
Media Contacts
---
External Communications and PR team
Phone: +44 (0)1483 684380 / 688914 / 684378
Email: mediarelations@surrey.ac.uk
Out of hours: +44 (0)7773 479911