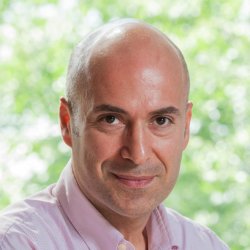 Professor Ali Mobasheri
---
Professor of Musculoskeletal Physiology
Biography
Biography
Ali Mobasheri graduated in Biochemistry from Imperial College London in 1990. He was awarded an Open Fellowship by the University of Toronto and completed a Master's degree in 1993. He returned to the UK to undertake a PhD sponsored by the Arthritis and Rheumatism Council (now known as Arthritis Research UK) at Wolfson College, University of Oxford. After completing his PhD in 1997 he worked as a lecturer in London (1997-2000) before moving to the University of Liverpool, where he was lecturer from 2000-2005 and senior lecturer from 2005-2006. In 2006 he moved to the University of Nottingham as Associate Professor and Reader in Comparative Physiology. He currently holds the post of Professor of Musculoskeletal Physiology at the University of Surrey.
Research interests
Ali's primary research focuses on cartilage biology. He is the Scientific Co-ordinator of the EU Framework 7 funded D-BOARD consortium, which brings together leading European academic institutions and SMEs to focus on the identification, validation and qualification of new biomarkers for degenerative and inflammatory diseases of joints.
http://www.d-board.eu/dboard/index.aspxhttp://cordis.europa.eu/projects/rcn/105314_en.htmlhttp://ec.europa.eu/research/health/medical-research/severe-chronic-diseases/projects/d-board_en.html
Ali's track record of professional achievement is backed up by more than 167 primary peer-reviewed publications. He has contributed to more than twenty book chapters and has ongoing collaborative research with industry and leading academic investigators in established centres of excellence in Europe and the Middle East. Ali is a member of the Board of Directors of the Osteoarthritis Research Society International (OARSI) and chairs OARSI's Strategic Alliances Committee. He currently serves on the BBSRC's Committee A, the BBSRC Industrial CASE Studentship Committee and is a member of the BBSRC Pool of Experts. Ali also serves as a Faculty Member in the Musculoskeletal Repair & Regeneration/Rheumatology & Clinical Immunology sections of Faculty of 1000 Ltd.
Goals: To contribute to the development of high quality research and teaching as well as professional consultancy services for healthcare, veterinary, diagnostics and pet food and agri-food industries.
APPROACH Project
The APPROACH consortium brings together a highly qualified and multidisciplinary group of stakeholders that will set up - for the first time - a broad database of different OA patients as well as a longitudinal cohort based on innovative stratification methods that identifies different osteoarthritis phenotypes. This will allow for the development of guidelines for differentially diagnosing the right patient for the right treatment. The APPROACH project is funded by the European Innovative Medicines Initiative (IMI).http://www.approachproject.euhttp://www.approachproject.eu/partners
Teaching
Ali has been involved in teaching cell biology, renal, endocrine and musculoskeletal physiology.
More
Section Editor (Pathophysiology of Musculoskeletal Disorders), BMC Musculoskeletal Disorders
Section Editor (Pain Aspects of Arthritis), Current Pain and Headache Reports
Specialty Chief Editor - One Health (Frontiers in Veterinary Science and Frontiers in Public Health)
Associate Editor - Membrane Physiology and Membrane Biophysics (Frontiers in Physiology)
Hirsch (h) Index: 33
ORCID ID: 0000-0001-6261-1286
Scopus Author ID: 7003311894
My publications
Publications
Shakibaei M, Seifarth C, John T, Rahmanzadeh M, Mobasheri A
(2006)
Igf-I extends the chondrogenic potential of human articular chondrocytes in vitro: molecular association between Sox9 and Erk1/2.,
Biochem Pharmacol
72
(11)
pp. 1382-1395
Expansion of articular chondrocytes in monolayer culture leads to loss of the unique chondrocyte phenotype and the cells' redifferentiation capacity. Dedifferentiation of chondrocytes in monolayer culture is a challenging problem for autologous chondrocyte transplantation (ACT). It is well established that Igf-I exerts positive anabolic effects on chondrocytes in vivo and in vitro. Accordingly, in this study, we examined whether the anabolic insulin-like growth factor-I (Igf-I) is capable of extending the chondrogenic potential of dedifferentiated chondrocytes in vitro. Chondrocyte monolayers were cultured up to 10 passages. At each passage chondrocytes were stimulated with Igf-I (10ng/ml) and introduced to high-density cultures for up to 7 days. Expression of collagen type II, cartilage-specific proteoglycans, activated caspase-3, integrin beta1, extracellular signal-regulated kinase (Erk) and Sox9 was examined by Western blotting, immunoprecipitation and immunomorphological techniques. Monolayer chondrocytes rapidly lost their differentiated phenotype. When introduced to high-density cultures, only chondrocytes from P1-P4 redifferentiated. In contrast, Igf-I treated cells from P1 up to P7 redifferentiated and formed cartilage-like tissue in high-density culture. P8-P10 cells exhibited apoptotic alterations and produced significantly less matrix. Igf-I markedly increased expression of integrin beta1, Erk and Sox9. Immunoprecipitation revealed that phosphorylated Erk1/2 physically interacts with Sox9 in chondrocyte nuclei, suggesting a previously unreported functional association which was markedly enhanced by Igf-I. Treatment of chondrocyte cultures with Igf-I stabilizes chondrogenic potential, stimulates Sox9 and promotes molecular interactions between Erk and Sox9. These effects appear to be regulated by the integrin/MAPK signaling pathways.
Swan AL, Mobasheri A, Allaway D, Liddell S, Bacardit J
(2013)
Application of machine learning to proteomics data: classification and biomarker identification in postgenomics biology.,
OMICS
17
(12)
pp. 595-610
Mass spectrometry is an analytical technique for the characterization of biological samples and is increasingly used in omics studies because of its targeted, nontargeted, and high throughput abilities. However, due to the large datasets generated, it requires informatics approaches such as machine learning techniques to analyze and interpret relevant data. Machine learning can be applied to MS-derived proteomics data in two ways. First, directly to mass spectral peaks and second, to proteins identified by sequence database searching, although relative protein quantification is required for the latter. Machine learning has been applied to mass spectrometry data from different biological disciplines, particularly for various cancers. The aims of such investigations have been to identify biomarkers and to aid in diagnosis, prognosis, and treatment of specific diseases. This review describes how machine learning has been applied to proteomics tandem mass spectrometry data. This includes how it can be used to identify proteins suitable for use as biomarkers of disease and for classification of samples into disease or treatment groups, which may be applicable for diagnostics. It also includes the challenges faced by such investigations, such as prediction of proteins present, protein quantification, planning for the use of machine learning, and small sample sizes.
Peansukmanee S, Vaughan-Thomas A, Carter SD, Clegg PD, Taylor S, Redmond C, Mobasheri A
(2009)
Effects of hypoxia on glucose transport in primary equine chondrocytes in vitro and evidence of reduced GLUT1 gene expression in pathologic cartilage in vivo.,
J Orthop Res
27
(4)
pp. 529-535
Articular chondrocytes exist in an environment lacking in oxygen and nutrients due to the avascular nature of cartilage. The main source of metabolic energy is glucose, which is taken up by glucose transporters (GLUTs). In diseased joints, oxygen tensions and glucose availability alter as a result of inflammation and changes in vascularisation. Accordingly, in this study we examined the effects of hypoxia and the hypoxia mimetic cobalt chloride (CoCl(2)) on glucose transport in equine chondrocytes and compared expression of the hypoxia responsive GLUT1 gene in normal and diseased cartilage. Monolayers of equine chondrocytes were exposed to 20% O(2), 1% O(2), CoCl(2) (75 microM), or a combination of 1% O(2) and CoCl(2). Glucose uptake was measured using 2-deoxy-D-[2,6-(3)H] glucose. GLUT1 protein and mRNA expression were determined by FACS analysis and qPCR, respectively. GLUT1 mRNA expression in normal and diseased cartilage was analyzed using explants derived from normal, OA, and OCD cartilage. Chondrocytes under hypoxic conditions exhibited a significantly increased glucose uptake as well as upregulated GLUT1 protein expression. GLUT1 mRNA expression significantly increased in combined hypoxia-CoCl(2) treatment. Analysis of clinical samples indicated a significant reduction in GLUT1 mRNA in OA samples. In OCD samples GLUT1 expression also decreased but did not reach statistical significance. The increase in glucose uptake and GLUT1 expression under hypoxic conditions confirms that hypoxia alters the metabolic requirements of chondrocytes. The altered GLUT1 mRNA expression in diseased cartilage with significance in OA suggests that reduced GLUT1 may contribute to the failure of OA cartilage repair.
Mobasheri A, Moskaluk CA, Marples D, Shakibaei M
(2010)
Expression of aquaporin 1 (AQP1) in human synovitis.,
Ann Anat
192
(2)
pp. 116-121
Rheumatoid arthritis (RA) is an autoimmune disorder characterized by synovial proliferation (synovitis), articular cartilage and subchondral bone degradation as well as joint swelling. Joint swelling and edema often accompany pannus formation and chronic joint inflammation in RA. We have recently shown that human chondrocytes and synoviocytes express aquaporin 1 (AQP1) water channels and that AQP1 is upregulated in RA cartilage. Clinical evidence suggests that joint swelling and edema accompany the chronic inflammation observed in synovial joints of RA patients. Therefore we hypothesized that AQP1 water channels may be involved in joint swelling and synovial edema formation. To test this hypothesis, we performed immunostaining of normal and human synovitis tissue microarrays (TMAs) to investigate whether the expression of AQP1 water channels is altered in the synovium in synovitis. Immunohistochemistry revealed that AQP1 is expressed in synovial micro-vessels and synoviocytes from normal joints (n=20 normal subjects). Semi-quantitative histomorphometric analysis of AQP1 expression in the TMAs revealed upregulation of the membrane protein in the synovium derived from RA (n=10) and psoriatic arthritis (n=8) patients. These results indicate a potential role for synovial AQP1 and other aquaporins in joint swelling and the vasogenic edema fluid formation and hydrarthrosis associated with synovial inflammation. Future experiments will need to determine whether the expression of other aquaporins is altered in synovitis.
Lewis R, May H, Mobasheri A, Barrett-Jolley R
(2013)
Chondrocyte channel transcriptomics: do microarray data fit with expression and functional data?,
Channels (Austin)
7
(6)
pp. 459-467
To date, a range of ion channels have been identified in chondrocytes using a number of different techniques, predominantly electrophysiological and/or biomolecular; each of these has its advantages and disadvantages. Here we aim to compare and contrast the data available from biophysical and microarray experiments. This letter analyses recent transcriptomics datasets from chondrocytes, accessible from the European Bioinformatics Institute (EBI). We discuss whether such bioinformatic analysis of microarray datasets can potentially accelerate identification and discovery of ion channels in chondrocytes. The ion channels which appear most frequently across these microarray datasets are discussed, along with their possible functions. We discuss whether functional or protein data exist which support the microarray data. A microarray experiment comparing gene expression in osteoarthritis and healthy cartilage is also discussed and we verify the differential expression of 2 of these genes, namely the genes encoding large calcium-activated potassium (BK) and aquaporin channels.
Schneider PR, Buhrmann C, Mobasheri A, Matis U, Shakibaei M
(2011)
Three-dimensional high-density co-culture with primary tenocytes induces tenogenic differentiation in mesenchymal stem cells.,
J Orthop Res
29
(9)
pp. 1351-1360
Mesenchymal stem cells (MSCs) have potential applications in regenerative medicine and tissue engineering and may represent an attractive option for tendon repair and regeneration. Thus far the ability of MSCs to differentiate into tenocytes in vitro has not been investigated. Experiments were performed with and without growth factors (IGF-1, TGF-²1, IGF-1/TGF-²1, PDGF-BB, and BMP-12), in co-cultures of tenocytes and MSCs mixed in different ratios and by culturing MSCs with spent media obtained from primary tenocytes. Tenogenesis was induced in MSCs through a combination of treatment with IGF-1 and TGF-²1, in high-density co-cultures and through cultivation with the spent media from primary tenocytes. Electron microscopy and immunoblotting were used to demonstrate up-regulation of collagen I/III, decorin, tenomodulin, ²1-Integrin, MAPKinase pathway (Shc, Erk1/2), and scleraxis in the co-cultures and provide simultaneous evidence for the inhibition of apoptosis. In monolayer co-cultures extensive intercellular contacts between MSCs and tenocytes were observed. Cells actively exchanged vesicles, which were labeled by using immunofluorescence and immunogold techniques, suggesting the uptake and interchange of soluble factors produced by the MSCs and/or tenocytes. We conclude that MSCs possess tenogenic differentiation potential when provided with relevant stimuli and a suitable microenvironment. This approach may prove to be of practical benefit in future tissue engineering and tendon regenerative medicine research.
Mobasheri A, Moskaluk CA, Marplesc D, Shakibaeid M
(2012)
The role of aquaporins in human synovitis,
pp. 65-93
Rheumatoid arthritis (RA) is an autoimmune disorder characterized by synovial proliferation (synovitis), articular cartilage and subchondral bone degradation and synovial inflammation. Joint swelling and oedema often accompany pannus formation and joint chronic inflammation in RA. Clinical evidence suggests that joint swelling and oedema frequently accompany the chronic inflammation observed in synovial joints of RA patients. Although joint swelling is understood to be a major problem in synovitis, very little is known about the molecular mechanisms responsible for the oedema fluid formation that is associated with joint inflammation. Recent studies from our laboratory have shown that articular chondrocytes and synoviocytes express aquaporin 1 (AQP1) water channels. Aquaporins are a family of small integral membrane proteins related to the major intrinsic protein (MIP or AQP0). In recent studies we have used immunohistochemistry to investigate whether the expression of the AQP1 water channel is altered in synovitis. Our data suggests that this membrane protein is upregulated in the synovium derived from RA and psoriatic arthritis patients. In this chapter these observations are discussed in the context of RA and psoriatic arthritis. AQP1 and other aquaporins may play an important role in joint swelling and the vasogenic oedema fluid formation and hydrarthrosis associated with synovial inflammation. © 2012 by Nova Science Publishers, Inc. All rights reserved.
Shakibaei M, Mobasheri A, Lueders C, Busch F, Shayan P, Goel A
(2013)
Curcumin enhances the effect of chemotherapy against colorectal cancer cells by inhibition of NF-ºB and Src protein kinase signaling pathways.,
PLoS One
8
(2)
OBJECTIVE: Development of treatment resistance and adverse toxicity associated with classical chemotherapeutic agents highlights the need for safer and effective therapeutic approaches. Herein, we examined the effectiveness of a combination treatment regimen of 5-fluorouracil (5-FU) and curcumin in colorectal cancer (CRC) cells. METHODS: Wild type HCT116 cells and HCT116+ch3 cells (complemented with chromosome 3) were treated with curcumin and 5-FU in a time- and dose-dependent manner and evaluated by cell proliferation assays, DAPI staining, transmission electron microscopy, cell cycle analysis and immunoblotting for key signaling proteins. RESULTS: The individual IC50 of curcumin and 5-FU were approximately 20 µM and 5 µM in HCT116 cells and 5 µM and 1 µM in HCT116+ch3 cells, respectively (p
Trujillo E, González T, Marín R, Martín-Vasallo P, Marples D, Mobasheri A
(2004)
Human articular chondrocytes, synoviocytes and synovial microvessels express aquaporin water channels; upregulation of AQP1 in rheumatoid arthritis.,
Histol Histopathol
19
(2)
pp. 435-444
Recent studies have shown that aquaporin water channels are expressed in human Meckel's cartilage. The aim of the present investigation was to determine if human articular chondrocytes and synoviocytes express aquaporin 1 (AQP1) water channels and to establish if there are any alterations in AQP1 expression in osteoarticular disorders such as osteoarthritis (OA) and rheumatoid arthritis (RA). Immunohistochemistry was employed semi-quantitatively to compare the expression of AQP1 in human chondrocytes derived from normal, OA and RA joints. PCR, cloning and sequencing confirmed the presence of AQP1 transcripts in chondrocytes. Normal human tissue microarrays including samples of kidney, choroid plexus and pancreas were used as positive controls for AQP1 expression. In most tissues AQP1 was expressed along endothelial barriers. In the kidney AQP1 was present in the glomerular capillary endothelium, proximal tubule and descending thin limbs. AQP1 was also localized to pancreatic ducts and acini and the apical membrane domain of the choroid plexus. Immunohistochemistry showed that AQP1 is expressed in synovial micro-vessels, synoviocytes and predominantly in chondrocytes located in the deep zone of articular cartilage. Image analysis of normal, OA and RA cartilage suggested that AQP1 may be upregulated in RA. This is the first report of AQP1 mRNA and protein expression in articular chondrocytes and synoviocytes. These findings suggest a potential role for AQP1 and possibly other members of the AQP gene family in the movement of extracellular matrix and metabolic water across the membranes of chondrocytes and synoviocytes for the purposes of chondrocyte volume regulation and synovial homeostasis.
Mobasheri A
(2011)
Proteomic profiling and its applications to muscle aging and sarcopenia.,
Frontiers in physiology
2
© 2015, Springer Science+Business Media New York.Chondrocytes, the single cell type in adult articular cartilage, have conventionally been considered to be non-excitable cells. However, recent evidence suggests that their resting membrane potential (RMP) is less negative than that of excitable cells, and they are fully equipped with channels that control ion, water and osmolyte movement across the chondrocyte membrane. Amongst calcium-specific ion channels, members of the voltage-dependent calcium channel (VDCC) family are expressed in chondrocytes where they are functionally active. L-type VDCC inhibitors such as nifedipine and verapamil have contributed to our understanding of the roles of these ion channels in chondrogenesis, chondrocyte signalling and mechanotransduction. In this narrative review, we discuss published data indicating that VDCC function is vital for chondrocyte health, especially in regulating proliferation and maturation. We also highlight the fact that activation of VDCC function appears to accompany various inflammatory aspects of osteoarthritis (OA) and, based on in vitro data, the application of nifedipine and/or verapamil may be a promising approach for ameliorating OA severity. However, very few studies on clinical outcomes are available regarding the influence of calcium antagonists, which are used primarily for treating cardiovascular conditions in OA patients. This review is intended to stimulate further research on the chondrocyte ?channelome?, contribute to the development of novel therapeutic strategies and facilitate the retargeting and repositioning of existing pharmacological agents currently used for other comorbidities for the treatment of OA.
Cultivation of phenotypically stable auricular chondrocytes will have applications in autologous chondrocyte transplantation and reconstructive surgery of cartilage. Chondrocytes grown in monolayer culture rapidly dedifferentiate assuming a fibroblast-like morphology and lose their cartilage-specific pattern of gene expression. Three-dimensional high-density culture models mimic more closely the in vivo conditions of cartilage. Therefore, this study was undertaken to test whether the high-density cultures might serve as a suitable model system to acquire phenotypically and functionally differentiated auricular chondrocytes from porcine cartilage. Freshly isolated porcine auricular chondrocytes were cultured for 7 passages in monolayer culture. From each passage (passage 0 and 1-7) cells were introduced to high-density cultures and examined by transmission electron microscopy. Western blotting was used to analyse the expression of cartilage-specific markers, such as collagen type II and cartilage specific proteoglycan, fibronectin, cell adhesion and signal transduction receptor ²1-integrin, matrix metalloproteinases (MMP-9, MMP-13), cyclo-oxygenase (COX)-2 and the apoptosis commitment marker, activated caspase-3. When dedifferentiated auricular chondrocytes from monolayer passages 0-4 were cultured in high-density culture, they recovered their chondrocytic phenotype and formed cartilage nodules surrounded by fibroblast-like cells and synthesised collagen type II, proteoglycans, fibronectin and ²1-integrins. However, chondrocytes from monolayer passages 5-7 did not redifferentiate to chondrocytes even when transferred to high-density culture, and did not synthesize a chondrocyte-specific extracellular matrix. Instead, they produced increasing amounts of MMP-9, MMP-13, COX-2, activated caspase-3 and underwent apoptosis. Three-dimensional high-density cultures may therefore be used to obtain sufficient quantities of fully differentiated auricular chondrocytes for autologous chondrocyte transplantation and reconstructive plastic surgery.
Mobasheri A, Matta C, Zákány R, Musumeci G
(2014)
Chondrosenescence: definition, hallmarks and potential role in the pathogenesis of osteoarthritis.,
Maturitas
80
(3)
pp. 237-244
Aging and inflammation are major contributing factors to the development and progression of arthritic and musculoskeletal diseases. "Inflammaging" refers to low-grade inflammation that occurs during physiological aging. In this paper we review the published literature on cartilage aging and propose the term "chondrosenescence" to define the age-dependent deterioration of chondrocyte function and how it undermines cartilage function in osteoarthritis. We propose the concept that a small number of senescent chondrocytes may be able to take advantage of the inflammatory tissue microenvironment and the inflammaging and immunosenescence that is concurrently occurring in the arthritic joint, further contributing to the age-related degradation of articular cartilage, subchondral bone, synovium and other tissues. In this new framework "chondrosenescence" is intimately linked with inflammaging and the disturbed interplay between autophagy and inflammasomes, thus contributing to the age-related increase in the prevalence of osteoarthritis and a decrease in the efficacy of articular cartilage repair. A better understanding of the basic mechanisms underlying chondrosenescence and its modification by drugs, weight loss, improved nutrition and physical exercise could lead to the development of new therapeutic and preventive strategies for osteoarthritis and a range of other age-related inflammatory joint diseases. Aging is inevitable but age-related diseases may be modifiable.
Arteaga MF, Gutiérrez R, Avila J, Mobasheri A, Díaz-Flores L, Martín-Vasallo P
(2004)
Regeneration influences expression of the Na+, K+-atpase subunit isoforms in the rat peripheral nervous system.,
Neuroscience
129
(3)
pp. 691-702
Neural injury triggers changes in the expression of a large number of gene families. Particularly interesting are those encoding proteins involved in the generation, propagation or restoration of electric potentials. The expression of the Na+, K+-ATPase subunit isoforms (alpha, beta and gamma) was studied in dorsal root ganglion (DRG) and sciatic nerve of the rat in normal conditions, after axotomy and during regeneration. In normal DRG, alpha1 and alpha2 are expressed in the plasma membrane of all cell types, while there is no detectable signal for alpha3 in most DRG cells. After axotomy, alpha1 and alpha2 expression decreases evenly in all cells, while there is a remarkable onset in alpha3 expression, with a peak about day 3, which gradually disappears throughout regeneration (day 7). beta1 Is restricted to the nuclear envelope and plasma membrane of neurons and satellite cells. Immediately after injury, beta1 shows a homogeneous distribution in the soma of neurons. No beta2 expression was found. Beta3 Specific immunofluorescence appears in all neurons, although it is brightest in the smallest, diminishing progressively after injury until day 3 and, thereafter, increasing in intensity, until it reaches normal levels. FXYD7 is expressed weakly in a few DRG neurons (less than 2%) and Schwann cells. It increases intensely in satellite cells immediately after axotomy, and in all cell types at day 3. Transient switching of members of the Na+, K+-ATPase isoform family elicited by axotomy suggests variations in the sodium pump isozymes with different affinities for Na+, K+ and ATP from those in intact nerve. This adaptation may be important for regeneration.
Shakibaei M, Buhrmann C, Mobasheri A
(2011)
Resveratrol-mediated SIRT-1 interactions with p300 modulate receptor activator of NF-kappaB ligand (RANKL) activation of NF-kappaB signaling and inhibit osteoclastogenesis in bone-derived cells.,
J Biol Chem
286
(13)
pp. 11492-11505
Resveratrol is a polyphenolic phytoestrogen that has been shown to exhibit potent anti-oxidant, anti-inflammatory, and anti-catabolic properties. Increased osteoclastic and decreased osteoblastic activities result in bone resorption and loss of bone mass. These changes have been implicated in pathological processes in rheumatoid arthritis and osteoporosis. Receptor activator of NF-ºB ligand (RANKL), a member of the TNF superfamily, is a major mediator of bone loss. In this study, we investigated the effects of resveratrol on RANKL during bone morphogenesis in high density bone cultures in vitro. Untreated bone-derived cell cultures produced well organized bone-like structures with a bone-specific matrix. Treatment with RANKL induced formation of tartrate-resistant acid phosphatase-positive multinucleated cells that exhibited morphological features of osteoclasts. RANKL induced NF-ºB activation, whereas pretreatment with resveratrol completely inhibited this activation and suppressed the activation of IºB± kinase and IºB± phosphorylation and degradation. RANKL up-regulated p300 (a histone acetyltransferase) expression, which, in turn, promoted acetylation of NF-ºB. Resveratrol inhibited RANKL-induced acetylation and nuclear translocation of NF-ºB in a time- and concentration-dependent manner. In addition, activation of Sirt-1 (a histone deacetylase) by resveratrol induced Sirt-1-p300 association in bone-derived and preosteoblastic cells, leading to deacetylation of RANKL-induced NF-ºB, inhibition of NF-ºB transcriptional activation, and osteoclastogenesis. Co-treatment with resveratrol activated the bone transcription factors Cbfa-1 and Sirt-1 and induced the formation of Sirt-1-Cbfa-1 complexes. Overall, these results demonstrate that resveratrol-activated Sirt-1 plays pivotal roles in regulating the balance between the osteoclastic versus osteoblastic activity result in bone formation in vitro thereby highlighting its therapeutic potential for treating osteoporosis and rheumatoid arthritis-related bone loss.
Mobasheri A, Shakibaei M, Marples D
(2004)
Immunohistochemical localization of aquaporin 10 in the apical membranes of the human ileum: a potential pathway for luminal water and small solute absorption.,
Histochem Cell Biol
121
(6)
pp. 463-471
A new member of the aquaporin family (AQP10) has recently been identified in the human small intestine by molecular cloning and in situ hybridization. Ribonuclease protection assay and northern blotting have demonstrated that AQP10 is expressed in the human duodenum and jejunum. However, the subcellular distribution of the AQP10 protein and its plasma membrane polarization have not yet been established. The objective of this study was to determine the distribution of the AQP10 protein in the human ileum by immunohistochemistry and western blotting using a polyclonal antibody raised against a unique 17-amino acid peptide derived from the human AQP10 sequence. The distribution of the AQP1 and AQP3 proteins was also studied by immunohistochemical staining using affinity-purified polyclonal antibodies. Results revealed that the AQP10 protein is preferentially targeted to the apical membrane domain of absorptive intestinal epithelial cells, whereas AQP3 is located in the basolateral membrane of the cells and AQP1 expression is restricted to the mucosal microvascular endothelia. The presence of AQP10 in the apical membrane of intestinal villi suggests that this protein may represent an entry pathway for water and small solutes from the lumen across to the mucosal side.
Henrotin Y, Marty M, Mobasheri A
(2014)
What is the current status of chondroitin sulfate and glucosamine for the treatment of knee osteoarthritis?,
Maturitas
78
(3)
pp. 184-187
Chondroitin sulfate and glucosamine sulfate exert beneficial effects on the metabolism of in vitro models of cells derived from synovial joints: chondrocytes, synoviocytes and cells from subchondral bone, all of which are involved in osteoarthritis (OA). They increase type II collagen and proteoglycan synthesis in human articular chondrocytes and are able to reduce the production of some pro-inflammatory mediators and proteases, to reduce the cellular death process, and improve the anabolic/catabolic balance of the extracellular cartilage matrix (ECM). Clinical trials have reported a beneficial effect of chondroitin sulfate and glucosamine sulfate on pain and function. The structure-modifying effects of these compounds have been reported and analyzed in recent meta-analyses. The results for knee OA demonstrate a small but significant reduction in the rate of joint space narrowing. Chondroitin sulfate and glucosamine sulphate are recommended by several guidelines from international societies for the management of knee and hip OA, while others do not recommend these products or recommend only under condition. This comprehensive review clarifies the role of these compounds in the therapeutic arsenal for patients with knee OA. © 2014 The Authors.
Freeman A, Hetzel U, Cripps P, Mobasheri A
(2010)
Expression of the plasma membrane markers aquaporin 1 (AQP1), glucose transporter 1 (GLUT1) and Na, K-ATPase in canine mammary glands and mammary tumours.,
Vet J
185
(1)
pp. 90-93
This study investigated the expression of the plasma membrane markers aquaporin 1 (AQP1), glucose transporter 1 (GLUT1) and the alpha1 subunit of Na, K-ATPase in normal canine mammary glands and in benign and malignant mammary tumours, using immunohistochemistry and semi-quantitative histomorphometry. AQP1 immunoreactivity was absent from the majority of specimens studied. GLUT1 immunoreactivity was observed in normal mammary tissue and particularly in the epithelial and mesenchymal cells of benign, and in the epithelial cells of malignant tumours, respectively. Na, K-ATPase immunoreactivity was present in normal and neoplastic mammary epithelium and was significantly increased in the epithelium of both benign and malignant tumours. These results suggest that GLUT1 is more highly expressed in neoplastic epithelium and mesenchyme and that Na, K-ATPase is more highly expressed in neoplastic mammary epithelium. In consequence, these membrane proteins may have potential as diagnostic and prognostic biomarkers of canine mammary neoplasia.
The incidence of age-related musculoskeletal impairment is steadily rising throughout the world. Musculoskeletal conditions are closely linked with aging and inflammation. They are leading causes of morbidity and disability in man and beast. Aging is a major contributor to musculoskeletal degeneration and the development of osteoarthritis (OA). OA is a degenerative disease that involves structural changes to joint tissues including synovial inflammation, catabolic destruction of articular cartilage and alterations in subchondral bone. Cartilage degradation and structural changes in subchondral bone result in the production of fragments of extracellular matrix molecules. Some of these biochemical markers or "biomarkers" can be detected in blood, serum, synovial fluid, and urine and may be useful markers of disease progression. The ability to detect biomarkers of cartilage degradation in body fluids may enable clinicians to diagnose sub-clinical OA as well as determining the course of disease progression. New biomarkers that indicate early responses of the joint cartilage to degeneration will be useful in detecting early, pre-radiographic changes. Systems biology is increasingly applied in basic cartilage biology and OA research. Proteomic techniques have the potential to improve our understanding of OA physiopathology and its underlying mechanisms. Proteomics can also facilitate the discovery of disease-specific biomarkers and help identify new therapeutic targets. Proteomic studies of cartilage and other joint tissues may be particularly relevant in diagnostic orthopedics and therapeutic research. This perspective article discusses the relevance and potential of proteomics for studying age-related musculoskeletal diseases such as OA and reviews the contributions of key investigators in the field.
Medina-Torres CE, Mason SL, Floyd RV, Harris PA, Mobasheri A
(2011)
Hypoxia and a hypoxia mimetic up-regulate matrix metalloproteinase 2 and 9 in equine laminar keratinocytes.,
Vet J
190
(2)
pp. e54-e59
The aim of this study was to determine if hypoxia and the hypoxia mimetic cobalt chloride regulate the activity of matrix metalloproteinase (MMP)-2 and -9 in cultures of equine hoof keratinocytes. These effects were assessed in primary cultures of laminar keratinocytes using gelatin zymography. Incubation of keratinocytes with cobalt chloride significantly increased the levels of active MMP-2 compared to untreated controls. Hypoxia significantly increased the expression of active MMP-2 and -9 in keratinocyte cultures. This up-regulation was observed after 6h and peaked at 24h. The study findings provide novel evidence of a potential link between hypoxia within the hoof and up-regulation of MMPs which may in turn result in damage to the lamellar basement membrane.
Henrotin Y, Mobasheri A, Marty M
(2012)
Is there any scientific evidence for the use of glucosamine in the management of human osteoarthritis?,
Arthritis Res Ther
14
(1)
Glucosamine in its acetylated form is a natural constituent of some glycosaminoglycans (for example, hyaluronic acid and keratan sulfate) in the proteoglycans found in articular cartilage, intervertebral disc and synovial fluid. Glucosamine can be extracted and stabilized by chemical modification and used as a drug or a nutraceutical. It has been approved for the treatment of osteoarthritis (OA) in Europe to promote cartilage and joint health and is sold over the counter as a dietary supplement in the United States. Various formulations of glucosamine have been tested, including glucosamine sulfate and glucosamine hydrochloride. In vitro and in vivo studies have uncovered glucosamine's mechanisms of action on articular tissues (cartilage, synovial membrane and subchondral bone) and justified its efficacy by demonstrating structure-modifying and anti-inflammatory effects at high concentrations. However, results from clinical trials have raised many concerns. Pharmacokinetic studies have shown that glucosamine is easily absorbed, but the current treatment doses (for example, 1,500 mg/day) barely reach the required therapeutic concentration in plasma and tissue. The symptomatic effect size of glucosamine varies greatly depending on the formulation used and the quality of clinical trials. Importantly, the effect size reduces when evidence is accumulated chronologically and evidence for the structure-modifying effects of glucosamine are sparse. Hence, glucosamine was at first recommended by EULAR and OARSI for the management of knee pain and structure improvement in OA patients, but not in the most recent NICE guidelines. Consequently, the published recommendations for the management of OA require revision. Glucosamine is generally safe and although there are concerns about potential allergic and salt-related side effects of some formulations, no major adverse events have been reported so far. This paper examines all the in vitro and in vivo evidence for the mechanism of action of glucosamine as well as reviews the results of clinical trials. The pharmacokinetics, side effects and differences observed with different formulations of glucosamine and combination therapies are also considered. Finally, the importance of study design and criteria of evaluation are highlighted as new compounds represent new interesting options for the management of OA.
This study employed proteomic and bioinformatic approaches to identify serum biomarkers in canine lymphoma patients. Chilled serum samples derived from non-lymphoma (n = 92) and lymphoma (n = 87) patients were shipped from first opinion veterinary practices, subjected to ion exchange chromatography and analysed by surface-enhanced laser desorption ionization mass spectrometry. Nineteen serum protein peaks were identified between the two groups as being significantly different (P