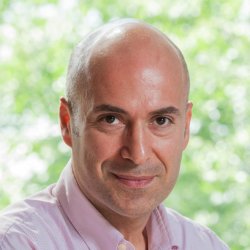 Prof Ali Mobasheri
---
Professor of Musculoskeletal Physiology
Biography
Biography
Ali Mobasheri graduated in Biochemistry from Imperial College London in 1990. He was awarded an Open Fellowship by the University of Toronto and completed a Master's degree in 1993. He returned to the UK to undertake a PhD sponsored by the Arthritis and Rheumatism Council (now known as Arthritis Research UK) at Wolfson College, University of Oxford. After completing his PhD in 1997 he worked as a lecturer in London (1997-2000) before moving to the University of Liverpool, where he was lecturer from 2000-2005 and senior lecturer from 2005-2006. In 2006 he moved to the University of Nottingham as Associate Professor and Reader in Comparative Physiology. He currently holds the post of Professor of Musculoskeletal Physiology at the University of Surrey.
Research interests
Ali's primary research focuses on cartilage biology. He is the Scientific Co-ordinator of the EU Framework 7 funded D-BOARD consortium, which brings together leading European academic institutions and SMEs to focus on the identification, validation and qualification of new biomarkers for degenerative and inflammatory diseases of joints.
http://www.d-board.eu/dboard/index.aspxhttp://cordis.europa.eu/projects/rcn/105314_en.htmlhttp://ec.europa.eu/research/health/medical-research/severe-chronic-diseases/projects/d-board_en.html
Ali's track record of professional achievement is backed up by more than 167 primary peer-reviewed publications. He has contributed to more than twenty book chapters and has ongoing collaborative research with industry and leading academic investigators in established centres of excellence in Europe and the Middle East. Ali is a member of the Board of Directors of the Osteoarthritis Research Society International (OARSI) and chairs OARSI's Strategic Alliances Committee. He currently serves on the BBSRC's Committee A, the BBSRC Industrial CASE Studentship Committee and is a member of the BBSRC Pool of Experts. Ali also serves as a Faculty Member in the Musculoskeletal Repair & Regeneration/Rheumatology & Clinical Immunology sections of Faculty of 1000 Ltd.
Goals: To contribute to the development of high quality research and teaching as well as professional consultancy services for healthcare, veterinary, diagnostics and pet food and agri-food industries.
APPROACH Project
The APPROACH consortium brings together a highly qualified and multidisciplinary group of stakeholders that will set up - for the first time - a broad database of different OA patients as well as a longitudinal cohort based on innovative stratification methods that identifies different osteoarthritis phenotypes. This will allow for the development of guidelines for differentially diagnosing the right patient for the right treatment. The APPROACH project is funded by the European Innovative Medicines Initiative (IMI).http://www.approachproject.euhttp://www.approachproject.eu/partners
Teaching
Ali has been involved in teaching cell biology, renal, endocrine and musculoskeletal physiology.
More
Section Editor (Pathophysiology of Musculoskeletal Disorders), BMC Musculoskeletal Disorders
Section Editor (Pain Aspects of Arthritis), Current Pain and Headache Reports
Specialty Chief Editor - One Health (Frontiers in Veterinary Science and Frontiers in Public Health)
Associate Editor - Membrane Physiology and Membrane Biophysics (Frontiers in Physiology)
Hirsch (h) Index: 33
ORCID ID: 0000-0001-6261-1286
Scopus Author ID: 7003311894
News
Media Contacts
---
Contact the press team
Email:
mediarelations@surrey.ac.uk
Phone: +44 (0)1483 684380 / 688914 / 684378 Out-of-hours: +44 (0)7773 479911
Senate House, University of Surrey
Guildford, Surrey GU2 7XH