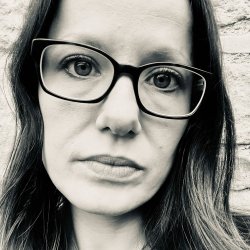 Biography
Dr. Amy Burnett is an interdisciplinary researcher and practitioner with a background in political science, international development, environmental management and planning. As a researcher, Amy's work focuses on the role of civil society groups and networks in promoting innovative and sustainable development in the context of planning, broader policy influence and organisational design.
Amy is an ESRC Post-doctoral Research Fellow at the Centre of Environment and Sustainability (CES) where she is further developing the contributions of her PhD, mentored by Prof. Kate Burningham (CES/CUSP) and Dr. Richard Nunes (University of Reading).  In particular, she is exploring the role of independent (non-party-political) politics to advance sustainability transitions through low-carbon development and planning, contributing to the Centre for Understanding Sustainable Prosperity's (CUSP) research theme Political and Organisational Dimensions of Sustainable Prosperity.
Her Fellowship involves collaborating with several partners, including ECOLISE (European network for community-led initiatives on climate change), the Town and Country Planning Association (TCPA) and DRIFT (a network of academic sustainability transitions scholars based in the Netherlands). These partnerships will advance both theoretical and practical contributions in Amy's research field and the monitoring of transformative action.
Amy's publications to-date focus on incentives for environmental citizenship, mechanisms for sustainability, low-carbon Neighbourhood Planning and independent politics and the politics of transition.
My publications
Additional publications
Burnett, A and Nunes, R (2021) Flatpack Democracy: power and politics at the boundaries of transition.  For inclusion in Environmental Policy and Governance Special Issue.
Burnett, A (in process) The Politics of Transition - innovative placemaking and alternative development models. Palgrave Macmillan.
Bradley, Q, Burnett, A, Sparling, W (2017) Neighbourhood Planning and the Spatial Practices of Localism. Neighbourhood Planning: Power to the People? Policy Press.
Merritt*, A and Stubbs, T (2012) Complementing the Local and the Global: promoting sustainability action through linked local-level formal sustainability funding mechanisms. Public Administration and Development. Volume 32, Issue 3, pp. 278-291. Rio+20 special edition: August 2012.
Merritt, A and Stubbs, T (2012) Incentives to Promote Green Citizenship in UK Transition Towns.  Development, Issue 55, pp. 96-103. Rio+20 special edition: March 2012.
* née Merritt.