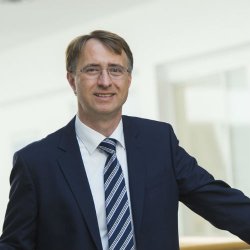 Professor Ansgar Richter
---
Dean of Surrey Business School
Biography
Biography
Ansgar Richter joined Surrey Business School as Dean in October 2016. Prior to his appointment at Surrey, he was Head of the Organisation and Management Group at University of Liverpool Management School (2013-2016), and Head of the Department of Strategy, Organisation & Leadership at EBS Business School in Wiesbaden, Germany (2002-2013).
Ansgar studied Philosophy and Economics in Frankfurt and Bochum (Germany), before continuing his studies at London School of Economics (LSE), where he earned an MSc in Industrial Relations and Personnel Management, and a PhD in Management. Following his studies, he worked for over three years as a management consultant with McKinsey & Company, advising clients in Great Britain, Germany, Luxemburg, Finland and the USA on matters of strategy and organisation. At various points in his academic career, Ansgar was a visiting scholar at Berkeley, Stanford, and INSEAD. He has also taught at INSEAD (France), LSE (UK), Cranfield Management School (UK), Indian Institute of Management, Ahmedabad (India), Indian Institute of Management, Kozhikode (India), Xi'an Jiatong-Liverpool University (XJTLU) in Souzhou (China), University of Montana Business School, Missoula (USA), École Polytechnique Fédérale de Lausanne (Switzerland), and Leipzig Graduate School of Business (Germany). In addition, he has provided a wide range of executive education programmes for companies in the automotive, chemical, pharmaceuticals, infrastructure, and professional service sectors.
Ansgar's research interests are at the interface of strategy, organisation and governance. He has published extensively in journals such as Strategic Management Journal, Journal of Management, Leadership Quarterly, Global Strategy Journal, Journal of Organizational Behavior, International Journal of Human Resource Management, British Journal of Industrial Relations, and many others. Five of his papers have been included in the Academy of Management Best Paper Proceedings. He is a member of the Editorial Boards of Journal of Management, Long-Range Planning, and International Journal of Human Resource Management, and serves as a reviewer for many other journals on a regular basis. He has also served as Chair of the Management Consulting Division of the Academy of Management. Furthermore, he works closely with accreditation bodies.
Ansgar and his wife Dorothee have three children. All of them enjoy classical music, reading, and sharing time with friends and family.
Research interests
Dynamic Capabilities; Organisational Design; Incentives, Ownership and Justice in Organisations; Strategy and Structure of Professional Service Firms
Teaching
Strategy
Affiliations
Academy of ManagementStrategic Management SocietyBritish Academy of ManagementGerman Academic Association for Business Research (Verband der Hochschullehrer für Betriebswirtschaft)