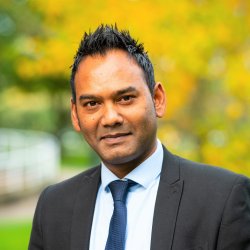 Atish Soonucksing
---
Senior Teaching Fellow in Finance & Accounting
MBA (Finance), FCCA
Biography
Atish joined the University of Surrey in September 2019 as a Senior Teaching Fellow in Finance & Accounting. He has extensive academic experience and has taught on a range of finance related subjects at various institutions, both in the UK and overseas.
A Professional Chartered Accountant, Atish has also held senior management roles in the industry. He has worked as a consultant providing a range of capacity building solutions to government entities, British & Foreign Embassies, Banking and Financial Services institutions and Not-For-Profit organisations among others. Industry highlights include working on multi-million pounds projects providing consultancy services to government funded entities in the Middle East and Africa. His most recent role was as Development Manager and Head of Summer Programmes & Executive Education at Paris-Dauphine University at their London Campus.
At Surrey, Atish teaches Finance and Accounting related subjects at both undergraduate and postgraduate levels. He is also the Accounting Accreditation Director for the department and works closely with the Professional Accountancy bodies.
Atish has an MBA in Finance from Edinburgh Business School and is a Fellow of the Association of Chartered Certified Accountants.
University roles and responsibilities
Accounting Accreditation Director
Affiliations and memberships
Association of Chartered Certified Accountants
Fellow (FCCA)
My teaching
Over the years, Atish has taught on a range of finance and accounting related subjects at both undergraduate and postgraduate levels. For the current academic year 2020/21, Atish teaches on:
Management Accounting (MAN2109) - Level 5
Management Accounting 3 (MAN 3086) - Level 6
Strategic Management Accounting (MANM401) - Level 7