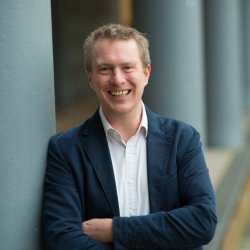 Dr Benjamin Eaton
---
Senior Lecturer, Departmental Research Lead and Business School Impact Lead
MEng, MBA, MSc, PhD
Biography
Biography
Ben Eaton is a Senior Lecturer at the Department of Digital Economy, Surrey Business School and visiting Associate Professor at the Department of Technology, Westerdals Oslo ACT in Norway. Before joining the University of Surrey he held academic position in information systems at Copenhagen Business School and the University of Oslo.
Prior to starting his career in academia, he had fifteen years of management experience working in large telecoms companies and small internet start-ups in roles ranging from service design, to product management, marketing and business development focussing on the innovation of products and services. Consequently his research specialisation concerns how organisations can establish environments for the successful innovation of digital services to sustain their businesses. His interest lies in how companies can put in place commercial and technical elements to facilitate the innovation of digital services by themselves and by third parties as open platform innovation. His teaching concerns digital innovation, digital business models and IS strategy. Particular areas for that he has researched in depth concern how mobile platforms (such as Apple iOS and Google Android) are established and managed for innovation, as well as innovation in Cloud Computing platforms and establishing platforms for fintech services. His research has a practical focus and has consequently been sponsored by organisations such as Telenor AS and industry research consortia such as the Mobile Virtual Centre of Excellence (MobileVCE). His research has been published in highly regarded journals such as MIS Quarterly, MISQ Executive, the Journal of Strategic Information Systems and the Journal of IT. His research has informed organisations including Thomson Reuters, the BBC, Orange, Thales and BT.
He has a PhD in Information Systems from the Department of Management, the London School of Economics and Political Science. His PhD thesis, concerning Apple's model of platform innovation, won the prestigious ACM SIGMIS doctoral dissertation competition in 2013. He also has an MBA from INSEAD in France and a joint Masters degree in Electronic Engineering from three leading engineering schools in the UK, Germany and France.
Research interests
Innovation and Management of Digital Platforms and Platform Services
Innovation and Management of Digital Infrastructures
National Systems for Electronic Identity
Qualitative Approaches to Collecting and Analysing Online Data
Teaching
Module Leader for the MBA course in Digital Platforms and Business Models
Departmental duties
Impact Lead for Surrey Business School
Affiliations
Visiting Associate Professor at Westerdals Oslo ACT, Norway
My publications
Publications
Refereed Journal Articles:
Eaton, B., Hedman, J and Medaglia, R., 2017. Three Different Ways to Skin a Cat: Financialization in the Emergence of National e-ID Solutions. Journal of Information Technology. 14 (1).
Eaton, B., Hallingby, H. K., Nesse, P. J. and Hanseth, O., 2014. Achieving Payoffs from an Industry Cloud Ecosystem at BankID. MISQ Executive, 13 (4).
Kietzmann, J., Plangger, K., Eaton, B., Heigenberg, K., Pitt, L., & Berthon, P., 2013. Mobility at Work: A Typology of Mobile Communities of Practice and Contextual Ambidexterity. The Journal of Strategic Information Systems, 22 (4).
Book Chapters:
Elaluf-Calderwood, S., Eaton, B., and Sorensen, C., 2011. "Mobile Platforms as Convergent Systems: Analysing Control Points and Tussles in Emergent Socio-technical Discourses". In: J.P.Maicas (Ed), Recent Developments in Mobile Communications - A Multidisciplinary Approach, InTech