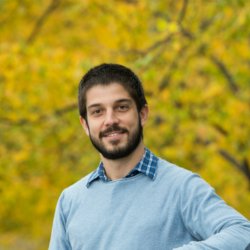 Biography
Borja Herce is a PhD student working on autonomous morphological structures (i.e. morphomes). His focus is on inflection and on the relationtionship of form to morphosyntactic functions. His research interests also include corpus linguistics and language change, always from a cross-linguistic perspective.
After a short professional career in Business Administration, Borja decided to make a U-turn and entered the field of Linguistics,which had been his 'secret vice' since childhood. He graduated in EnglishPhilology (2014) and obtained a MA in Linguistics (2015) from the University ofthe Basque Country. After that he successfully applied for scholarships (fromthe Basque Government and TECHNE) to undertake his PhD studies. He is currently in SMG working on morphomic structures in inflectional morphology. His publications can be found at https://basdisyn.academia.edu/BorjaHerc
Research Interests
Autonomous morphology
Typology   
Language change
Corpus linguistics
My publications
Publications
2017. Past-future asymmetries in time adverbials and adpositions: a cross-linguistic and diachronic perspective. Linguistic Typology. 21(1).
2017. The diachrony of Spanish haber/hacer+time: a quantitative corpus-based approach to grammaticalization. Journal of Historical Linguistics. 7(3).
2017. Spanish time constructions with hacer: Gradient judgments and corpus data to solve a syntactic conundrum". Belgian Journal of Linguistics. 31.
2016. Why frequency and morphological irregularity are not independent variables in Spanish: a response to Fratini et al. (2014). Journal of Corpus Linguistics and Linguistic Theory. 12(2).