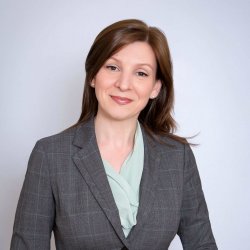 Diana M. Singureanu
---
Postgraduate Research Student
My research project
The role of Emotional Intelligence in the management of the different demands of video mediated interpreting
The aim of this study is to investigate through live observations in Court and via short subsequent interviews the impact of individual differences between interpreters on how they perform in a video-mediated setting. In order to explore these individual differences, the Researcher will borrow tools from Psychology, namely the TEIQue (Trait Emotional Intelligence Questionnaire) test, to assess the Interpreters' level of Emotional Intelligence (EI). The participants' score at the test will be used to find correlations between their interaction as professionals in Court and their Emotional Intelligence profile. 
Supervisors
University roles and responsibilities
My qualifications
2008
MA in Translation Studies
London Metropolitan University
2010
Diploma in Public Service Interpreting (Option Law)
Middlesex University
2014
MA in Conference Interpreting
London Metropolitan University
Diana is a Lecturer in Interpreting Studies and she is also working in the private market as a Conference Interpreter (Romanian A, English B and French C) and as a translator. She holds a Masters in Translation Studies and a second Masters in Conference Interpreting from London Metropolitan University. She is also a Professional Police and Court Romanian Interpreter (NRPSI registered) successfully training students sitting the DPSI exam since 2010 and DipTrans from 2011.
As a researcher, Diana is interested in the impact of emotional intelligence on interpreters' performance and its implication for end-users.
Diana is also supervising students for the research project at the MA in Conference Interpreting with a focus on how interpreters use technologies in their workflow.
Diana is a Chartered Linguist for Romanian. She joined the management committee of CIOL's Interpreting Division in the summer of 2014.
My teaching
Diana Singureanu has been successfully training students sitting the DPSI exam since 2010 and DipTrans from 2011. She has also enjoyed supervising MA students completing their MA in Conference Interpreting at London Metropolitan University since 2017 where she also teaches as a visiting Lecturer covering theoretical aspects and critical thinking in Interpreting Studies.