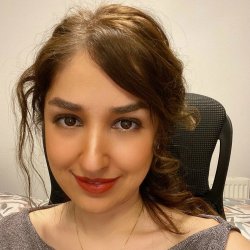 Dr. Maryam Mirfatah
---
Postdoctoral Research Fellow
PhD in Economics
Biography
Maryam is a Postdoctoral Research Fellow in Economics at the School of Economics, University of Surrey. She joined the Centre for International Macroeconomic Studies (CIMS) in 2018 on the project of "Macroeconomic Modelling and Policy Analysis for Emerging Economies".  Currently, she is working on optimized simple monetary policy rules for open economies. Her research interests are in Macroeconomics, in particular the construction and estimation of DSGE models for the purpose of macroeconomic policy analysis. Maryam obtained her BSc in Statistics from Isfahan University of Technology, MSc in Economics from Azad University and a PhD in Economics (2019) from Yazd University, focusing on Money Growth Rules in Emerging Economies. Her personal website is  https://sites.google.com/view/maryammirfatah/home.
Research
Research interests
Maryam's research interests are in Macroeconomics, Financial and Monetary economics, in particular the construction and estimation of DSGE models for the purpose of macroeconomic policy analysis.
Research projects
We construct a small open economy (SOE) DSGE model interacting with the rest of the world (ROW). With this framework we then depart from the standard SOE model of Gali (2015) along the following dimensions: Firstly, we nest two diferent pricing paradigms: dominant currency pricing (in dollars) alongside producer currency pricing. Secondly, the production function uses not just labour but also capital and intermediate inputs produced domestically and abroad. The last feature is that international asset markets are incomplete with only riskless bonds being traded, as opposed to the assumption of complete markets. We make two main contributions to this literature: first, we explore the empirical evidence for PCP vs DCP pricing paradigms through a Bayesian estimation likelihood race and a validation comparison with the second moments of the data. Second, we examine the implications of these two paradigms for the conduct of monetary policy using Taylor-type interest rate rules and implemention of optimized simple rules through a mandate fromework in avoiding the problem of the nominal interest rate hitting the zero lower bound too frequently.
My publications
Publications
Maryam Mirfatah, Zahra Nasrollahi, Paul Levine, Vasco Gabriel
(2019).
Money Growth Rules in an Emerging Small Open Economy with an informal sector
View abstract
View full publication
This paper is concerned with the saddle-path stability of monetary growth rules in a two-country two-sector dynamic stochastic general equilibrium model. Alongside standard features of emerging economies, such as a combination of producer and local currency pricing for exports, fiscal dominance and oil exports, this model also incorporates informal labour and production sectors and examines how these features matter in the context of monetary policy in emerging economies. We estimate the model on Iran and US data for home and foreign block respectively using Bayesian estimation techniques. Under a benchmark instruments of monetary policy, we show that a Taylor-type money growth rule rather than interest rate, even up to a four period ahead forward-looking has complete stability and determinacy properties in the economy which is also hold regardless of the level of asset market participation, therefore the inverted Taylor principles does not apply in our economy. Our findings confirm the important propagation channels which are active in the emerging economies and taking into account these features is essential for any policy-related study, such as the stabilizer effect of terms of trade between formal and informal sector, buffer behaviour of informal sector which is dampened in the model of higher informal frictions, disturbance effects of credit constrained household on the business cycle fluctuations and finally, monetary policy shock which is less effective in an environment of high share of informal sector, low informal frictions, high share of limited asset market participations and a trade autarky economy.