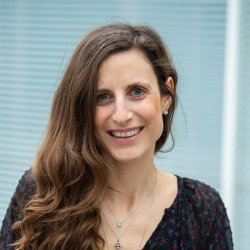 Biography
Dr Evgenia Mechleri is a Lecturer in the Department of Chemical and Process Engineering at the University of Surrey. Prior to this, she was a Research Fellow in the Energy Institute at Brunel University at the RCUK National Centre for Sustainable Energy Use in Food Chain. She has worked on the "OPTEMIN project: Optimising Energy Management in Industry", an EPSRC funded project which is taking a whole systems approach to the optimisation of energy management in industry, with a view to meeting long-term targets for reducing greenhouse gas emissions and global warming.  She has also worked as a Research Associate for four years at Imperial College London in the Department of Chemical Engineering and the Centre for Environmental Policy. She was involved with various projects related to multi-scale systems modelling, covering the areas of decision making, control and optimisation. Her research is focused on developing and applying decision-making tools and control strategies designed for environmental and cost-effective issues in energy planning processes. She has also established and rigorously evaluated control methodologies for the analysis and optimal control and scheduling of dynamic systems.
Research
Research interests
Grid scale energy storage
Multi-scale energy systems modelling
Photovoltaic systems
Global Solar Irradiance
Renewable Energy Sources
Distributed Energy Systems
Model Predictive Control (MPC)
Optimisation and Design of Systems and Processes
Carbon Capture and Storage (CCS)
My teaching
Design Projects ENG3192
Engineering systems and dynamics ENG2120 (Module leader)
Transferable and laboratory skills ENG1083 (Module leader)
Supervision of MEng Research Projects ENGM276
Supervision of MSc Research Dissertation Projects ENGM083
My publications
Publications
The UK is committed to reducing its greenhouse gas emissions by at least 80% by 2050, relative to 1990 levels. For this to happen, we need to transform the UK economy while ensuring secure, low-carbon energy supplies to 2050. The future electricity distribution system, known as smart grid, will integrate advanced digital meters, distribution automation, communication systems and distributed energy resources. There has been a lot of discussion about the importance of the Internet of Things (IoT) in future smart grids and smart cities stating that IoT offers many applications and can be used to integrate efficiency renewable energy sources in the smart grid by making the electricity grid more robust and scalable.
This study will focus on the development of an integrated IoT-Distributed energy systems (DES) model for the efficient energy management of a microgrid under the integration of the intermittent renewable energy resources. In this work, we expand the definition of flexible options to include demand and supply together with design and operation strategies using internet of things (IoT). Our framework brings weather data and sensor information into a virtual energy plant optimisation model that connects supplier and consumer to optimise potential flexibility gaps arising from supply and demand mismatch. The problem is posed as a hybrid mixed-integer linear programming (MILP) optimisation model combining flexibility analysis and optimal synthesis for integrating energy supply and demand, where environmental information is added to each stage. Finally, we combine traditional mathematical programming approaches such as flexibility analysis and optimal network synthesis and within a single optimisation framework combining IoT and urban DES.
Dorneanu Bogdan, Mechleri Evgenia, Arellano-Garcia Harvey
(2018)
Towards the cooperative-based control of chemical plants,
In: Friedl Anton, Klemea Jiri J, Radl S, Varbanov Petar S, Wallek Thomas (eds.), Computer Aided Chemical Engineering (Part of volume: European Symposium on Computer Aided Process Engineering)
43
pp. 1087-1092
Elsevier
This contribution presents the proof of concept for a consensus-based approach for the design and assessment of control structures in chemical plants. The applicability of the proposed approach is demonstrated on an existing mini-plant. For this purpose, a reduced dynamic model that considers a simplified structure of the plant, consisting of feed preparation, reaction, and downstream processing, is used to assess the control structure of the mini-plant using the consensus algorithm. The reduced model is used to assess the control structure of the mini-plant reactor, considering the relevant operational and safety variables.
An optimised integration approach connecting a conventional oil refinery with an ethylene production plant is investigated. Using the intermediate materials produced as the connection between the two plants, the use of internally provided feedstocks and blending options removes, at least partially, the reliance on external sourcing. This is also beneficial in terms of increasing profit margins and quality for both production systems. Thus, a mathematical model has been developed and implemented in this work to model the oil refinery and the ethylene production plant while considering their integration as an MINLP problem with the aim of optimising the integrated plants. This work considers the optimisation of each plant individually and later the final integration by modelling the interconnection between the oil refinery and the ethylene production plant. Moreover, a case study using practical data was carried out to verify the feasibility of the integration for an industrial application.