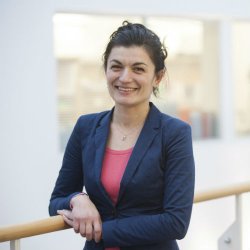 Biography
Doctor of Philosophy (PhD) focused in Materials Science (Materials for sustainable/renewable energy) from Cranfield University, preceded by Engineer and Master degree in Chemical Technology (focused on advanced technologies, functional nano-materials) and Medical School Diploma. 
Research
Research interests
Involved in projects focused on manufacturing technologies and scaled-up, sustainable manufacturing capability of advanced functional materials, particularly for energy harvesting. Research within the centre of sustainable additive print manufacture is focused on the development of innovative processing techniques for materials synthesis, printing and processing.
Research projects
MAnufacture of Safe and Sustainable Volatile Element functional materials (MASSIVE). Ensuring availability of next generation 'safe and sustainable' thermoelectric, pyroelectric and piezoelectric materials and devices, by addressing the challenges in synthesis, processing and manufacturing scale-up of un-commercialised functional materials.
The ENHANCED project (ENergy Harvester for AutoNomous Commercial Electronic Devices) will develop an inter-operable platform system for autonomous sensors and electronics, consisting of a sensor that is powered by thermoelectric energy harvesting technology.
My publications
Publications
In this study, novel nanocomposites were created by incorporation of Silsesquioxane containing eight glycidylether groups (octa-POSS) into a cycloaliphatic epoxy cured by an anhydride. The developed resin system, with different nanoparticle concentrations, was used on the outer layers of an ultra-thin CFRP structure in order to provide better environmental resistance to the environment of low Earth orbit (LEO) which was tested in a ground-simulation facility. The developed resins were subjected to space-like degrading factors and their response to corrosion, radiation and elevated temperatures was monitored by mass loss, together with measuring changes in surface chemistry (ATR-FTIR), functionality development (contact angle measurement and XPS), roughness (scanning laser microscopy) and morphology (SEM). The influence of increasing octa-POSS content on thermo-mechanical properties was measured with DMTA and the strength and modulus of elasticity were determined by flexural test. The addition of octa-POSS in any loading improves the environmental resistance, however, the most significant retention of mass and mechanical and surface properties after space-like exposure was observed in the 20 wt% octa-POSS reinforced cycloaliphatic epoxy. The results presented here may contribute to the development of novel class of nanocomposites which can offer an extended service life in LEO.
High quality NaCo2O4 thermoelectrics are challenging to process due to the volatile nature of Na, the slow densification kinetics, and degradation of NaCo2O4 above 900–950 °C leading to the formation of Na-poor second phases. Fine grained sol-gel derived powders have been used to enhance the densification kinetics while pre-treatment of the NaCo2O4 powder with NaOH, to provide a Na rich environment, has been shown to mitigate Na loss at elevated temperatures. While insufficient to compensate for Na loss at processing temperatures of 1000 °C and above, at lower temperatures it is able to enhance densification and facilitate the formation of complex crystal structures yielding low thermal conductivity (0.66 Wm−1K−1) coupled with high electrical conductivity (3.8 × 103 Sm−1) and a Seebeck coefficient of 34.9. The resultant room temperature power factor and ZT were 6.19 × 10−6 Wm−1K−2 and 0.0026, respectively.