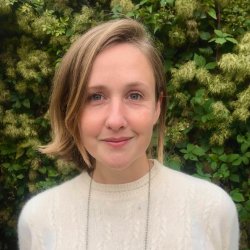 Dr Frederika Tevebring
---
Teaching Fellow in German
Biography
I received my PhD in Comparative Literature from Northwestern University where I worked closely with the departments of German and Classics. I also hold a M.A. and  B.A. in Comparative Religious Studies and Ancient Studies from Freie Universität, Berlin. I teach German on all levels as well as modules on German history and society.  
Areas of specialism
19th-20th ct. German Literature ;
Gender and sexuality;
Mythology
Research
Research interests
I am an intellectual historian working across the history of archaeology and museums, German literature, and the history of sexuality.
My research investigates how the ancient past has been reconstructed in literature, museums and scholarship since the 19th century. I am particularly interested in ancient figures and tropes described as obscene or primitive that have challenged idealized notions of antiquity. My current book project discusses one such figure, the mythical Baubo, who is said to have unveiled herself before the goddess Demeter. 
My publications
Publications
Tevebring, Frederika
(2020).
"Baubo, Truth, and Joyful Philology in Nietzsche's Die Fröhliche Wissenschaft." The German Quarterly 93
Tevebring, Frederika
(2012).
Unveiling the Goddess. Artemis of Ephesus as a symbol of nature at the turn of the nineteenth century. Lychnos