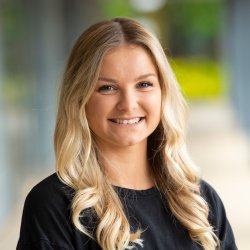 Gabrielle Wishart
---
Postgraduate research student
MSc, BSc (Hons)
My research project
The development and validation of a 3D pancreatic cancer cell organoid system for radiation response studies to support advanced radiotherapy
I am a multidisciplinary cross-institutional PhD student of medical physics and tissue engineering, within the Department of Physics and the Department of Chemical and Process Engineering here at the University of Surrey. This project, funded by a Surrey University / National Physical Laboratory Strategic PhD Fellowship, is in conjunction with The National Physical Laboratory and The Royal Surrey County Hospital NHS Foundation Trust, involving the development and validation of a 3D pancreatic cancer cell organoid system for radiation response studies to support advanced radiotherapy.
Pancreatic cancer is a devastating disease with nonspecific symptoms, late diagnosis, high metastasis and treatment resistance that elicit a 5 year survival rate of only 9%. Ionising radiation is an effective cancer treatment therapy for the majority of cancers, with several recent technical delivery developments emerging. Despite this, the history of literature involving pancreatic cancer and radiotherapy is controversial. Moreover, the biological response to radiation exposure is not fully understood; clustering of ionisation at micrometre and nanometre scale and change of yield of reactive radical species occurring at low proton energy and potentially in the presence of strong magnetic fields require further research.
An initial step to further understand and optimise treatment for pancreatic cancer is to conduct in vitro studies to replicate potential treatments. 2D monolayer systems, readily used in cancer research have proved inaccurate and lack representation of tumour structure, porosity and extracellular matrix distribution, resulting in divergences in morphology, cell-cell and cell-matrix reactions. Advances in tissue engineering provide more realistic platforms. Dr Eirini Velliou's research group have developed and studied a bioinspired 3D scaffold system for pancreatic cancer cells to better replicate the tumour microenvironment for realistic cellular interactions for therapeutic predictions. This scaffold is synthesised allowing mechanical, biochemical and environmental modifications. The aim of this project is to optimise the system and investigate the response to advanced radiotherapy to greater understand the potential benefits of MR-guided radiotherapy and proton therapy for predictions of future clinical delivery.
This project is under the supervision of Professor Andrew Nisbet, Dr Eirini Velliou and Professor Giuseppe Schettino. Professor Andrew Nisbet is Head of the Department of Medical Physics at The Royal Surrey County Hospital and Professor of Medical Physics at the University of Surrey. Dr Eirini Velliou is Senior Lecturer, principal investigator and founder of the Bioprocesses and Biochemical Engineering group (BioProChem) of the Department of Chemical and Process Engineering at the University of Surrey and Professor Giuseppe Schettino is lead scientist at the National Physical Laboratory and Professor of Medical Physics at the University of Surrey.
Supervisors
My qualifications
2017
MSc Cancer Biology
University of Kent
2015
BSc (Hons) Biosciences
Canterbury Christ Church University
Business, industry and community links