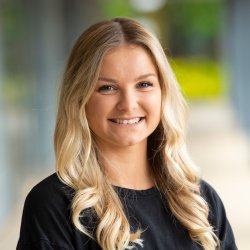 Gabrielle Wishart
---
Postgraduate research student
MSc, BSc (Hons)
My research project
The development and validation of a 3D pancreatic cancer cell organoid system for radiation response studies to support advanced radiotherapy
I am a multidisciplinary cross-institutional PhD student of medical physics and tissue engineering, within the Department of Physics and the Department of Chemical and Process Engineering here at the University of Surrey. This project, funded by a Surrey University / National Physical Laboratory Strategic PhD Fellowship, is in conjunction with The National Physical Laboratory and The Royal Surrey County Hospital NHS Foundation Trust, involving the development and validation of a 3D pancreatic cancer cell organoid system for radiation response studies to support advanced radiotherapy.
Pancreatic cancer is a devastating disease with nonspecific symptoms, late diagnosis, high metastasis and treatment resistance that elicit a 5 year survival rate of only 9%. Ionising radiation is an effective cancer treatment therapy for the majority of cancers, with several recent technical delivery developments emerging. Despite this, the history of literature involving pancreatic cancer and radiotherapy is controversial. Moreover, the biological response to radiation exposure is not fully understood; clustering of ionisation at micrometre and nanometre scale and change of yield of reactive radical species occurring at low proton energy and potentially in the presence of strong magnetic fields require further research.
An initial step to further understand and optimise treatment for pancreatic cancer is to conduct in vitro studies to replicate potential treatments. 2D monolayer systems, readily used in cancer research have proved inaccurate and lack representation of tumour structure, porosity and extracellular matrix distribution, resulting in divergences in morphology, cell-cell and cell-matrix reactions. Advances in tissue engineering provide more realistic platforms. Dr Eirini Velliou's research group have developed and studied a bioinspired 3D scaffold system for pancreatic cancer cells to better replicate the tumour microenvironment for realistic cellular interactions for therapeutic predictions. This scaffold is synthesised allowing mechanical, biochemical and environmental modifications. The aim of this project is to optimise the system and investigate the response to advanced radiotherapy to greater understand the potential benefits of MR-guided radiotherapy and proton therapy for predictions of future clinical delivery.
This project is under the supervision of Professor Andrew Nisbet, Dr Eirini Velliou and Professor Giuseppe Schettino. Professor Andrew Nisbet is Head of the Department of Medical Physics at The Royal Surrey County Hospital and Professor of Medical Physics at the University of Surrey. Dr Eirini Velliou is Senior Lecturer, principal investigator and founder of the Bioprocesses and Biochemical Engineering group (BioProChem) of the Department of Chemical and Process Engineering at the University of Surrey and Professor Giuseppe Schettino is lead scientist at the National Physical Laboratory and Professor of Medical Physics at the University of Surrey.
Supervisors
My qualifications
2017
MSc Cancer Biology
University of Kent
2015
BSc (Hons) Biosciences
Canterbury Christ Church University
Business, industry and community links
My publications
Publications
The isolation of chemical compounds from natural origins for medical application has played an important role in modern medicine with a range of novel treatments having emerged from various natural forms over the past decades. Natural compounds have been exploited for their antioxidant, antimicrobial and antitumor capabilities. Specifically, 60% of today's anticancer drugs originate from natural sources. Moreover, the combination of synthetic and natural treatments has shown applications for (i) reduced side effects, (ii) treatment sensitization and (iii) reduction in treatment resistance. This review aims to collate novel and natural compounds that are being explored for their preclinical anticancer, chemosensitizing and radiosensitizing effects on Pancreatic Ductal Adenocarcinoma (PDAC), which is a lethal disease with current treatments being inefficient and causing serve side effects. Two key points are highlighted by this work: (i) the availability of a range of natural compounds for potentially new therapeutic approaches for PDAC, (ii) potential synergetic impact of natural compounds with advanced chemo- and radio-therapeutic modalities for PDAC.
The efficiency of radiotherapy treatment regimes varies from tumour to tumour and from patient to patient but it is generally highly influenced by the tumour microenvironment (TME). The TME can be described as a heterogeneous composition of biological, biophysical, biomechanical and biochemical milieus that influence the tumour survival and its' response to treatment. Preclinical research faces challenges in the replication of these milieus for predictable treatment response studies. 2D cell culture is a traditional, simplistic and cost-effective approach to culture cells , however, the nature of the system fails to recapitulate important features of the TME such as structure, cell-cell and cell-matrix interactions. At the same time, the traditional use of animals (Xenografts) in cancer research allows realistic architecture, however foreign physiology, limited heterogeneity and reduced tumour mutation rates impairs relevance to humans. Furthermore, animal research is very time consuming and costly. Tissue engineering is advancing as a promising biomimetic approach, producing 3D models that capture structural, biophysical, biochemical and biomechanical features, therefore, facilitating more realistic treatment response studies for further clinical application. However, currently, the application of 3D models for radiation response studies is an understudied area of research, especially for pancreatic ductal adenocarcinoma (PDAC), a cancer with a notoriously complex microenvironment. At the same time, specific novel and/or more enhanced radiotherapy tumour-targeting techniques such as MRI-guided radiotherapy and proton therapy are emerging to more effectively target pancreatic cancer cells. However, these emerging technologies may have different biological effectiveness as compared to established photon-based radiotherapy. For example, for MRI-guided radiotherapy, the novel use of static magnetic fields (SMF) during radiation delivery is understudied and not fully understood. Thus, reliable biomimetic platforms to test new radiation delivery strategies are required to more accurately predict responses. Here, we aim to collate current 3D models for radiation response studies of PDAC, identifying the state of the art and outlines knowledge gaps. Overall, this review paper highlights the need for further research on the use of 3D models for pre-clinical radiotherapy screening including (i) 3D (re)-modeling of the PDAC hypoxic TME to allow for late effects of ionising radiation (ii) the screening of novel radiotherapy approaches and their combinations as well as (iii) a universally accepted 3D-model image quantification method for evaluating TME components that would facilitate accurate post-treatment(s) quantitative comparisons.