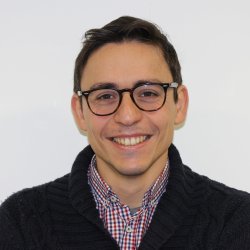 Dr Gioacchino Cafiero
---
Lecturer in Aerospace Engineering
Biography
Dr. Cafiero covers the position of Lecturer in Aerospace Engineering in the Department of Mechanical Engineering Sciences at the University of Surrey. His research interests range from the fundamental study of free shear flows, with particular emphasis on the turbulence dissipation scaling and its implications, to passive and active methodologies to enhance heat and mass transfer in wall-bounded and free shear flows. In particular, Dr. Cafiero developed a large experience over the years on the use of continuous and synthetic jets for flow control for several applications, such as convective heat transfer enhancement, skin friction drag reduction, and applications to the automotive sector, such as near wake manipulation of commercial road vehicles. Over the years Dr. Cafiero has developed a strong background in Particle Image Velocimetry (PIV) in all its declinations (planar, stereoscopic, and volumetric), providing also some relevant improvements to the technique and to compute highly accurate statistics from planar and volumetric data.
Areas of specialism
Experimental Fluid Mechanics;
Flow Control;
Fundamental Turbulence;
Particle Image Velocimetry
Previous roles
09-2018 -
02-2020
Assistant Professor in Fluid Dynamics
Politecnico di Torino (Technical University of Turin, Italy)
06-2016 -
05-2018
Research Associate in Turbulent Flows
Imperial College London
01-2014 -
06-2014
Visiting Researcher
University of Cambridge - BP Institute
Affiliations and memberships
American Physical Society
Member since 2014
American Institute of Aeronautics and Astronautics
Member since 2018
Research collaborations
- Ecole Central Lille;
- Universidad Carlos III de Madrid;
- TU Delft;
- University of Naples Federico II;
- Politecnico di Torino;
- Imperial College London;
- University of Cambridge - BP Institute.
My teaching
ENG 3162: Group Design. Aero 1, Aero 2 and Aero - UAS;
ENG 3207: Aerodynamics II.