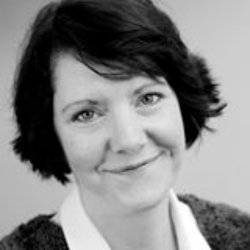 Dr Julie Garman Kolokotsa
---
PhD in Politics, Policy and Government, Master's in Environmental Management and Sustainability
My research project
Assessing the "Troika effect" on national decision-making
Julie completed her doctorate in comparative politics. Her research focused on core executive decision-making in Greece and how it was influenced by the Troika (European Commission, IMF and ECB) on a health policy. For this she interviewed 50 top decision-makers including 2 former Prime Ministers, 6 Ministers and 12 Ministerial advisers. 
Finalist at University of Surrey's 3 Minute PhD Contest 2017
Supervisors
Dr. Theofanis Exadaktylos
Reader in European Politics
Deputy Head of Department
Director for Learning & Teaching
Professor Amelia Hadfield
Head of Department of Politics
Director, Centre for Britain and Europe
Chair in European and International Relations
Dean International
Affiliations and memberships
European Consortium of Political Research (ECPR)
Member of the ECPR and its Standing Group on European Union, Standing Group on Southern European Politics, and Standing Group on Political Methodology
University Association for Contemporary European Studies (UACES)
Member of UACES
Business, industry and community links
Greeks in Singapore
Helping to create a great sense of community for Greeks living in Singapore
PROFESSIONAL BACKGROUND
Adviser to President, Centre for Renewable Energy Sources and Saving, Greece (2011)
Adviser and Speechwriter to Sir Ken Collins, Chair of European Parliament's Committee on the Environment, Public Health and Consumer Protection, Belgium and France (1992-1998)
Founder, Athena Consulting Group, throughout Europe (1991-2016)
Adviser to Congresswoman Barbara B. Kennelly, United States (1989-1991)
Research
Research interests
decision-making, new institutionalism, health policy, austerity politics, Europeanization of Greece
Research projects
Research Fellow for the Chair of Networked Business Models
During my PhD, I worked as a Research Fellow in a multidisciplinary team for the Chair of Networked Business Models at ESSEC Asia-Pacific conducting pioneering business ecosystem research. I learned a new literature in a field outside of policy-making. The work led to a co-authored chapter in an Oxford University Press publication.
My teaching
Adjunct Lecturer, Hellenic American University, Greece
As Adjunct Lecturer at the Hellenic American University in Athens Julie helped students appreciate and embrace concepts of sustainable development for their lives and their careers. She received accolades for her emphasis on personalized and active learning. Courses combined traditional material with activities that incentivized greater engagement, including team projects, hands-on workshops, class debates and simulations. 
Sustainable Development (Hellenic American University in Athens, Greece; Autumn Semester 2014, Spring Semester 2015)
Guest lecturer within structured courses for Higher Education institutions 1999-2009 including:
College of Europe, Belgium, EU environmental policy-making with stakeholders and the media
United Business Institute, Belgium, Public policy advocacy and negotiations in EU decision-making
Missouri School of Journalism, Belgium, EU decision-making for journalists and how Brussels matters
Erasmus University, The Netherlands, Scientific input into EU environmental policy-making
Lead Instructor, Pinnacle PR (2007-2016)
Co-created, delivered training in public policy-making, advocacy, crisis management, Corporate Social Responsibility, and media interviewing for over 400 individuals from corporations, NGOs and international organizations
My publications
Publications
Julie Garman and Louise Hilditch
(1998)
Garman, Julie, and Louise Hilditch. 1998. "Behind the scenes: an examination of the importance of the informal processes at work in conciliation." Journal of European Public Policy 5 (2): pp. 271-284.
The intergovernmental conference which was completed in 1991, the result of which was the Treaty on European Union, introduced the codecision procedure. This procedure gives the Council of Ministers and the European Parliament equal legislative powers in adopting legislation in certain policy areas. The article examines this procedure, from a European Parliament perspective. Through an examination of conciliation negotiations on the Packaging Directive and three public health programmes, it highlights how the adoption of informal working procedures has contributed to the successful operation of codecision-making.
Graeme Young, Julie Garman and Stephen Tupper
(2000)
Garman, Julie, Stephen Tupper and Graeme Young. 2000. "A long way from Basel clarity: implications of the Basel Convention for the consumer electronics sector." European Energy and Environmental Law Review 9 (3): pp. 71-80.
Julie Garman Kolokotsa
(2012)
Garman Kolokotsa, Julie. 2012. "Did we really need the June election?" In First thoughts on the 17 June 2012 election in Greece, edited by Roman Gerodimos. Greek Politics Specialist Group, Political Studies Association (UK).
Julie Garman Kolokotsa
(2016)
Garman Kolokotsa, Julie. 2016. "Decision-making in Times of Austerity: Could the Troika Help Overcome Greece's Reform Challenges?" In Proceedings of the 2016 Annual UACES Graduate Conference (University Association for Contemporary European Studies), Brussels, 9-10 May 2016.
Why is Greece besieged by a challenging capacity to reform even after the arrival of the Troika into the very core of governmental decision-making? Despite Troika pressure, Greece is not reforming due to the presence of informal procedures in decision-making that have become institutionalized in practice. Using a blend of Historical and Discursive Institutionalism to examine the impact of formal and informal institutions on decision-making, this paper takes stock of reform on health policy and e-prescription. It argues that Greek decision-makers attempt to break path dependent practices of syncopated reform and stakeholder reaction by the bailout agreement requirement for e-prescription in particular. Accepting a Historical Institutionalist view of actor-driven and process-driven developments on the policy outcome, the paper explores the fundamental position of Discursive Institutionalism on the role of ideas as drivers of change or inaction. Based on evidence from 10 elite interviews, findings demonstrate that in the case of Troika negotiations, the greater the distance between formally negotiated and embedded informal ways of national policy-making, the lower the likelihood is for national actors to initiate the points of reform.
Julie Garman Kolokotsa
(2018)
Garman Kolokotsa, Julie. 2018. "Decision-making in Uncertainty: Process-tracing Troika Influence in Creating e-prescription in Greece." In Proceedings of the 8th Political Science, Sociology and International Relations Conference Singapore, September 2018.
Remy, Sylvain, Julie Garman Kolokotsa, Jan Ondrus, Yassine El Ouarzazi, and Nicolas Glady
(2021)
Remy, Sylvain, Julie Garman Kolokotsa, Jan Ondrus, Yassine El Ouarzazi, and Nicolas Glady. 2021. "Purposeful Ecosystem Orchestration." In Putting Purpose into Practice: The Economics of Mutuality, edited by Colin Mayer and Bruno Roche. Oxford University Press, UK.
Julie Garman Kolokotsa
(2021)
Garman Kolokotsa, Julie. 2021. "Taking the wheel: Troika influence on Greece's e-prescription." In Proceedings of the 2021 (online) Annual UACES Conference (University Association for Contemporary European Studies), September 2021.