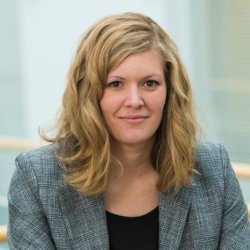 Katrin Scherschel
---
PhD Student
BA Business Management from Edinburgh Napier University, UK and University of Heilbronn, Germany
My research project
Katrin Scherschel is a doctorate candidate at the Department of Marketing and Retail Management at Surrey Business School. I joined the University of Surrey in September 2016 after achieving a double degree in Business Management from Edinburgh Napier University and University of Heilbronn. Having previously been a research assistant and lecturer at University of Roehampton, I am since March 2016 managing editor of the journal Human Resource Development International. 
My research focuses primarily on marketing communication and sales. In particular I am interested in customers' perception of the communication style of sellers and how verbatim cues within the sales communication influence customers' decisions. 
Prior to my academic life I worked as market researcher for financial services for the research agency YouGov in Cologne, Germany and as complain manager for the airlines Lufthansa and Eurowings in Dublin, UK. I have ten years' personal trainer experience through my work for the fitness club Robinson WellFit where I was not only responsible for group fitness but also for quality management and the implementations of marketing strategies. 
Supervisors
My publications
Additional publications
Scherschel, K. (2016). Product Placement in Online Music Videos, Analysis and Comparison between the Actual Product Placement in Music Videos and the Expectations of Generation Y. AV AkademikerVerlag, Saarbrücken.