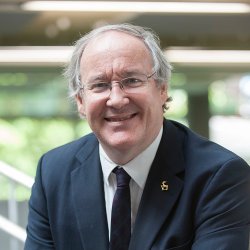 Professor Michael Kearney
---
Provost and Executive Vice-President
Executive Assistant: Beth Herbert
Biography
I joined Surrey in 2002 as the inaugural Director of the Advanced Technology Institute and was appointed Head of the School of Electronics and Physical Sciences in 2005. After becoming Dean of the newly formed Faculty of Engineering and Physical Sciences in 2007 and serving as Pro Vice-Chancellor, I was appointed Deputy Vice-Chancellor, Research and Innovation in 2013. Between May 2015 and May 2016 I served as Acting Vice-Chancellor before assuming my current position.
As Provost and Executive Vice-President, I am responsible for the delivery of the academic endeavour at Surrey and the translation of the University level strategic imperatives into viable operational plans executed through the Pro Vice-Chancellors and the Faculty Executive Deans. This includes the articulation, development and promotion of excellence across all aspects of research and education.
Research
Research interests
My research falls into two broad areas which are largely distinct. The first concerns the physics and technology of semiconductor devices, with an emphasis on developing physics-based models to interpret data and enhance design capability. The second relates to the study of complex physical processes using stochastic methods; the focus here is on deriving exact or at least asymptotically tight results for simplified models.