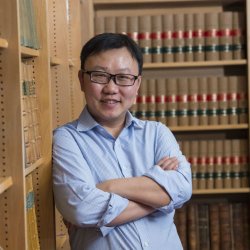 Professor Ming Du
---
Chair in Chinese and Comparative Law
Biography
Biography
Prior to joining Surrey University School of Law as Professor in Chinese and Comparative Law in 2016, I was reader in International Business Law at Lancaster University School of Law from 2013. My current research focuses on the structural issues of global economic governance (trade, investment and finance), the international legal implications of China's recent emergence as a global superpower and the development of Chinese Law in contemporary China. I also retain a strong interest in corporate law and securities regulations in which I have practiced as a qualified lawyer in both New York and Beijing for a number of years. I was raised in China and educated at Tsinghua University in Beijing, Harvard Law School, where I was a Victor and William Fung Fellow and the University of Oxford (Brasenose College) where I was a Clarendon Scholar. I have published extensively in ICLQ, JIEL, WTR, JBL and many other peer-review journals and I sit on editorial boards of Chinese Journal of International Law and Manchester Journal of International Economic Law.
Research interests
International Economic Law, Public International Law, Comparative Business Law, and Chinese Law.
Prospective PhD applicants are welcome to contact me informally about their research projects.
Teaching
I offer a module International Economic Law in Semester II.
Departmental duties
Director of Research (Chair of the Law School Research Committee)
Director of Centre for Chinese Law and Social- Legal Studies
Programme Director of LLM in International Commercial Law