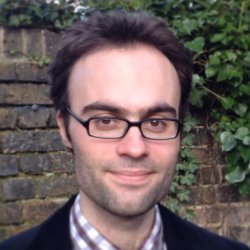 Biography
Biography
Nikolaos is a Lecturer of Finance in the Surrey Business School. He graduated from the Technological Institute of Thessaloniki, with a BSc degree in Marketing. He holds a MSc in Finance with distinction from Coventry University. Nikolaos has received a PhD in Finance from University of Surrey with a particular focus on Mergers and Acquisitions (M&As), and Credit Rating Agencies (CRAs).
Nikolaos' research is presented every year in Academic Conferences, and his most recent work was published in the Journal of Corporate Finance. He has taught Corporate Finance Seminars, PhD lectures, Methods of Forecasting in Marketing, and he was delivering Financial Trading Simulations - Part of the Widening Access Project, designed to raise aspirations level of school leavers and encourage participation in higher education. He is also a Fellow of the Higher Education Academy.
Research interests
Mergers and Acquisitions (M&As), Credit Ratings, Credit Default Swaps (CDS), Corporate Governance, Corporate Social Responsibility (CSR), Default Risk, and Econometrics.
Teaching
International Corporate Governance (MSc)
Department
Research Students
Soheila Malekpour
Tung Duy Nguyen
Daniel Boos
Affiliations
American Finance Association (AFA)
European Finance Association (EFA)
External Examiner
Hult International Business School, London, UK, 2016- Present
REFEREEING (ACADEMIC JOURNALS)
Journal of Corporate Finance
Journal of Financial Research
Financial Review
Corporate Governance: An International Review
European Journal of Finance
International Journal of Banking, Accounting and Finance
Quarterly Review of Economics and Finance
AWARDS AND NOMINATIONS
FBEL Postgraduate Research Student of the year Award 2014
My publications
Publications
Journal Articles
(1) Karampatsas Nikolaos, Petmezas Dimitris & Travlos Nickolaos., (2014). 'Credit Ratings and the Choice of Payment Method in Mergers and Acquisitions', Journal of Corporate Finance 25, 474-493.
15th Hottest Article in the Journal of Corporate Finance for the full year 2014
doi: 10.1016/j.jcorpfin.2014.01.008
Working Papers
'Credit Default Swaps, Financial Distress and Corporate Acquisitions', (2017), (with Paul M. Guest, Dimitris Petmezas and Nickolaos G. Travlos)
'Credit Ratings and Acquisitions', (2017), (with Nihat Aktas, Dimitris Petmezas and Henri Servaes)
'CSR and Credit Ratings: Do fallen angels adjust their CSR engagement?', (2017), (with Nihat Aktas and Alexander Witkowski)
'Beyond Market Mood: Stock Sentiment and the Response to Corporate Earnings Announcements', (2017), (with Soheila Malekpour and Andrew Mason)
'Bidders and Targets Made for Each Other', (2017), (with Nihat Aktas, Dimitris Petmezas and Nickolaos G. Travlos)
Conferences
'Credit Ratings and Acquisitions'
(1) International Conference on Credit Analysis and Risk Management, Basel, Switzerland, 2017
'Beyond Market Mood: Stock Sentiment and the Response to Corporate Earnings Announcements'
(2) Behavioural Finance Working Group (BFWG) Conference, London, UK, 2017
(3) World Finance Conference (WFC), Cagliari, Italy, 2017
(4) European Financial Management Association (EFMA), Athens, Greece, 2017
'Credit Default Swaps and Corporate Acquisitions'
(5) EFiC Conference in Banking and Finance, Colchester, UK, 2016
'Beyond Market Mood: Stock Sentiment and the Response to Corporate Earnings Announcements'
(6) Annual Conference of Brunel Studies in Economics & Finance, London, UK, 2016
'Credit Ratings and Acquisitions'
(7) World Finance Conference (WFC), New York, USA, 2016
(8) Spring Conference of the Multinational Finance Society (MFS), Limassol, Cyprus, 2016
(9) European Centre for Corporate Control Studies (ECCS) Workshop, Paris, France, 2016
'Credit News around Seasoned Equity Offerings: Evidence from the Credit Default Swap Market'
(10) European Financial Management Association (EFMA), Basel, Switzerland, 2016
(11) Annual Conference of the Multinational Finance Society (MFS), Stockholm, Sweeden, 2016
'Bidders and Targets Made for Each Other: Financial Constraints, Growth Opportunities and Acquisition Returns'
(12) World Finance Conference (WFC), Buenos Aires, Argentina, 2015
'Bidders and Targets Made for Each Other: Credit Ratings, Growth Opportunities and Acquisition Returns'
(13) European Financial Management Association (EFMA), Rome, Italy, 2014
'Credit Ratings and the Choice of Payment Method in Mergers and Acquisitions'
(14) European Financial Management Association (EFMA), Reading, UK, 2013
'Valuation Effects of Credit Ratings in Mergers and Acquisitions'
(15) International Conference of the FEBS, London, UK, 2012
'The Use of Moving Averages in the Athens Stock Exchange'
(16) HELORS on Quantitative Models in the Managerial and Financial Decision Making, Agios Nikolaos, Greece, 2010
Guest Lectures/Seminars
(1) WHU Otto Beisnheim School of Management, Koblenz, Germany, 2014