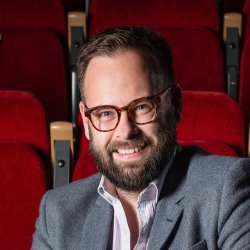 Dr Patrick Duggan
---
Director of the Centre for Performance and Urban Living; Senior Lecturer in Theatre and Performance
BA (Warwick), MA (QMUL), PhD (Leeds)
Biography
I am interested in why we (still) make theatre and performance: what is it for, what does it do culturally, politically, socially, aesthetically? Within this overarching frame, my research interests lie in critical approaches to contemporary performance and the relationship between performance and the wider socio-cultural and political contexts in which it is made. My work is engaged with poststructuralist and political philosophy, is interdisciplinary in nature and particularly focused on questions of spectatorship, witnessing, trauma and ethics and is concerned to explore the socio-political efficacy of theatre, performance and other cultural practices.
As well as numerous journal articles and book chapters, my publications include a special issue of the international journal Performance Research, entitled On Trauma (2011), a monograph investigating the relationship between contemporary performance and trauma - Trauma-Tragedy: Symptoms of Contemporary Performance (Manchester UP 2012), and an edited volume on the history and politics of small-scale British theatre - Reverberations Across Small-Scale British Theatre: Politics, Aesthetics and Forms (Intellect 2013). I have recently published a co-edited collection entitled Performing (for) Survival: Theatre, Crisis and Extremity (Palgrave 2016); the book examines performance practices that emerged in and during moments of conflict, crisis and extremity (rather than applied practices or on post fact representations).
The major research projects I am currently working on are:
a full length monograph under the title Performance and the Politics of Fear (for publication 2021);
a co-edited special issue of the international journal Performance Research entitled Staging the Wreckage (Vol. 24, Issue 5, 2019)
a collaborative research project exploring the interrelation of performance and resilience in city contexts (see https://performingcityresilience.wordpress.com for more information)
I joined the Drama Department at University of Surrey as Senior Lecturer in Theatre and Performance in February 2015; before that I was Lecturer in Drama at University of Exeter (2012 - 2015) and previously a lecturer in the Division of Performance Studies, University of Northampton. I gained my PhD from the University of Leeds (2009) where I was also a visiting lecturer. I am a Fellow of the Higher Education Academy.
Indicators of esteem
Visiting Research Fellow, Moore Institute, NUI Galway (February 2018; see http://mooreinstitute.ie/visiting-fellows-scheme/)

AHRC Strategic Reviewer (2016 - ongoing)
Member of FWO (Research Foundation, Flanders) Peer Review College (2015 - ongoing)

Member of the AHRC Peer Review College (2014 - ongoing)

Co-convenor of Performance and the Body Working Group, Theatre and Performance Research Association (2015 - 2017, 3 annual conferences)
My publications
Publications
Duggan P
(2017)
Performance (Studies), Crisis, Extremity,
Duggan P
(2011)
Trauma and Performance: Maps, narratives and folds,
Performance Research: a journal of the performing arts
16
(1)
Duggan P
(2013)
Reverberations across Small-Scale British Theatre: Politics, Aesthetics and Forms,
Between 1960 and 2010, a new generation of British avant-garde theatre companies, directors, designers, and performers emerged. Some of these companies and individuals have endured to become part of theatre history while others have disappeared from the scene, mutated into new forms, or become part of the establishment. Reverberations across Small-Scale British Theatre at long last puts these small-scale British theatre companies and personalities in the scholarly spotlight. By questioning what 'Britishness' meant in relation to the small-scale work of these practitioners, contributors articulate how it is reflected in the goals, manifestos, and aesthetics of these companies.
This chapter critically reflects on a production of Anthony Neilson?s Normal (directed by the author in July 2012) to explicate the ways in which }i~ek?s philosophical writings were useful in and pertinent to rehearsals; it examines moments in which the play in performance adhered to and/or corresponded with that philosophical work, and also how it pushed back against it in various ways. The author challenges the orthodoxy that performance (and live art) is somehow more immediate ? more real ? than theatre. The essay employs }i~ek?s work to challenge the hierarchized ?performance versus theatre? binary by relating his theories of the oscillation of the real and virtual to the author?s own theory of ?mimetic shimmering? (2013), and to an analysis of the various theatrical devices used in the production of Normal to facilitate such an oscillation in performance. The intention is to push back against the way that performance theory often under theorizes what constitutes a real event.
The idea of trauma has become so used in the public sphere as to become almost meaningless in its ubiquity. But this is also to say that we live in a historical moment in which society feels bound to its traumatic experiences. Trauma, it would seem, has become a cultural trope. Furthermore, contemporary trauma theory suggests a performative bent in traumatic suffering itself ? the trauma-symptom is, after all, a rehearsal, re-presentation, re-performance of the trauma-event. This is not to trivialise traumatic suffering or detract from the insistence that trauma narratives must adequately, truthfully, be borne witness to so as not to diminish the weight of the original event. On Trauma explores a range of instances in which performance becomes a productive frame through which to address traumata and/or where trauma theory illuminates performance. With papers examining topics from African funeral rituals to witnessing, and ethics to Argentinean scratches, this issue of Performance Research benefits from a cross-cultural dynamic which brings together academic articles on and artistic responses to performance that embodies, negotiates, negates or provokes trauma.
Trauma-Tragedy investigates the extent to which performance can represent the ?unrepresentable? of trauma. Throughout, there is a focus on how such representations might be achieved and if they could help us to understand trauma on personal and social levels. In a world increasingly preoccupied with and exposed to traumas, this volume considers what performance offers as a means of commentary that other cultural products do not. The book?s clear and coherent navigation of complex relation between performance and trauma and its analysis of key practitioners and performances (from Sarah Kane to Socìetas Raffaello Sanzio, Harold Pinter to Forced Entertainment, and Phillip Pullman to Franco B) make it accessible and useful to students of performance and trauma studies, yet rigorous and incisive for scholars and specialists. Duggan explores ideas around the phenomenological and socio-political efficacy and impact of performance in relation to trauma. Ultimately, the book advances a new performance theory or mode, ?trauma-tragedy?, that suggests much contemporary performance can generate the sensation of being present in trauma through its structural embodiment in performance, or ?presence-in-trauma effects?.
The Intellect Playtext series publishes innovative performance texts under three interrelated strands: new writing (scripts), performance writings (?non-traditional? forms such as choreographic scores, devised performance texts, performance documentation) and translations (writing that is new to English-speaking audiences). The Playtext series makes available performance texts that are aesthetically and stylistically innovative as well as those that explore the socio-cultural and political contexts of their making. Each volume includes the performance texts alongside contextual essays that examine the processes of development, writing and performance as well as critical essays that discuss the texts from political, social, cultural and theoretical perspectives. Intellect Playtexts are concerned also to present volumes that engage with the wider historical and performance contexts of the work through, for example, the inclusion of production photographs, design sketches, historical documents and/or typographical design. The series celebrates critical writing, adaptation, translation and devising processes and provides a forum for textual performance practices-as-research.
Duggan P
(2016)
Performing (for) Survival: Theatre, Crisis, Extremity,
Palgrave macmillan
This book investigates trans-historical and international instances of performance that arise directly out of situations of crisis and extremity to ask what performance is for in such contexts. It explores how people living in oppressive, dangerous or deprived conditions use performance to survive, to express dissent or a desire for change.
Duggan P
(2013)
Others, Spectatorship, and the Ethics of Verbatim Performance,
NTQ: New Theatre Quarterly
29
(2)
Duggan P, Spence J
(2016)
Performance and&,
The Year's Work in Critical and Cultural Theory
24
(1)
In titling our chapter ?Performance and&? our intention is not to privilege performance studies over theatre studies or drama but rather to call to attention the longstanding proposition that performance (studies) ?resists or rejects definition? (Schechner, Richard, 1998, ?What Is ?Performance Studies? Anyway?? in: P. Phelan and J. Lane (eds.), The Ends of Performance, NYU Press, p. 360) and as such highlight the potential it holds for interdisciplinary scholarship and the way in which the idea of performance has been conceived fluidly and expansively, both key concerns of all the volumes reviewed here. We are, we hope, at a point in the development of performance and theatre studies where there is an understanding, acceptance and exploration of the mutually constructive and beneficial interweaving of these two ?traditions? of scholarship within the broader field of drama. In the books we look at, both ?theatre? and ?performance? are brought to bear on the matters at hand almost interchangeably, with established text-based dramas taking their place alongside works in the performance art tradition to further arguments pertaining to a variety of disciplines. Such plurality of approach is a defining feature of the works we have chosen to discuss and binds them to a common purpose: the exploration of drama/theatre/performance in, with and between other disciplines and discourses in the pursuit of illuminating the world around us in more meaningful ways.
Duggan Patrick
(2018)
On Ignoring Risk,
Performance Research
23
(4-5)
pp. 458-461
Taylor & Francis
This paper explores the political impact of protest actions that explicitly make use of performance practices in their execution, and takes the activist work of Margaretta D?Arcy as the central object of analysis. Concentrating on D?Arcy?s protest actions at Shannon Airport and her subsequent trial(s), the paper examines the ways in which Ireland?s ?Guantanamo Granny? tries to engage the Irish state in a ?meaningful? public debate about its ?complicity? in the global ?war on terror?, despite a stated position of neutrality. This debate, the essay argues, is facilitated in part by D?Arcy?s capacity to turn the legal and disciplinary systems of the state back on themselves, so to speak. The contention is that by ?ignoring? risk, both physical and legal, and leveraging a lifetime?s experience and understanding of theatre and performance as a mechanism of protest, D?Arcy?s performative activist actions render the state ?ridiculous? socially, politically and legally.