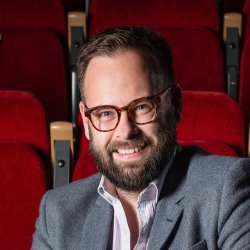 Dr Patrick Duggan
---
Director of the Centre for Performance and Urban Living; Senior Lecturer in Theatre and Performance
BA (Warwick), MA (QMUL), PhD (Leeds)
Biography
I am interested in why we (still) make theatre and performance: what is it for, what does it do culturally, politically, socially, aesthetically? Within this overarching frame, my research interests lie in critical approaches to contemporary performance and the relationship between performance and the wider socio-cultural and political contexts in which it is made. My work is engaged with poststructuralist and political philosophy, is interdisciplinary in nature and particularly focused on questions of spectatorship, witnessing, trauma and ethics and is concerned to explore the socio-political efficacy of theatre, performance and other cultural practices.
As well as numerous journal articles and book chapters, my publications include a special issue of the international journal Performance Research, entitled On Trauma (2011), a monograph investigating the relationship between contemporary performance and trauma - Trauma-Tragedy: Symptoms of Contemporary Performance (Manchester UP 2012), and an edited volume on the history and politics of small-scale British theatre - Reverberations Across Small-Scale British Theatre: Politics, Aesthetics and Forms (Intellect 2013). I have recently published a co-edited collection entitled Performing (for) Survival: Theatre, Crisis and Extremity (Palgrave 2016); the book examines performance practices that emerged in and during moments of conflict, crisis and extremity (rather than applied practices or on post fact representations).
The major research projects I am currently working on are:
a full length monograph under the title Performance and the Politics of Fear (for publication 2021);
a co-edited special issue of the international journal Performance Research entitled Staging the Wreckage (Vol. 24, Issue 5, 2019)
a collaborative research project exploring the interrelation of performance and resilience in city contexts (see https://performingcityresilience.wordpress.com for more information)
I joined the Drama Department at University of Surrey as Senior Lecturer in Theatre and Performance in February 2015; before that I was Lecturer in Drama at University of Exeter (2012 - 2015) and previously a lecturer in the Division of Performance Studies, University of Northampton. I gained my PhD from the University of Leeds (2009) where I was also a visiting lecturer. I am a Fellow of the Higher Education Academy.
Indicators of esteem
Visiting Research Fellow, Moore Institute, NUI Galway (February 2018; see http://mooreinstitute.ie/visiting-fellows-scheme/)

AHRC Strategic Reviewer (2016 - ongoing)
Member of FWO (Research Foundation, Flanders) Peer Review College (2015 - ongoing)

Member of the AHRC Peer Review College (2014 - ongoing)

Co-convenor of Performance and the Body Working Group, Theatre and Performance Research Association (2015 - 2017, 3 annual conferences)