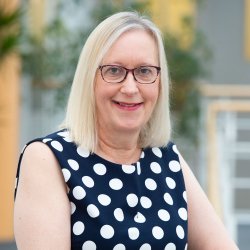 Rachel Sopp
---
Programme Director and 2nd year Programme Leader for Accounting and Finance BSc
MA(Cantab) FCA FCT
Biography
I have a Masters degree in Mathematics from the University of Cambridge. While at university, I had short work placements at both British Gas and Coopers & Lybrand, leading to the offer of a training contract and qualification as a chartered accountant with the Institute of Chartered Accountants in England and Wales (ICAEW). I also have several years experience as a management consultant with the same firm, primarily in finance and treasury, and was involved in some very interesting major projects across the UK and in Scandinavia, as well as passing the Association of Corporate Treasurers (ACT) professional examinations. A highlight of this time was managing a team that developed a new pan-European finance structure for a major car manufacturer. I was also involved in setting up a finance department for English Heritage and carrying out financial risk analysis and finance software selection for a number of different businesses.
I then moved into professional education and have held senior examiner, moderator and tutor positions for a number of chartered accountancy bodies, the Association of Corporate Treasurers and the London Institute of Finance and Banking before joining Surrey Business School.
My specialist areas are accounting and finance, with a particular interest in treasury and financial risk management. I have been privileged to speak on these topics at Eurofinance courses, CIMA Mastercourses and at a Chartered Accountancy body members' conference in Zambia which was held next to the spectacular Victoria Falls.
Areas of specialism
Finance;
Corporate Treasury;
Financial Risk Management
University roles and responsibilities
Accounting and Finance BSc 2nd year Programme Leader
My qualifications
Chartered Accountant (Fellow)
ICAEW
Fellow of the Association of Corporate Treasurers
Association of Corporate Treasurers (ACT)
My teaching
The focus of my teaching is Finance, Treasury and Risk management.
I am also the Programme Director for the Accounting and Finance BSc programme.
I teach Business Finance to 2nd years in the Business School and Risk Management to 3rd year and post-graduate students and was delighted to receive two teaching awards in 2017/18.