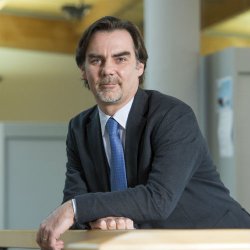 Dr Simon Graham
---
Reader in Veterinary Immunology
BSc PhD
Biography
I graduated with a First Class BSc (Honours) in Biological Sciences with Immunology from the University of Edinburgh and went on to obtain a PhD from the Liverpool School of Tropical Medicine, where I developed a cattle model for testing experimental vaccines against onchocerciasis (river blindness). I took up my first post-doctoral position at the Centre for Tropical Veterinary Medicine, in Edinburgh, to develop improved rapid screening and production of vaccines for tropical Theileriosis. I then worked at the International Livestock Research Institute (ILRI), in Kenya, where I played a central role in the identification and evaluation of subunit vaccine candidates against East Coast fever. I returned to the UK to join the Virology Department of the Animal  and Plant Health Agency, where I led immunological and vaccine-related research on a number of important viral diseases of livestock. In September 2014, I took up the joint position of Senior Lecturer in Veterinary Immunology, within the School of Veterinary Medicine, and Group Leader at The Pirbright Institute.
Areas of specialism
Immunology;
Virology;
Vaccinology
University roles and responsibilities
Year 2 Lead, BVMSci Veterinary Medicine and Science Programme

Module Coordinator, MSc Veterinary Microbiology Programme
Affiliations and memberships
Research
Research interests
I have a longstanding interest in understanding immunological mechanisms underlying protective immunity and the application of this knowledge to the development of new or improved vaccines. My current research is focused on the development of improved vaccines for the porcine reproductive and respiratory syndrome (PRRS). PRRS is arguably the most important infectious disease of pigs with a huge global economic impact. The PRRS virus (PRRSV) exists as two distinct species: 1 and 2. Both PRRSV species are rapidly diversifying and this is dramatically illustrated by the emergence of highly pathogenic PRRSV-2 variants that spread across Southeast Asia with devastating effects. However, emerging PRRSV-1 strains are also highly virulent, highlighting the risks posed to the UK pig industry. Vaccination is a key element to PRRS control and while both inactivated and live attenuated PRRS vaccines are widely used neither provides sufficiently effective protection against the diversity of circulating PRRSV strains. There is therefore an urgent need to develop more efficacious vaccines to aid PRRSV control. I am working with colleagues on three ambitious complimentary approaches to develop improved PRRS vaccines:
1. Develop broadly cross-protective vaccines based on highly conserved neutralising antibody targets: We are deploying cutting edge technologies to identify and characterise naturally occurring porcine monoclonal antibodies capable of broadly neutralising PRRSV strains. These antibodies will then be used to identify highly conserved vaccine targets that may be engineered to induce cross-protection.
2. Induction of effector T cell-based immunity by viral vectored delivery of conserved vaccine candidate antigens: Viral vector-based vaccines offer the potential to provide protection against virulent pathogens entering via the mucosal route. There is growing evidence that cell-mediated immune responses are critical for protection against PRRSV in the absence of neutralising antibodies. We have therefore identified and characterised conserved T cell antigens from PRRSV and are preparing to evaluate their vaccine potential using a novel vaccine vector platform based on attenuated porcine cytomegalovirus.
3. Rational design of safer and more efficacious live attenuated vaccines: We are identifying the key determinants of PRRSV proteins that mediate immune evasion or contribute to disease. This will provide rational targets for the production of attenuated vaccine strains.
Supervision
Postgraduate research supervision
Najith Wijesiriwardana (2018 – present): Characterisation of cell mediated immune responses to lumpy skin disease virus.
Laura Tugwell (2017-present): Behavioural and immunological control of Culicoides biting midges in the UK.
Adam McNee (2016 – present): Determining an Epigenetic Basis for Immunological Education: Accelerating Immune Responses to Viruses through Genomic Demethylation-Dependent Mechanisms.
Rachel Drummond (2016 – present): Characterisation of antigens related to protection against African swine fever virus.
Muneeb Islam (2016 – present): Virus and host factors determining pathogenic and protective mechanisms involved in African swine fever virus infections.
Joanna Mayers (2016 – present): Improving the control of Newcastle disease virus infection through enhanced vaccine design.
Luke Johnson (2015 – present): Investigation of the interaction of porcine reproductive and respiratory syndrome viruses with dendritic cells: implications for pathogenesis and immunity.
Completed postgraduate research projects I have supervised
Sophia Hodgson (2015 – 2018): Immune responses to attenuated Peste des petits ruminants virus vaccines and immune mechanisms of protection'.
Helen Mohktar (2010 – 2014): Characterisation of T cell responses to porcine reproductive and respiratory syndrome virus and its application towards the development of improved vaccines.
Giulia Franzoni (2010 – 2013): Defining the immune mechanisms underlying the rapid protection afforded by a live attenuated classical swine fever virus vaccine.
Adam Walters (2008 – 2012): Establishment of a platform for the evaluation of targeted antigen delivery systems for the development of improved vaccines.
Victor Riitho (2008 – 2012): Characterisation of T cell responses to bovine virus diarrhoea virus proteins and its application towards the development of improved vaccines.
My publications
Publications
Londt BZ, Brookes SM, Nash BJ, Núñez A, Kelly MD, Garçon F, Graham SP, Brown IH
(2013)
Enhanced infectivity of H5N1 highly pathogenic avian influenza (HPAI) virus in pig ex vivo respiratory tract organ cultures following adaptation by in vitro passage,
Virus Research
Pigs are thought to play a role in the adaptation of avian influenza (AI) viruses to mammalian hosts. To better understand this mechanism and to identify key mutations two highly pathogenic AI (HPAI) viruses (H5N1 and H7N7) were grown in pig cells, To mimic the pressure of an immune response, these viruses were grown in the presence of antiserum to the homologous virus or porcine IFN-³. Mutations were identified in both viruses grown in vitro in the presence and absence of antisera or IFN-³ and included the PB2 mutations, E627K or 627E,D701N, described previously as requirements for the adaptation of AI viruses to mammalian species. Additional mutations were also identified in PB1, HA, NP and M genes for viruses passaged in the presence of immune pressure. The infectivity of these viruses was then assessed using ex vivo pig bronchi and lung organ cultures. For lung explants, higher levels of virus were detected in organ cultures infected with H5N1 HPAI viruses passaged in pig cell lines regardless of the presence or absence of homologous antisera or IFN-³ when compared with the wild-type parental viruses. No infection was observed for any of the H7N7 HPAI viruses. These results suggest that the mutations identified in H5N1 HPAI viruses may provide a replication or infection advantage in pigs in vivo and that pigs may continue to play an important role in the ecology of influenza A viruses including those of avian origin. Crown Copyright © 2013.
Akoolo L, Pellé R, Saya R, Awino E, Nyanjui J, Taracha EL, Kanyari P, Mwangi DM, Graham SP
(2008)
Evaluation of the recognition of Theileria parva vaccine candidate antigens by cytotoxic T lymphocytes from Zebu cattle.,
Vet Immunol Immunopathol
121
(3-4)
pp. 216-221
East Coast fever (ECF) is a highly fatal lymphoproliferative disease of cattle caused by Theileria parva, a tick-borne intracellular apicomplexan parasite. Parasite antigens that are targets of protective cytotoxic T lymphocyte (CTL) responses are required to formulate a sub-unit vaccine against ECF. A number of CTL target antigens have recently been identified and initial evaluation has shown their vaccine potential. This study aimed to evaluate whether these antigens were recognised by CTL obtained from six genetically diverse Zebu cattle immunized with a cocktail of T. parva stocks. T. parva Muguga specific polyclonal CD8(+) CTL lines were generated and confirmed to specifically lyse autologous infected cells. CTL recognition of autologous skin fibroblasts (iSF) transduced with recombinant modified vaccinia virus Ankara strain (MVA) expressing previously identified T. parva Muguga vaccine candidate antigens was evaluated using an IFN-gamma ELISpot assay. CTL lines from one of the four calves, BY120, responded specifically to cells infected with MVA expressing the antigen Tp2 and synthetic peptides were employed to map a new CTL epitope on this antigen. Immunoscreening of the T. parva genome with these CTL lines should identify novel antigens that will constitute valuable additions to the vaccine candidates currently being evaluated.
Walters AA, Somavarapu S, Riitho V, Stewart GR, Charleston B, Steinbach F, Graham SP
(2015)
Assessment of the enhancement of PLGA nanoparticle uptake by dendritic cells through the addition of natural receptor ligands and monoclonal antibody,
VACCINE
33
(48)
pp. 6588-6595
ELSEVIER SCI LTD
Targeting of specific receptors on antigen-presenting cells is an appealing prospect in the production of novel nanoparticulate vaccines. In particular, the targeting of vaccines to dendritic cell (DC) subsets has been shown in models to significantly improve the induction of immune responses. This paper describes the evaluation of natural ligands, mannan and chitosan, and monoclonal antibodies as targeting motifs to enhance uptake of PLGA nanoparticle carriers by bovine DCs. To assess enhancement of uptake after the addition of natural ligands a bovine monocyte derived DC (MoDC) model was used. For the assessment of monoclonal antibody targeting, the model was expanded to include afferent lymph DCs (ALDCs) in a competitive uptake assay. Mannan, proved unsuccessful at enhancing uptake or targeting by MoDCs. Chitosan coated particle uptake could be impeded by the addition of mannan suggesting uptake may be mediated through sugar receptors. Inclusion of monoclonal antibodies specific for the DEC-205 (CD205) receptor increased the number of receptor expressing DCs associated with particles as well as the number of particles taken up by individual cells. These results support the further evaluation of active targeting of nanovaccines to DCs to enhance their immunogenicity in cattle and other large mammalian species including humans.
Franzoni G, Kurkure NV, Edgar DS, Everett HE, Gerner W, Bodman-Smith KB, Crooke HR, Grahama SP
(2013)
Assessment of the phenotype and functionality of porcine cd8 t cell responses following vaccination with live attenuated classical swine fever virus (CSFV) and virulent CSFV challenge,
Clinical and Vaccine Immunology
20
(10)
pp. 1604-1616
Vaccination with live attenuated classical swine fever virus (CSFV) induces solid protection after only 5 days, which has been associated with virus-specific T cell gamma interferon (IFN-³) responses. In this study, we employed flow cytometry to characterize T cell responses following vaccination and subsequent challenge infections with virulent CSFV. The CD3 + CD4- CD8hi T cell population was the first and major source of CSFV-specific IFN-³. A proportion of these cells showed evidence for cytotoxicity, as evidenced by CD107a mobilization, and coexpressed tumor necrosis factor alpha (TNF-±). To assess the durability and recall of these responses, a second experiment was conducted where vaccinated animals were challenged with virulent CSFV after 5 days and again after a further 28 days. While virus-specific CD4 T cell (CD3+ CD4+ CD8±+) responses were detected, the dominant response was again from the CD8 T cell population, with the highest numbers of these cells being detected 14 and 7 days after the primary and secondary challenges, respectively. These CD8 T cells were further characterized as CD44hi CD62L- and expressed variable levels of CD25 and CD27, indicative of a mixed effector and effector memory phenotype. The majority of virus-specific IFN-³+ CD8 T cells isolated at the peaks of the response after each challenge displayed CD107a on their surface, and subpopulations that coexpressed TNF-± and interleukin 2 (IL-2) were identified. While it is hoped that these data will aid the rational design and/or evaluation of next-generation marker CSFV vaccines, the novel flow cytometric panels developed should also be of value in the study of porcine T cell responses to other pathogens/vaccines. Copyright © 2013, American Society for Microbiology. All Rights Reserved.
Nichani AK, Campbell JD, Glass EJ, Graham SP, Craigmile SC, Brown CG, Spooner RL
(2003)
Characterization of efferent lymph cells and their function following immunization of cattle with an allogenic Theileria annulata infected cell line.,
Vet Immunol Immunopathol
93
(1-2)
pp. 39-49
Immunization of cattle with in vitro propagated bovine mononuclear cells infected with Theileria annulata induces a protective immune response. Activation and effector function of T cells exiting the lymph node draining the site of cell line immunization were investigated to understand the mechanisms involved in the generation of immunity. Immunized animals exhibited a biphasic immune response in efferent lymph as well as peripheral blood. The first phase corresponded to allogenic responses against MHC antigens of the immunizing cell line and the second was associated with parasite specific responses. An increase in the output of CD2(+) cells and MHC class II(+) cells in efferent lymph was observed after cell line immunization with a corresponding decrease in WC1(+) cells. Although the percentage of CD4(+) T cells did not change significantly over the course of the experiment, they became activated. Both CD25 and MHC class II expressing CD4(+) T cells were detected from day 7 onwards, peaking around day 13. Efferent lymph leukocytes (ELL) exhibited sustained responses to IL-2 in vitro following cell line immunization. Antigen specific proliferation was also detected first to the immunizing cell line and then to parasite antigens. The two peaks of CD2(+) cells were observed, which corresponded to similar peaks of CD8(+) cells. The increase in CD8(+) cells was more pronounced during the second parasite specific phase than the first allogenic phase. Activated CD8(+) T cells mainly expressed MHC class II and some expressed CD25. Significantly the peak of activated CD4(+) T cells preceded the peak of activated CD8(+) T cells, highlighting the role of T. annulata specific CD4(+) T cells in inducing parasite specific CD8(+) cytotoxic responses. A biphasic cytotoxic response also appeared in efferent lymph and peripheral blood, the first directed against MHC antigens of the immunizing cell line followed by MHC class I restricted parasite specific cytotoxicity. The cytotoxic responses in efferent lymph appeared earlier than peripheral blood, suggesting that activated CD8(+) cells exiting the draining lymph node following immunization with T. annulata infected schizonts play an important role in the development of protective immune responses.
MacHugh ND, Connelley T, Graham SP, Pelle R, Formisano P, Taracha EL, Ellis SA, McKeever DJ, Burrells A, Morrison WI
(2009)
CD8+ T-cell responses to Theileria parva are preferentially directed to a single dominant antigen: Implications for parasite strain-specific immunity.,
Eur J Immunol
39
(9)
pp. 2459-2469
Although immunodominance of CD8(+) T-cell responses is a well-recognised feature of viral infections, its role in responses to more antigenically complex pathogens is less clear. In previous studies we have observed that CD8(+) T-cell responses to Theileria parva exhibit different patterns of parasite strain specificity in cattle of different MHC genotypes. In the current study, we demonstrated that animals homozygous for the A10 and A18 MHC haplotypes have detectable responses to only one of 5 T. parva antigens. Over 60% of the responding T cells from the A18(+) and A10(+) animals recognised defined epitopes in the Tp1 and Tp2 antigens, respectively. Comparison of T-cell receptor beta chain expression profiles of CD8(+) T-cell lines and CD8(+) T cells harvested ex vivo confirmed that the composition of the T-cell lines was representative of the in vivo memory CD8(+) T-cell populations. Analysis of the Tp1 and Tp2 antigens revealed sequence polymorphism, which was reflected by differential recognition by T-cell lines. In conclusion, we have demonstrated a profound immunodominance in the CD8(+) T-cell response to T. parva, which we propose is a major determinant of the parasite strain specificity of the response and hence immune protection.
Existing live attenuated classical swine fever virus (CSFV) vaccines provide a rapid onset of complete protection but pose problems in discriminating infected amongst vaccinated animals. With a view to providing additional information on the cellular mechanisms that may contribute to protection, which in turn may aid the development of the next generation of CSFV vaccines, we explored the kinetics of the cytokine responses from peripheral blood cells of pigs vaccinated with an attenuated C-strain vaccine strain and/or infected with a recent CSFV isolate. Peripheral blood cells were isolated over the course of vaccination/infection and stimulated in vitro with C-strain or UK2000/7.1 viruses. Virus-specific responses of peripheral blood cells isolated from C-strain vaccinated pigs were dominated by the production of IFN-³. IFN-³ production in response to the C-strain virus was first detected in vaccinates 9 days post-vaccination and was sustained over the period of observation. In contrast, cells from challenge control animals did not secrete IFN-³ in response to stimulation with C-strain or UK2000/7.1 viruses. Supernatants from UK2000/7.1 infected animals contained significant levels of pro-inflammatory cytokines from day 8 post-infection and these cytokines were present in both virus and mock stimulated cultures. The results suggest that the C-strain virus is a potent inducer of a type-1 T cell response, which may play a role in the protection afforded by such vaccines, whereas the pro-inflammatory cytokine responses observed in cultures from infected pigs may reflect a pathological pro-inflammatory cascade initiated in vivo following the replication and spread of CSFV.
García-Nicolás O, Rosales RS, Pallarés FJ, Risco D, Quereda JJ, Graham SP, Frossard JP, Morgan SB, Steinbach F, Drew TW, Strickland TS, Salguero FJ
(2015)
Comparative analysis of cytokine transcript profiles within mediastinal lymph node compartments of pigs after infection with porcine reproductive and respiratory syndrome genotype 1 strains differing in pathogenicity,
Veterinary Research
46
(1)
© 2015 Garcia-Nicolas et al.; licensee BioMed Central.Porcine reproductive and respiratory syndrome virus (PRRSV) induces a weak immune response enabling it to persist in different organs of infected pigs. This has been attributed to the ability of PRRSV to influence the induction of cytokine responses. In this study, we investigated the cytokine transcriptional profiles in different compartments of the mediastinal lymph node of pigs infected with three genotype 1 PRRSV strains of differing pathogenicity: the low virulence prototype Lelystad virus (LV), and UK field strain 215-06 and the highly virulent subtype 3 SU1-Bel isolate from Belarus. We have used a combination of laser capture micro-dissection (LCM) followed by real time quantitative PCR (RT-qPCR) and immunohistochemical (IHC) detection of immune cell markers (CD3, CD79a and MAC387) and RT-qPCR quantification of PRRSV and cytokine transcripts. Compared to mock infected pigs, we found a significant downregulation of TNF-± and IFN-± in follicular and interfollicular areas of the mediastinal lymph node from 3 days post-infection (dpi) in animals infected with all three strains. This was accompanied by a transient B cell depletion and T cell and macrophage infiltration in the follicles together with T cell depletion in the interfollicular areas. A delayed upregulation of IFN-³ and IL-23p19 was observed mainly in the follicles. The PRRSV load was higher in all areas and time-points studied in the animals infected with the SU1-Bel strain. This paper describes the first application of LCM to study the cytokine transcript profiles and virus distribution in different compartments of the lymph node of pigs.
Porcine reproductive and respiratory syndrome viruses (PRRSV) present a wide phenotypic and genetic diversity. Experimental infections have demonstrated viral replication, including highly pathogenic strains (HP-PRRSV), in primary lymphoid organs such as the thymus. However, studies of the bone marrow are scarce but necessary to help elucidate the immunobiology of PRRSV strains of differing virulence. In this study, whereas viral RNA was detected within the bone marrow of animals experimentally infected with both low virulent Lelystad (LV) and 215-06 PRRSV-1 strains and with the highly virulent SU1-bel strain, PRRSV positive cells were only occasionally detected in one SU1-bel infected animal. PRRSV RNA levels were associated to circulating virus with the highest levels detected in LV-infected pigs. At 3 dpi, a decrease in the proportion of haematopoietic tissue and number of erythroid cells in all infected groups was associated with an increase in TUNEL or cleaved caspase 3 labelling and higher counts of myeloid cells compared to control. The expression of IL-1± and IL-6 was elevated at the beginning of the infection in all infected animals. The expression of TNF-± was increased at the end of the study in all infected groups with respect to control. Different PRRSV-1 strains induced, presummably by indirect mechanisms and independently of viral load and strain virulence, moderate and sustained hypoplasia of erythroid cells and myeloid cell hyperplasia at early stages of infection. These changes were paralleled by a peak in the local expression of IL-1±, IL-6 and TNF-± in all infected groups.
Everett H, Salguero FJ, Graham SP, Haines F, Johns H, Clifford D, Nunez A, La Rocca SA, Parchariyanon S, Steinbach F, Drew T, Crooke H
(2010)
Characterisation of experimental infections of domestic pigs with genotype 2.1 and 3.3 isolates of classical swine fever virus.,
Vet Microbiol
142
(1-2)
pp. 26-33
The early identification of classical swine fever epizootics is hampered by difficulties in recognising early signs of infection, due to a lack of specific clinical signs. In addition many textbook descriptions of CSF are based on observations of disease caused by historic, mainly genotype 1, strains. Our objective was to improve our knowledge of the diverse range of signs that different CSFV strains can cause by characterising the experimental infection of domestic pigs with both a recent strain of CSFV and a divergent strain. Conventional pigs were inoculated with a genotype 2.1 isolate, that caused an outbreak in the UK in 2000, and a genotype 3.3 strain that is genetically divergent from European strains. This latter strain is also antigenically distinct as it is only poorly recognised by the CSFV-specific monoclonal antibody, WH303. Transmission was monitored by use of in-contact animals. Clinical, virological and haematological parameters were observed and an extended macro- and histopathological scoring system allowed detailed characterisation of pathological lesions. Infection with the genotype 2.1 isolate resulted in a similar outcome to other recent genotype 2 European strains, whereas the genotype 3.3 strain produced fewer and delayed clinical signs, notably with little fever. This strain would therefore be particularly difficult to detect in the early stages of infection and highlights the importance of encouraging early submission of samples for laboratory diagnosis. As representatives of recent and divergent CSFV isolates, these strains are good candidates to study the pathogenesis of current CSFV isolates and as challenge models for vaccine development.
Singleton H, Everett H, Graham S, Bodman-Smith K, Steinbach F
(2013)
Characterisation of porcine monocytes, macrophages and dendritic cells,
IMMUNOLOGY
140
pp. 122-122
WILEY-BLACKWELL
Graham SP, Pellé R, de Villiers EP, Yamage M, Mwangi DM, Honda Y, Ellis SA, MacHugh ND, Ivan Morrison W, Taracha ELN
(2009)
Identification of bovine cytotoxic T lymphocyte epitopes on the intracellular parasite Theileria Parva,
Veterinary Immunology and Immunopathology
128
(1?3)
Salguero FJ, Frossard JP, Rebel JM, Stadejek T, Morgan SB, Graham SP, Steinbach F
(2015)
Host-pathogen interactions during porcine reproductive and respiratory syndrome virus 1 infection of piglets.,
Virus Res
202
pp. 135-143
Porcine reproductive and respiratory syndrome (PRRS) is a major disease affecting pigs worldwide and resulting in considerable economic losses. While PRRS is a global phenomenon, the causative viruses PRRSV-1 (first detected in Europe) and PRRSV-2 (isolated in North America) are genetically and biologically distinct. In addition, the disease outcome is directly linked to co-infections associated with the porcine respiratory disease complex and the host response is variable between different breeds of pigs. It is therefore warranted when studying the pathogenesis of PRRS to consider each viral genotype separately and apply careful consideration to the disease model studied. We here review the respiratory pig model for PRRSV-1, with a focus on a recent set of studies conducted with carefully selected virus strains and pigs, which may serve as both a baseline and benchmark for future investigation.
Forberg H, Hauge AG, Valheim M, Garcon F, Nunez A, Gerner W, Mair KH, Graham SP, Brookes SM, Storset AK
(2014)
Early Responses of Natural Killer Cells in Pigs Experimentally Infected with 2009 Pandemic H1N1 Influenza A Virus,
PLOS ONE
9
(6)
ARTN e100619
PUBLIC LIBRARY SCIENCE
Amarilla SP, Gómez-Laguna J, Carrasco L, Rodríguez-Gómez IM, Caridad y Ocerín JM, Morgan SB, Graham SP, Frossard JP, Drew TW, Salguero FJ
(2015)
A comparative study of the local cytokine response in the lungs of pigs experimentally infected with different PRRSV-1 strains: Upregulation of IL-1± in highly pathogenic strain induced lesions,
Veterinary Immunology and Immunopathology
164
(3-4)
pp. 137-147
© 2015.Porcine reproductive and respiratory syndrome viruses (PRRSV) show high genetic differences both among and within genotypes. Recently, several highly pathogenic PRRSV (HP-PRRSV) strains have been described. This study compares and characterizes the production of cytokines by pulmonary macrophages in pigs experimentally infected with four different PRRSV-1 strains: two low-virulent strains, Lelystad (LV) and a British field strain (215-06); a HP strain (SU1-bel) from Belarus and the attenuated vaccine strain DV (Porcilis® PRRS). Animals were clinically monitored and post-mortem examinations were performed at 3, 7 and 35 days post-infection (dpi). Lung samples were processed for histopathological and immunohistochemical studies by using specific antibodies against PRRSV, IL1-±, IL-6, TNF-±, IL-10 and IFN-³. SU1-bel infected animals presented the highest mean scores for clinical observations, gross and microscopic lesions as well as for PRRSV expression compared with the other infected groups (pd0.027). These animals displayed the highest expression of IL1-± at 7dpi, together with the highest score for lung pathology, whereas LV, 215-06 and DV inoculated animals only showed a transient enhancement in some of these cytokines. SU1-bel-infected pigs showed a positive correlation between the amount of PRRSV antigen and IL-1± expression (r=0.645, p
Graham SP, Everett HE, Johns HL, Haines FJ, La Rocca SA, Crooke HR
(2008)
Characterization of virus-specific T cell cytokine responses following vaccination and challenge with classical swine fever viruses,
IMMUNOLOGY
125
pp. 93-94
WILEY-BLACKWELL PUBLISHING, INC
Graham SP, Pellé R, Honda Y, Mwangi DM, Tonukari NJ, Yamage M, Glew EJ, de Villiers EP, Shah T, Bishop R, Abuya E, Awino E, Gachanja J, Luyai AE, Mbwika F, Muthiani AM, Ndegwa DM, Njahira M, Nyanjui JK, Onono FO, Osaso J, Saya RM, Wildmann C, Fraser CM, Maudlin I, Gardner MJ, Morzaria SP, Loosmore S, Gilbert SC, Audonnet JC, van der Bruggen P, Nene V, Taracha EL
(2006)
Theileria parva candidate vaccine antigens recognized by immune bovine cytotoxic T lymphocytes.,
Proc Natl Acad Sci U S A
103
(9)
pp. 3286-3291
East Coast fever, caused by the tick-borne intracellular apicomplexan parasite Theileria parva, is a highly fatal lymphoproliferative disease of cattle. The pathogenic schizont-induced lymphocyte transformation is a unique cancer-like condition that is reversible with parasite removal. Schizont-infected cell-directed CD8(+) cytotoxic T lymphocytes (CTL) constitute the dominant protective bovine immune response after a single exposure to infection. However, the schizont antigens targeted by T. parva-specific CTL are undefined. Here we show the identification of five candidate vaccine antigens that are the targets of MHC class I-restricted CD8(+) CTL from immune cattle. CD8(+) T cell responses to these antigens were boosted in T. parva-immune cattle resolving a challenge infection and, when used to immunize naïve cattle, induced CTL responses that significantly correlated with survival from a lethal parasite challenge. These data provide a basis for developing a CTL-targeted anti-East Coast fever subunit vaccine. In addition, orthologs of these antigens may be vaccine targets for other apicomplexan parasites.
Vaccination with live attenuated classical swine fever virus (CSFV) vaccines induces a rapid onset of protection which has been associated with virus-specific CD8 T cell IFN-³ responses. In this study, we assessed the specificity of this response, by screening a peptide library spanning the CSFV C-strain vaccine polyprotein to identify and characterise CD8 T cell epitopes. Synthetic peptides were pooled to represent each of the 12 CSFV proteins and used to stimulate PBMC from four pigs rendered immune to CSFV by C-strain vaccination and subsequently challenged with the virulent Brescia strain. Significant IFN-³ expression by CD8 T cells, assessed by flow cytometry, was induced by peptide pools representing the core, E2, NS2, NS3 and NS5A proteins. Dissection of these antigenic peptide pools indicated that, in each instance, a single discrete antigenic peptide or pair of overlapping peptides was responsible for the IFN-³ induction. Screening and titration of antigenic peptides or truncated derivatives identified the following antigenic regions: core241-255 PESRKKLEKALLAWA and NS31902-1912 VEYSFIFLDEY, or minimal length antigenic peptides: E2996-1003 YEPRDSYF, NS21223-1230 STVTGIFL and NS5A3070-3078 RVDNALLKF. The epitopes are highly conserved across CSFV strains and variable sequence divergence was observed with related pestiviruses. Characterisation of epitope-specific CD8 T cells revealed evidence of cytotoxicity, as determined by CD107a mobilisation, and a significant proportion expressed TNF-± in addition to IFN-³. Finally, the variability in the antigen-specificity of these immunodominant CD8 T cell responses was confirmed to be associated with expression of distinct MHC class I haplotypes. Moreover, recognition of NS 21223-1230 STVTGIFL and NS31902-1912 VEYSFIFLDEY by a larger group of C-strain vaccinated animals showed that these peptides could be restricted by additional haplotypes. Thus the antigenic regions and epitopes identified represent attractive targets for evaluation of their vaccine potential against CSFV. © 2013 Franzoni et al.
Mwangi DM, Honda Y, Graham SP, Pelle R, Taracha EL, Gachanja J, Nyanjui JK, Bray J, Palmer GH, Brown WC, Mwangi W
(2011)
Treatment of cattle with DNA-encoded Flt3L and GM-CSF prior to immunization with Theileria parva candidate vaccine antigens induces CD4 and CD8 T cell IFN-³ responses but not CTL responses.,
Vet Immunol Immunopathol
140
(3-4)
pp. 244-251
Theileria parva antigens recognized by cytotoxic T lymphocytes (CTLs) are prime vaccine candidates against East Coast fever in cattle. A strategy for enhancing induction of parasite-specific T cell responses by increasing recruitment and activation of dendritic cells (DCs) at the immunization site by administration of bovine Flt3L and GM-CSF prior to inoculation with DNA vaccine constructs and MVA boost was evaluated. Analysis of immune responses showed induction of significant T. parva-specific proliferation, and IFN-³-secreting CD4(+) and CD8(+) T cell responses in immunized cattle. However, antigen-specific CTLs were not detected. Following lethal challenge, 5/12 immunized cattle survived by day 21, whereas all the negative controls had to be euthanized due to severe disease, indicating a protective effect of the vaccine (p
Graham SP, Haines FJ, Johns HL, Sosan O, La Rocca SA, Lamp B, Ruemenapf T, Everett HE, Crooke HR
(2012)
Characterisation of vaccine-induced, broadly cross-reactive IFN-gamma secreting T cell responses that correlate with rapid protection against classical swine fever virus,
VACCINE
30
(17)
pp. 2742-2748
ELSEVIER SCI LTD
Tchakouté VL, Graham SP, Jensen SA, Makepeace BL, Nfon CK, Njongmeta LM, Lustigman S, Enyong PA, Tanya VN, Bianco AE, Trees AJ
(2006)
In a bovine model of onchocerciasis, protective immunity exists naturally, is absent in drug-cured hosts, and is induced by vaccination.,
Proc Natl Acad Sci U S A
103
(15)
pp. 5971-5976
Onchocerciasis (river blindness) is a major parasitic disease of humans in sub-Saharan Africa caused by the microfilarial stage of the nematode Onchocerca volvulus. Using Onchocerca ochengi, a closely related species which infects cattle and is transmitted by the same black fly vector (Simulium damnosum sensu lato) as O. volvulus, we have conducted longitudinal studies after either natural field exposure or experimental infection to determine whether, and under what circumstances, protective immunity exists in onchocerciasis. On the basis of the adult worm burdens (nodules) observed, we determined that cattle reared in endemic areas without detectable parasites (putatively immune) were significantly less susceptible to heavy field challenge than age-matched, naïve controls (P = 0.002), whereas patently infected cattle, cured of infection by adulticide treatment with melarsomine, were fully susceptible. Cattle immunized with irradiated third-stage larvae were significantly protected against experimental challenge (100% reduction in median nodule load, P = 0.003), and vaccination also conferred resistance to severe and prolonged field challenge (64% reduction in median nodule load, P = 0.053; and a significant reduction in microfilarial positivity rates and density, P
MacHugh ND, Weir W, Burrells A, Lizundia R, Graham SP, Taracha EL, Shiels BR, Langsley G, Morrison WI
(2011)
Extensive polymorphism and evidence of immune selection in a highly dominant antigen recognized by bovine CD8 T cells specific for Theileria annulata.,
Infect Immun
79
(5)
pp. 2059-2069
Although parasite strain-restricted CD8 T cell responses have been described for several protozoa, the precise role of antigenic variability in immunity is poorly understood. The tick-borne protozoan parasite Theileria annulata infects leukocytes and causes an acute, often fatal lymphoproliferative disease in cattle. Building on previous evidence of strain-restricted CD8 T cell responses to T. annulata, this study set out to identify and characterize the variability of the target antigens. Three antigens were identified by screening expressed parasite cDNAs with specific CD8 T cell lines. In cattle expressing the A10 class I major histocompatibility complex haplotype, A10-restricted CD8 T cell responses were shown to be focused entirely on a single dominant epitope in one of these antigens (Ta9). Sequencing of the Ta9 gene from field isolates of T. annulata demonstrated extensive sequence divergence, resulting in amino acid polymorphism within the A10-restricted epitope and a second A14-restricted epitope. Statistical analysis of the allelic sequences revealed evidence of positive selection for amino acid substitutions within the region encoding the CD8 T cell epitopes. Sequence differences in the A10-restricted epitope were shown to result in differential recognition by individual CD8 T cell clones, while clones also differed in their ability to recognize different alleles. Moreover, the representation of these clonal specificities within the responding CD8 T cell populations differed between animals. As well as providing an explanation for incomplete protection observed after heterologous parasite challenge of vaccinated cattle, these results have important implications for the choice of antigens for the development of novel subunit vaccines.
Graham SP, Brown DJ, Vatansever Z, Waddington D, Taylor LH, Nichani AK, Campbell JD, Adamson RE, Glass EJ, Spooner RL
(2001)
Proinflammatory cytokine expression by Theileria annulata infected cell lines correlates with the pathology they cause in vivo.,
Vaccine
19
(20-22)
pp. 2932-2944
Control of Theileria annulata is currently best achieved by the use of live attenuated cell line vaccines. However, the mechanisms underlying attenuation are unclear and there is a need to rapidly produce new cell line vaccines, which could safely and effectively vaccinate cattle against tropical theileriosis. There is increasing evidence to suggest that proinflammatory cytokines produced by T. annulata infected cells play a central role in both pathology and immune evasion. This study aimed to test this hypothesis and to evaluate cytokine expression as a marker of virulence. The pathogenicity and protective efficacy of cloned T. annulata cell lines that expressed different levels of proinflammatory cytokines were compared. In two independent trials using different stocks of T. annulata, cell lines that expressed higher levels of proinflammatory cytokines induced severe reactions, and in some cases death, when used to vaccinate groups of cattle. In contrast, low cytokine expressing lines induced low post-vaccinal reactions. The results clearly demonstrated that cytokine expression by T. annulata infected cells could be used as a marker of virulence and provided strong evidence to support a role for cytokines in the induction of pathology. Both high and low cytokine expressing cell lines protected cattle against heterologous challenge infection, offering the possibility of using cytokine expression to rapidly select new safe, potent vaccines against tropical theileriosis without the need for culture attenuation.
Franzoni G, Edwards JC, Kurkure NV, Edgar DS, Sanchez-Cordon PJ, Haines FJ, Salguero FJ, Everett HE, Bodman-Smith KB, Crooke HR, Graham SP
(2014)
Partial Activation of natural killer and ³´ T cells by classical swine fever viruses is associated with type I interferon elicited from plasmacytoid dendritic cells.,
Clin Vaccine Immunol
21
(10)
pp. 1410-1420
Vaccination with live attenuated classical swine fever virus (CSFV) vaccines can rapidly confer protection in the absence of neutralizing antibodies. With an aim of providing information on the cellular mechanisms that may mediate this protection, we explored the interaction of porcine natural killer (NK) cells and ³´ T cells with CSFV. Both NK and ³´ T cells were refractory to infection with attenuated or virulent CSFV, and no stimulatory effects, as assessed by the expression of major histocompatibility complex (MHC) class II (MHC-II), perforin, and gamma interferon (IFN-³), were observed when the cells were cultured in the presence of CSFV. Coculture with CSFV and myeloid dendritic cells (mDCs) or plasmacytoid dendritic cells (pDCs) showed that pDCs led to a partial activation of both NK and ³´ T cells, with upregulation of MHC-II being observed. An analysis of cytokine expression by infected DC subsets suggested that this effect was due to IFN-± secreted by infected pDCs. These results were supported by ex vivo analyses of NK and ³´ T cells in the tonsils and retropharyngeal lymph nodes from pigs that had been vaccinated with live attenuated CSFV and/or virulent CSFV. At 5 days postchallenge, there was evidence of significant upregulation of MHC-II but not perforin on NK and ³´ T cells, which was observed only following a challenge of the unvaccinated pigs and correlated with increased CSFV replication and IFN-± expression in both the tonsils and serum. Together, these data suggest that it is unlikely that NK or ³´ T cells contribute to the cellular effector mechanisms induced by live attenuated CSFV.
Bishop RP, Odongo DO, Mann DJ, Pearson TW, Sugimoto C, Haines LR, Glass E, Jensen K, Seitzer U, Ahmed JS, Graham SP, de Villiers EP
(2009)
Theileria,
In: Nene V, Kole C (eds.), Genome Mapping and Genomics in Animal-Associated Microbes.
pp. 191-231
Springer-Verlag
Rhodes SG, Palmer N, Graham SP, Bianco AE, Hewinson RG, Vordermeier HM
(2000)
Distinct response kinetics of gamma interferon and interleukin-4 in bovine tuberculosis.,
Infect Immun
68
(9)
pp. 5393-5400
This study shows that gamma interferon (IFN-gamma) and interleukin-4 (IL-4) cytokine responses are produced by peripheral blood cells in cattle infected with Mycobacterium bovis. The different kinetics of the IFN-gamma and IL-4 responses to bovine tuberculin and to ESAT-6 following experimental intratracheal infection with M. bovis are described. An early increase in IFN-gamma was observed that was maintained throughout the period studied. In contrast, the IL-4 response was delayed and confined to a peak of activity lasting 6 to 8 weeks. Interestingly, an experimental challenge of cattle with a lower dose of M. bovis which did not result in the development of lesions, positive DTH skin test, or substantial IFN-gamma responses nevertheless generated strong specific IL-4 responses. Investigation of naturally infected M. bovis field reactors showed increased IFN-gamma and IL-4 responses compared to uninfected cattle and that both of these cytokines were equally able to differentiate infected from uninfected animals. The magnitude of the M. bovis-induced IL-4 responses were found to be similar to the antigen-specific IL-4 responses of cattle infected with the parasitic nematode Onchocerca ochengi, further supporting the presence of this type 2 cytokine in bovine tuberculosis.
Mokhtar H, Pedrera M, Frossard JP, Biffar L, Hammer SE, Kvisgaard LK, Larsen LE, Stewart GR, Somavarapu S, Steinbach F, Graham SP
(2016)
The Non-structural Protein 5 and Matrix Protein Are Antigenic Targets of T Cell Immunity to Genotype 1 Porcine Reproductive and Respiratory Syndrome Viruses.,
Front Immunol
7
The porcine reproductive and respiratory syndrome virus (PRRSV) is the cause of one of the most economically important diseases affecting swine worldwide. Efforts to develop a next-generation vaccine have largely focused on envelope glycoproteins to target virus-neutralizing antibody responses. However, these approaches have failed to demonstrate the necessary efficacy to progress toward market. T cells are crucial to the control of many viruses through cytolysis and cytokine secretion. Since control of PRRSV infection is not dependent on the development of neutralizing antibodies, it has been proposed that T cell-mediated immunity plays a key role. Therefore, we hypothesized that conserved T cell antigens represent prime candidates for the development a novel PRRS vaccine. Antigens were identified by screening a proteome-wide synthetic peptide library with T cells from cohorts of pigs rendered immune by experimental infections with a closely related (subtype 1) or divergent (subtype 3) PRRSV-1 strain. Dominant T cell IFN-³ responses were directed against the non-structural protein 5 (NSP5), and to a lesser extent, the matrix (M) protein. The majority of NSP5-specific CD8 T cells and M-specific CD4 T cells expressed a putative effector memory phenotype and were polyfunctional as assessed by coexpression of TNF-± and mobilization of the cytotoxic degranulation marker CD107a. Both antigens were generally well conserved among strains of both PRRSV genotypes. Thus, M and NSP5 represent attractive vaccine candidate T cell antigens, which should be evaluated further in the context of PRRSV vaccine development.
Entrican G, Brown J, Graham S
(1998)
Cytokines and the protective host immune response to Chlamydia psittaci.,
Comp Immunol Microbiol Infect Dis
21
(1)
pp. 15-26
The immunobiology of enzootic abortion of ewes (EAE) is incompletely understood. The causative agent is Chlamydia psittaci, which infects many ruminant species and has zoonotic potential. The organism can survive in the ovine host for many months without causing clinical symptoms but does not generate a sterile immunity during this time. It has been postulated that the organism persists in the host entering at a latent phase, possibly mediated by host cytokine production. The effects of cytokines on chlamydial multiplication vary between host species, between different cell types within those species and also vary between chlamydial species and strains. The multiplication of the EAE strain of C. psittaci in ovine ST-6 cells can be restricted by interferon-gamma (IFN-gamma) but not with comparable concentrations of IFN-alpha. Altering the nutrient composition of the cultures by addition of tryptophan partially reverses the antichlamydial effects of the IFN-gamma. This offers a potential mechanism by which C. psittaci can persist in sheep. The implications of these observations for the pathogenesis of EAE are discussed.
Graham SP, Lustigman S, Trees AJ, Bianco AE
(2000)
Onchocerca volvulus: comparative analysis of antibody responses to recombinant antigens in two animal models of onchocerciasis.,
Exp Parasitol
94
(3)
pp. 158-162
Experimental infections of chimpanzees with Onchocerca volvulus and cattle with Onchocerca ochengi provide model systems for research in human onchocerciasis. These infections share many similarities from the standpoint of parasite biology, but little is known about the comparability of immune responses in the two systems. To make a direct comparison between the models in terms of immune responsiveness to defined parasite products, three recombinant antigens of O. volvulus (Ov7, Ov103, and B20) were used to analyze the kinetics of antibody production following experimental infection. Each of the antigens was derived from adult cDNA libraries following immunoscreening with sera from chimpanzees (Ov7, Ov103) or cattle (B20). All chimpanzees (n = 12) and cattle (n = 8) displayed responses to Ov7 and Ov103, and all cattle, but only 33% of chimpanzees, showed responses to B20. The dynamics of the response to individual antigens showed further similarities between the chimpanzees and the cattle, with responses to Ov7 and Ov103 peaking after, and B20 before, the onset of patent infections. We conclude that there is good preliminary evidence of concordance in the kinetics of serological responses in the two models. However, individual antigens many be more or less immunogenic in the two systems, making it inadvisable to extrapolate between models concerning the relative immunodominance of specific parasite products.
Rhodes SG, Graham SP
(2002)
Is 'timing' important for cytokine polarization?,
Trends Immunol
23
(5)
pp. 246-249
Graham SP, Wu Y, Henkle-Duehrsen K, Lustigman S, Unnasch TR, Braun G, Williams SA, McCarthy J, Trees AJ, Bianco AE
(1999)
Patterns of Onchocerca volvulus recombinant antigen recognition in a bovine model of onchocerciasis.,
Parasitology
119 ( Pt 6)
pp. 603-612
The antibody responses of 8 cattle experimentally infected with Onchocerca ochengi to 18 recombinant O. volvulus antigens were measured by ELISA. In addition to establishing antigenic cross-reactivity between the species, the dynamics of antigen-specific responses were examined to assess how the recognition of the antigens compared to the known stage-specificity of expression. Six cattle responded to all of the antigens and 2 animals responded to all but 1. The dynamics of the recognition of 4 antigens (B20, MOv-2, MOv-14 and OvNHR2 02E1) were characterized by rapid seroconversion following infection. Antibody levels to 2 antigens (Ov7 and OvALT-1) increased gradually over the course of infection. Antibody levels to 4 antigens (OvTPX-2, OvL3Chitinase, Ov103 and Ov9m) reached maximum levels coincident with the onset of patency. The levels to 3 antigens (OvProalf C50, OvAldolase, Ov39) varied little over the course of infection. Responses to antigens with functional similarities (OvSOD1, OvSOD2 and OvSOD3 or OvGST1 and OvGST2) showed comparable temporal profiles. This study demonstrates the high degree of immunological cross-reactivity between the antigens of O. volvulus and O. ochengi. The immunogenicity of antigens varied over the course of infection in an antigen-specific manner, which not always reflected developmentally regulated expression of the corresponding gene, possibly owing to cross-reactive epitopes on distinct parasite products.
Amarilla SP, Gómez-Laguna J, Carrasco L, Rodríguez-Gómez IM, Caridad Y Ocerín JM, Morgan SB, Graham SP, Frossard JP, Drew TW, Salguero FJ
(2015)
A comparative study of the local cytokine response in the lungs of pigs experimentally infected with different PRRSV-1 strains: upregulation of IL-1± in highly pathogenic strain induced lesions.,
Vet Immunol Immunopathol
164
(3-4)
pp. 137-147
Porcine reproductive and respiratory syndrome viruses (PRRSV) show high genetic differences both among and within genotypes. Recently, several highly pathogenic PRRSV (HP-PRRSV) strains have been described. This study compares and characterizes the production of cytokines by pulmonary macrophages in pigs experimentally infected with four different PRRSV-1 strains: two low-virulent strains, Lelystad (LV) and a British field strain (215-06); a HP strain (SU1-bel) from Belarus and the attenuated vaccine strain DV (Porcilis(®) PRRS). Animals were clinically monitored and post-mortem examinations were performed at 3, 7 and 35 days post-infection (dpi). Lung samples were processed for histopathological and immunohistochemical studies by using specific antibodies against PRRSV, IL1-±, IL-6, TNF-±, IL-10 and IFN-³. SU1-bel infected animals presented the highest mean scores for clinical observations, gross and microscopic lesions as well as for PRRSV expression compared with the other infected groups (pd0.027). These animals displayed the highest expression of IL1-± at 7dpi, together with the highest score for lung pathology, whereas LV, 215-06 and DV inoculated animals only showed a transient enhancement in some of these cytokines. SU1-bel-infected pigs showed a positive correlation between the amount of PRRSV antigen and IL-1± expression (r=0.645, p
Massively parallel signature sequencing (MPSS) was used to analyze the transcriptome of the intracellular protozoan Theileria parva. In total 1,095,000, 20 bp sequences representing 4371 different signatures were generated from T.parva schizonts. Reproducible signatures were identified within 73% of potentially detectable predicted genes and 83% had signatures in at least one MPSS cycle. A predicted leader peptide was detected on 405 expressed genes. The quantitative range of signatures was 4-52,256 transcripts per million (t.p.m.). Rare transcripts (