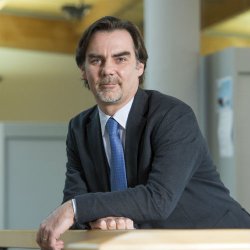 Dr Simon Graham
---
Reader in Veterinary Immunology
BSc PhD
Biography
I graduated with a First Class BSc (Honours) in Biological Sciences with Immunology from the University of Edinburgh and went on to obtain a PhD from the Liverpool School of Tropical Medicine, where I developed a cattle model for testing experimental vaccines against onchocerciasis (river blindness). I took up my first post-doctoral position at the Centre for Tropical Veterinary Medicine, in Edinburgh, to develop improved rapid screening and production of vaccines for tropical Theileriosis. I then worked at the International Livestock Research Institute (ILRI), in Kenya, where I played a central role in the identification and evaluation of subunit vaccine candidates against East Coast fever. I returned to the UK to join the Virology Department of the Animal  and Plant Health Agency, where I led immunological and vaccine-related research on a number of important viral diseases of livestock. In September 2014, I took up the joint position of Senior Lecturer in Veterinary Immunology, within the School of Veterinary Medicine, and Group Leader at The Pirbright Institute.
Areas of specialism
Immunology;
Virology;
Vaccinology
University roles and responsibilities
Year 2 Lead, BVMSci Veterinary Medicine and Science Programme

Module Coordinator, MSc Veterinary Microbiology Programme
Affiliations and memberships
Research
Research interests
I have a longstanding interest in understanding immunological mechanisms underlying protective immunity and the application of this knowledge to the development of new or improved vaccines. My current research is focused on the development of improved vaccines for the porcine reproductive and respiratory syndrome (PRRS). PRRS is arguably the most important infectious disease of pigs with a huge global economic impact. The PRRS virus (PRRSV) exists as two distinct species: 1 and 2. Both PRRSV species are rapidly diversifying and this is dramatically illustrated by the emergence of highly pathogenic PRRSV-2 variants that spread across Southeast Asia with devastating effects. However, emerging PRRSV-1 strains are also highly virulent, highlighting the risks posed to the UK pig industry. Vaccination is a key element to PRRS control and while both inactivated and live attenuated PRRS vaccines are widely used neither provides sufficiently effective protection against the diversity of circulating PRRSV strains. There is therefore an urgent need to develop more efficacious vaccines to aid PRRSV control. I am working with colleagues on three ambitious complimentary approaches to develop improved PRRS vaccines:
1. Develop broadly cross-protective vaccines based on highly conserved neutralising antibody targets: We are deploying cutting edge technologies to identify and characterise naturally occurring porcine monoclonal antibodies capable of broadly neutralising PRRSV strains. These antibodies will then be used to identify highly conserved vaccine targets that may be engineered to induce cross-protection.
2. Induction of effector T cell-based immunity by viral vectored delivery of conserved vaccine candidate antigens: Viral vector-based vaccines offer the potential to provide protection against virulent pathogens entering via the mucosal route. There is growing evidence that cell-mediated immune responses are critical for protection against PRRSV in the absence of neutralising antibodies. We have therefore identified and characterised conserved T cell antigens from PRRSV and are preparing to evaluate their vaccine potential using a novel vaccine vector platform based on attenuated porcine cytomegalovirus.
3. Rational design of safer and more efficacious live attenuated vaccines: We are identifying the key determinants of PRRSV proteins that mediate immune evasion or contribute to disease. This will provide rational targets for the production of attenuated vaccine strains.
Supervision
Postgraduate research supervision
Najith Wijesiriwardana (2018 – present): Characterisation of cell mediated immune responses to lumpy skin disease virus.
Laura Tugwell (2017-present): Behavioural and immunological control of Culicoides biting midges in the UK.
Adam McNee (2016 – present): Determining an Epigenetic Basis for Immunological Education: Accelerating Immune Responses to Viruses through Genomic Demethylation-Dependent Mechanisms.
Rachel Drummond (2016 – present): Characterisation of antigens related to protection against African swine fever virus.
Muneeb Islam (2016 – present): Virus and host factors determining pathogenic and protective mechanisms involved in African swine fever virus infections.
Joanna Mayers (2016 – present): Improving the control of Newcastle disease virus infection through enhanced vaccine design.
Luke Johnson (2015 – present): Investigation of the interaction of porcine reproductive and respiratory syndrome viruses with dendritic cells: implications for pathogenesis and immunity.
Completed postgraduate research projects I have supervised
Sophia Hodgson (2015 – 2018): Immune responses to attenuated Peste des petits ruminants virus vaccines and immune mechanisms of protection'.
Helen Mohktar (2010 – 2014): Characterisation of T cell responses to porcine reproductive and respiratory syndrome virus and its application towards the development of improved vaccines.
Giulia Franzoni (2010 – 2013): Defining the immune mechanisms underlying the rapid protection afforded by a live attenuated classical swine fever virus vaccine.
Adam Walters (2008 – 2012): Establishment of a platform for the evaluation of targeted antigen delivery systems for the development of improved vaccines.
Victor Riitho (2008 – 2012): Characterisation of T cell responses to bovine virus diarrhoea virus proteins and its application towards the development of improved vaccines.