Playing A/Part: investigating the experiences of autistic girls through drama, interactive media and participatory arts
Start date
01 November 2018
Team
Principal investigator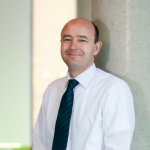 Biography
Roberto graduated in 1995 and then went on to study for a post graduate degree in veterinary microbiology at the Royal Veterinary College (University of London). In 1996 he moved to the government's Veterinary Laboratories Agency (VLA) to undertake a PhD on the pathogenesis of E. coli in poultry. On completion of his PhD studies, Roberto commenced a post-doctoral position at Royal Holloway, University of London, studying E. coli virulence factors and vaccine development.
Since 2001 his work has focused largely on the analysis of the colonisation, shedding and transmission of E. coli O157:H7 by all farmed animal species and he has led a number of commercial, Defra, research council (BBSRC, MRC, EPSRC, AHRC, Innovate) and EU projects in this area. He has published extensively in the area of host-microbe interaction with a particular emphasis on E. coli and Salmonella.
His current research interests focus on the pathogenesis of food-borne pathogens with a particular interest on AMR and the development of intervention strategies including vaccination, pre and probiotics for the control of bacterial pathogens such as Salmonella, Brachyspira and E. coli in food producing animals.
In 2005, Roberto was appointed Head of Pathogenesis and Control at the AHVLA and in 2010 he was appointed Professor of Veterinary Microbiology and Pathology at the University of Surrey. He gained the FRCPath in 2010 and in 2012 was appointed the Associate Dean for Veterinary Strategy in the new School of Veterinary Medicine at the University of Surrey. In 2014 he was appointed to the position of Head of the Department of Pathology and Infectious Diseases and Director of the Veterinary Pathology Centre. In 2019 he was appointed Deputy Head of the School of Veterinary Medicine at the University of Surrey.
He is the past president of the Med-Vet-Net Association and the Veterinary Research Club, the current chair of the Humanimal Trust, a member of the Houghton Trust, a member of the APHA science advisory board and the chair of the Royal College of Pathologists Veterinary Pathology SAC.
Co-investigator
Biography
I have a background in Agricultural Science and a PhD in Plant and Soil Science from the Universities of Edinburgh and Aberdeen in Scotland, respectively. After obtaining my PhD, I spent many years working as a Post-doctoral scientist in the UK and in the USA. My research work focused on defining and understanding the biology, disease mechanisms and transmission of several common food- and water-borne bacterial pathogens. I use a combination of molecular and genetic techniques to investigate these different aspects and as a result have a broad range of skills within the disciplines of agriculture, environmental science, infectious disease, microbiology, molecular biology, and pathology. In 2012, I joined the University of Surrey as a Lecturer in Microbial Pathogenesis, becoming a Senior Lecturer in 2018.
Research themes
Find out more about our research at Surrey: