Job opportunities in computer science
Forward thinking. And doing. Towards an optimised and connected future.
Develop your career as a leading name in your field at the University of Surrey.
Join us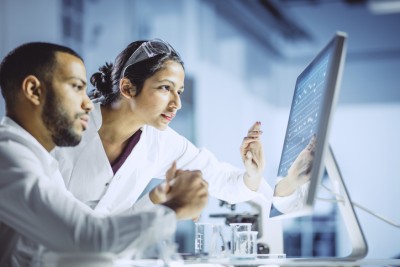 We are seeking candidates who can contribute to our course offerings and develop and extend our current research portfolio in artificial intelligence, cyber security, and distributed and networked systems.   
We are heavily investing in Computer Science to build on our expertise and global impact. This is creating an exciting environment within which to work and opportunity for growth. We are looking to recruit academics at all levels who are equally driven to provide an innovative and inspiring environment for students and colleagues to thrive.
Research areas
As a leading research-intensive university, our research makes a difference to some of the greatest challenges that humanity faces today. Our impact comes from focusing on research intensity to ensure our teams are large enough to thrive; it also comes from an interdisciplinary approach to problem-solving which requires effective and creative collaboration internally and externally.
Discover some of the vital research questions being answered by our University of Surrey research community. Could you contribute to these research areas or even bring your own ideas such that you help to build a new strategic priority? We look forward to hearing about your research proposal.
We are particularly keen to attract applications in the areas below but we welcome applications in all complementary areas of our research:
Autonomous systems and robotics
Complex systems
Data analytics
Data engineering
Data science
Digital security and resilience
HCI and usability
Machine learning
NLP
Practical security
Software engineering
Usable security.
Roles
Do you have exciting research and teaching ideas and want to work with like minded colleagues? Then these might be the roles for you:
Professor/s in Computer Science: who can evidence the leadership required at this level of role; including ability to attract funding, drive the research agenda and build a global reputation
Associate Professor/s in Computer Science: who are leading grants, develop their research credentials at a national and international level, who demonstrate an ability to work in a collaborative and inclusive manner
Senior Lecturer/s in Computer Science: (research and teaching track) who are earlier on in their research career demonstrating an ability to support the development of colleagues and support students through teaching excellence, and with a strong research profile
Senior Lecturer/s in Computer Science: (teaching track).
Are you earlier on in your research career, demonstrating an ability to support the development of colleagues and support students through teaching excellence and leadership? Then these might be the roles for you:
Lecturer/s B in Computer Science: (research and teaching track) who are at an early stage in their research career developing a strong research profile and with experience of teaching excellence
Lecturer/s B in Computer Science (teaching track) who have experience of high quality-teaching and course development.
Our rankings
REF 2021
In computer science, we were 7th in the Research Excellence Framework 2021 for quality of outputs. ​
Shanghai Global Ranking 2022
We are 6th in the UK and top 100 globally for computer science in the Shanghai Global Ranking 2022.
Strategy
This is a dynamic time for the Faculty of Engineering and Physical Sciences (FEPS) where Computer Science sits. In January 2022 we welcomed our Pro-Vice-Chancellor and Executive Dean Professor Bob Nichol, and as of August 2022 we streamlined to become five schools.
This new faculty strategy adds to this exciting new chapter for FEPS, providing us with a vision and unity of purpose to work together with, and for, our many partners and stakeholders. It sets out how we will optimise ourselves and how we will connect with our students, partners, and each other. This strategy provides a framework for future faculty-wide decision-making and planning, and provides a focus for school-level strategies.
We are also empowering schools to identify their priorities for research and teaching through their own strategies, recognising that the optimum place for such ideas to nurture is often in schools. We will then ensure there are opportunities to connect these strategies via the newly formed senior leadership team.
Success for us looks like a more optimised and connected faculty, embodying the conditions for success.
Our priorities
In-line with the University's values of inspiration, inclusion, innovation and integrity, we are prioritising the following:
Students are at the heart of our university and ​we will deliver an excellent student experience ​for all students regardless of background.​ Surrey is renowned for enabling our students ​to realise their potential.
We will continue to push ​the boundaries of pedagogy, ensuring our students ​experience a research-led education delivered ​by engaged academic staff using technology for ​greater flexibility to facilitate learning
We will be ​relentless in our pursuit of improvements to the ​overall student journey.
We will focus our resources and support around ​our existing and emerging critical masses of ​excellence
We will enhance excellence and build ​scale, bringing together disciplinary strengths from ​across the university to share ideas and address ​the challenges of our time
New pan-university ​institutes will serve as flagships of cross-disciplinary ​research concentration from which to elevate our ​global impact and visibility.
We will foster talent and create an environment ​where all our staff, students and postgraduate ​researchers are empowered and supported to ​flourish, valuing each and every contribution.
​We have redesigned our resource allocation model ​and our support processes to reward excellence, ​enable growth, and to create more capacity for the academic mission.
Interconnectivity
Computer Science is just one part of the School of Computer Science and Electronic Engineering:
Our facilities
Computer Science has made significant investment in its facilities with a new 200-seater computer science teaching laboratory, a virtual cloud computing platform, a secure systems facility and an HPC cluster for research.
Other state-of-the-art facilities include:
A distributed RDMA/SGX/NVM testbed
P4 testbed for programmable networks
UK's first testbed for space networks to emulate megaconstellations of LEO satellites (in collaboration with the Surrey Space Centre)
High performance computing cluster for data analysis
Surrey Blockchain Testbed
5G/6G wireless network testbeds.​
Why join us?
Our vibrant and interdisciplinary research community at the University of Surrey unlocks world-changing thought and technology. Learn more about what inspires their unique journeys and the support they have received from the University of Surrey.
Diversity and inclusion
At the University of Surrey, we recognise that exceptional people come from every background, with diverse career paths and circumstances that are unique to each person. As part of our commitment to creating an inclusive and vibrant research environment, we welcome applications from those wishing to work flexibly to meet personal responsibilities. We're particularly interested in supporting those from under-represented groups such as people from Black, Asian and minority ethnic backgrounds.
Explore some of the work taking place at the University of Surrey to support equality, diversity and inclusion.
Awards and schemes
We have many active and supportive equality networks that provide peer support, social opportunities and advocacy for under-represented groups, for example, the Surrey Embracing Ethnic Diversity (SEED) network for people from minority ethnic communities. See our EDI webpages for more information.
Our range of awards and programmes seen below reflect our commitment to supporting equity in higher education, across all areas of equality, race and ethnicity, gender and LGBTQI+, faith and belief, neurodiversity and more.
Apply
Inspired to join us in Computer Science? It all begins when you start your application.
Recruitment timeline
| Date | Activity |
| --- | --- |
| Monday 17 April 2023 | Advert closes for applications on Surrey's jobs site |
| Early-May to mid-May 2023 | Presentation and interviews held at University of Surrey for associate professor, senior lecturer and lecturer roles |
| Friday 19 May 2023 | Presentation and interview held at University of Surrey for professor role |
How to apply
Applications are now closed.
Please note: Should you require any reasonable adjustments to support your application or interview, please contact resourcingteam@surrey.ac.uk who will ensure that you have the support you need to maximise your application.