First-Time Managers
A four-day course spread over four months to allow first-time managers the opportunity to learn and apply new skills as well as to reflect on their performance in their new management role. This course is designed to give new managers confidence in their role by providing them with effective strategies for engaging, leading and motivating their team. On completion, delegates will receive post-course coaching support from the course leader.
About the course
Overview
This course is practice focused and supplements management theory and models with practical applications. Delegates will be tasked with identifying and applying a personal action plan between each of the workshops to ensure that learning is transferred from the classroom and applied within their organisations. The course is designed to enable participants to:
Participants
This is for people transitioning from team operations into management roles within the hospitality, tourism and events sectors. Ideally participants will be just about to take on management responsibility or have taken on a management role recently.
Topics
Personal leadership and team dynamics
Motivation and coaching conversations
Influencing and negotiation skills
Providing feedback and managing difficult conversations
Learning outcomes
This course is designed to enable participants to:
Make the transition from team member to team leader or manager.
Provide practical tools and tips to increase management capability.
Investigate real management issues through the application of personal action plans.
Increase staff morale and motivation through effective management.
Reduce staff turnover.
Course leader
The course is led by Robbie Cairns (BA (Hons) Philosophy, PGDip Coaching and Mentoring, MA Human Resource Development, British Psychological Society Levels A and B).
Robbie is an expert in adult learning theory and practice and adopts a multi-disciplinary approach to the design and delivery of all his learning interventions to ensure that solutions are tailored and relevant to the learners' needs. Robbie blends his academic knowledge with over twenty years of experience in organisational design and learning and development roles in a number of commercial organisations across a wide range of countries and cultures. Robbie has led small, large, virtual and co-located teams in complex global international environments.
Dates
We don't currently have any upcoming dates for this course.
Location
The course will take place in a dedicated space at the University of Surrey campus in Guildford, set amongst the vibrant student atmosphere, with catering from Lakeside Restaurant.
Cost
Standard
£1,500 (£350 per day and £100 for post-course coaching), inclusive of course materials, on-campus facilities and all catering during each modules.
Bespoke
This course can also be delivered as a bespoke package, in-house for 6 to 8 delegates at £5,000. This includes all materials and exclude venue hire and catering.
Register your interest
To register your interest, please contact cre@surrey.ac.uk.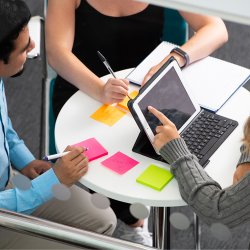 "I was given tools that I could then implement in my place of work, for example how to improve my weekly team meetings, how to delegate tasks more effectively and better self-manage."
Jon Taylor-Hall