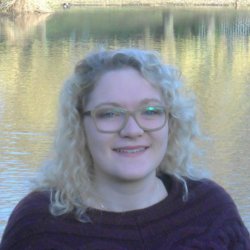 Abigail Nelson
"I really feel like coming to Surrey has enabled me to grow as a person and the increased knowledge I've gained has given me the confidence to pursue the career path I want to take."
"I chose to study Civil Engineering at Surrey because I wanted to become part of a profession that creates change by building infrastructure, and the variety of modules and opportunity of a Professional Training placement attracted me.
The tuition is great; academics use a variety of different teaching styles that enable you to investigate topics of interest for yourself. They're willing to help with any question and are very knowledgeable in their subject area, researching and writing their own papers on current developments in the profession too.
I really enjoyed my integrated design module in level 3, as I received the opportunity to work with others as a team, designing a mock sports park on a flood plain. I also liked undertaking my individual project, as I was able to research water purification methods – something I want to pursue as a career after graduation. The individual project gave me opportunity to grow in a number of key transferable skills such as time management, organisation, research skills and academic writing.
Living in halls for my first year was a wonderful learning experience; I was able to make friends who quickly became like family. At first it was scary as I was not used to the quietness of just a bedroom and not having family around; but now I really value that time because it allowed me to stand much better on my own two feet. At Surrey there are so many opportunities to make friends whilst pursuing the things you love as well; with so many sports clubs and societies, there's something for everyone and it's through societies that I've made most of my friends, people I know will be friends for life.
As the University is a campus  university there's a real community feel, and you'll always see someone you know as you walk around. Everything you need is on campus, which is helpful for new starters as it reduces your chances of getting lost! It's also handy to have Surrey Sports Park so close-by, housing amazing facilities that you can use cheaply as a student. The teaching facilities, too, are great; every room fully equipped and the labs a fantastic space to put knowledge into practice.
During my time at Surrey I undertook a placement year at a structural engineering consultancy in Surbiton, where I designed buildings and performed site structural assessments. I first found out about my placement through the Faculty of Engineering and Physical Sciences; and support staff and academics helped by sending my CV off to the company with a recommendation. My personal tutor also helped me to prepare for the interview. The best things about my placement include the opportunity to work alongside senior engineers and learn from their experiences, whilst being given tasks, seeing myself meet deadlines and grow in confidence. To anyone considering a Professional Training placement, I'd strongly recommend it.
Alongside my studies I'm a student ambassador for physics, as well as recruitment, marketing and widening participation. I also help out at applicant days for new civil engineering students. I really feel like coming to Surrey has enabled me to grow as a person and the increased knowledge I've gained has given me the confidence to pursue the career path I want to take. After I graduate, I want to gain experience in the water industry and work for an engineering charity to bring sustainable and self-sufficient clean water to vulnerable communities around the world.
I'd highly recommend Surrey's Civil Engineering course to others. The atmosphere here is positive and encourages you to grow in skills and confidence – when you're considering a three, four or even five-year degree, why wouldn't you want to go somewhere that enables you to mature not only as a person but as a professional too?"
Discover more about our civil and environmental engineering programmes, including our MEng Civil Engineering.